INNOVATEChina 2015 Teams up with WeChat
Friday, November 28, 2014
INNOVATEChina 2015 Teams up with WeChat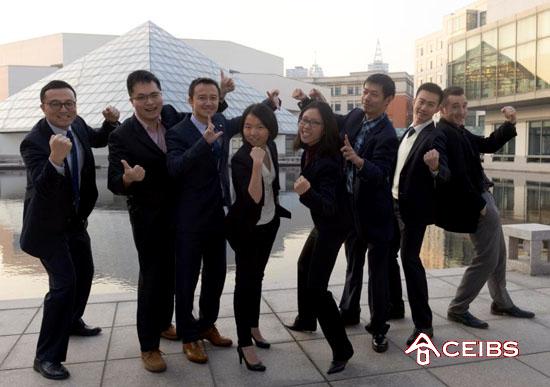 The team of CEIBS MBA students organising INNOVATEChina 2015
November 28, 2014. Shanghai – INNOVATEChina, the global business competition hosted by CEIBS MBA students, has paired up with WeChat, one of the world's largest communication apps, to host this year's contest. Established in 2008, INNOVATEChina sees students from top global business schools going head-to-head in a business plan competition where finalists have an opportunity to be mentored by world-renowned entrepreneurs and investors as they develop their ground-breaking ideas.
"By partnering with WeChat this year we hope to make INNOVATEChina 2015 bigger than ever, and expand the contest's global reach," says Viola Deng, who is leading the group of MBA students organising this year's competition. 
INNOVATEChina 2015 asks teams to come up with an innovative idea that leverages the features of WeChat, a multi-dimensional interface that each month connects more than 438 million active users in over 200 countries. In preparing their business plan, teams can use one or more of WeChat's functions which include communications, e-commerce, gaming, self-media and intelligent media. In addition to the business plan, teams are also encouraged to submit a video about their project. Submissions will be judged by a panel of renowned scholars and entrepreneurs from both China and Silicon Valley. Each of the final six teams will have the opportunity to be mentored by one of the judges who will help them fine-tune their business plan. Finalists will travel to Shanghai at the end of March to present their idea and business plan to the panel of judges.
"WeChat is China's biggest media platform," says MBA student and organising committee member Alex Wang. "It lets people generate content themselves. Except for the time spent sleeping, for most Chinese people, especially in the first- and second-tier cities, almost everything we do is through WeChat. It's not just used for communicating with each other but also for learning, sharing, and almost every other aspect of our lifestyle. By collaborating with WeChat, we can learn a lot."
The diverse eight-member student organising committee is now busy promoting the competition to the top business schools in China and around the world, and they're looking forward to seeing what teams come up with. "Schools outside China may not be familiar with the Chinese mobile landscape, but they will definitely have their own innovative ideas that can bring a lot to this competition," says Alex. "Whether they're from emerging markets or developed economies, they have their own perspective and I'm looking forward to seeing what they do."
The contest is one of the many student-led initiatives at CEIBS that showcases students' talents and is being eagerly anticipated by the entire school community. "We're pleased to collaborate with WeChat, whose influence is undeniable, on hosting INNOVATEChina 2015 at CEIBS Shanghai Campus," says CEIBS Associate Dean and MBA Programme Director Chen Shimin. "Hosting the event is a great opportunity for the current MBA class to demonstrate their teamwork and leadership skills and capacities. Leveraging these two great platforms, CEIBS and WeChat, the upcoming competition will surely be a source of many brilliant and innovative ideas that will have a lasting impact on the business world."
The deadline for teams to submit their business plan and video to INNOVATEChina 2015 is January 25, 2015. For more details visit www.wewinwithwechat.com