INNOVATEChina 2015 Roadshow - WeChat Leverages Events to Build Brand Awareness
Friday, January 9, 2015
INNOVATEChina 2015 Roadshow - WeChat Leverages Events to Build Brand Awareness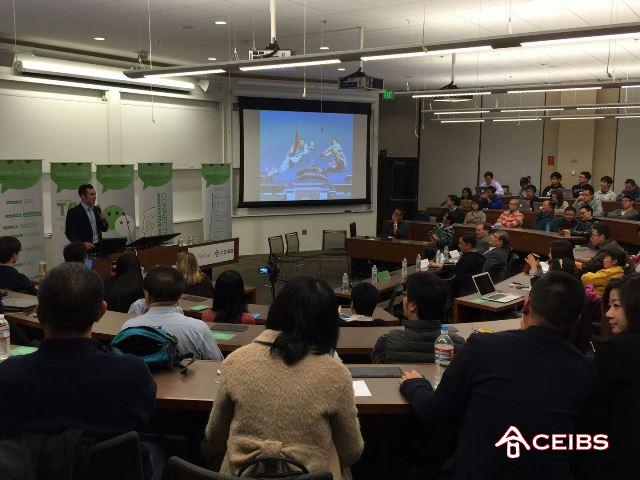 CEIBS MBA student Kevin Shimota during the Stanford leg of the We Win with WeChat INNOVATEChina 2015 roadshow.
January 8, 2015. Boston – Today's event at Harvard was the second stop on a U.S. roadshow to drum up interest in the CEIBS MBA student-hosted INNOVATEChina global business competition. It comes two days after We Win with WeChat INNOVATEChina 2015 team member Kevin Shimota (CEIBS MBA 2016) told students at Stanford how and why they should vie for the top prize (and bragging rights) that comes with winning. The third leg of the roadshow will be at CEIBS Shanghai Campus on January 18. Among the big names lined up is WeChat Vice President xiaokang. He and his team will talk about WeChat's strategy for the future.
The roadshows have been a combination of creating buzz for the contest and educating U.S. consumers about WeChat. It's one of the world's largest communications apps that's all the rage in China, has 438 million users in more than 200 countries, but has yet to go mainstream in the U.S. In addition to CEIBS reps, there are typically presentations by leading executives from various industries who show how social media, such as WeChat, impacts their industries. Other speakers demonstrate their apps that are housed on, or have some connection to, the WeChat platform.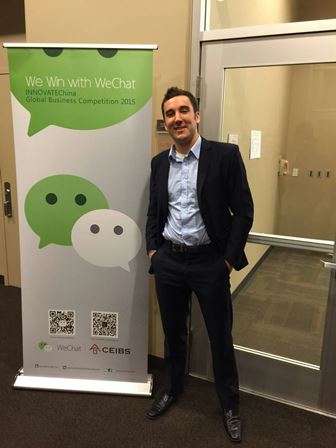 "The huge turnout we had at Stanford was both exciting and inspiring.  U.S. students who may have heard about CEIBS, after it was ranked the #1 MBA in Asia by Bloomberg BusinessWeek last year, are eager to know more about our school," said Kevin Shimota ahead of the Boston event. "Providing first-hand information to these students has also been a great way to raise awareness and excitement about our innovation-focused competition.  We've just arrived in Boston and despite the freezing cold we look forward to a very warm welcome this evening."
The eight-member CEIBS team organising We Win with WeChat INNOVATEChina 2015 is now busy tying down the panel of judges who will decide which b-school comes up with the most innovative idea on how to leverage the WeChat platform. Teams have until January 25 to submit their business plans. More details at www.wewinwithwechat.com