INNOVATEChina 2014 Business Competition Finals
Sunday, June 15, 2014
INNOVATEChina 2014 Business Competition Finals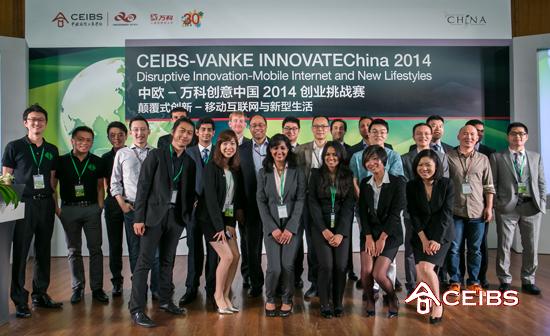 The final six teams in the CEIBS-Vanke INNOVATEChina 2014 Entrepreneurship Challenge
June 15, 2014. Shanghai – The final round of the CEIBS-Vanke INNOVATEChina 2014 Entrepreneurship Challenge was held today at the CEIBS Shanghai Campus. After attracting almost 40 outstanding entries from top MBA schools around the world with proposals for disruptive innovations utilizing the mobile internet to create new lifestyles, six teams were chosen to present their ideas in person to judges in the final round of competition. The finalists were Hong Kong University of Science and Technology (HKUST), INSEAD, ISB, CEIBS, Yale School of Management, and Rotman School of Management. The winning idea, a software sensor that detects indoor air pollution, came from the Hong Kong University of Science and Technology (HKUST) team. CEIBS MBA student Cassie Yang received the "Audience Choice" award.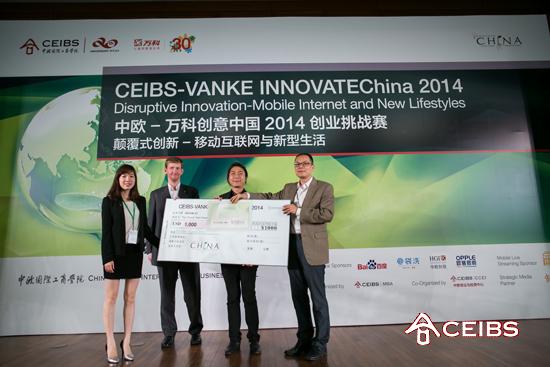 CEIBS MBA student Cassie Yang (far left) receives the Audience Choice Award from Prof. Gong Yan (far right) as her team mates Matthew Ryder and Felix Zhu look on.
The HKUST team proposed a wristband device that combines the air pollution indices in the user's city with data from an indoor air quality sensor and the user's heart rate, blood oxygen level and other health data to provide recommendations for indoor and outdoor activities. The main concern the judges expressed about this proposal was the high investment cost per user of approximately US$200 which they felt would be a big challenge for implementation.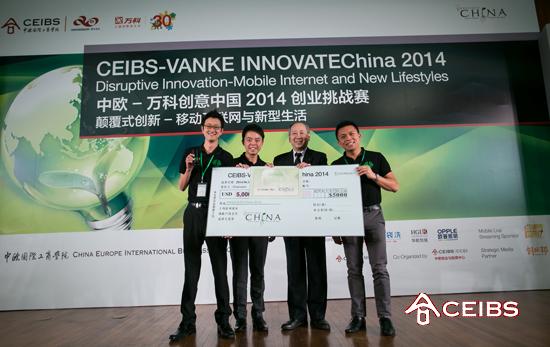 The winning HKUST team receive their award from CEIBS Vice President & Co-Dean Zhang Weijiong
The ideas from the other finalists were:
- CEIBS: a mobile phone app "Yunmoco" which matches tattoo artists with potential customers. The app allows users to choose their own tattoo design and make an appointment with their preferred tattoo artist.
- INSEAD: a global platform for "foodies" that connects travellers with home cooks who are willing to open up their homes and provide them with a home cooked meal. Both parties also get to enjoy meeting new friends.
- Yale School of Management: A dating platform for elite professionals under the age of 40 who have a earned a degree from one of China's top 40 universities or one of the top 100 universities in the world. The developers also plan to provide users with dating advice that would be made available through both online and offline courses.
- ISB: a car-pooling mobile app that uses real time location data to match riders and drivers to make carpooling at rush hour more efficient.
- Rotman School of Management: an app that aims to improve delivery of medical services to rural areas in China. The app provides a platform where rural residents can upload their symptoms using images or videos, so that a physician can review and provide a preliminary diagnosis. The data gathered from this platform can also be monitored by public health authorities in order to detect early warning signs of potential outbreaks of contagious diseases.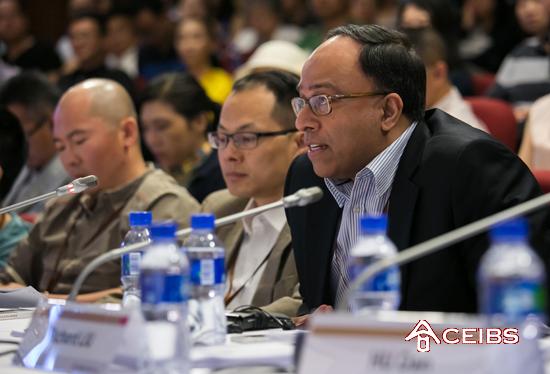 Prof. Gong Yan (centre) and Prof. S. Ramakrishna Velamuri (right) were among the judges
Renowned scholars, entrepreneurs and investors comprised the final competition's panel of judges and keynote speakers, and included:
- Vice President of Tesla Global, China Veronica Wu;
- Vice President of Sequoia Capital China Dan Hu;
- Partner & Chief Investment Officer, Morningside Ventures Qin Liu;
- Founder & President, RRLT.com Yuhao Wang;
- Founder & Chairman of the Board of lvmama.com Qinhua Hong;
- General Manger of Vanke Shanghai Jia Sun;
- CEIBS Assistant Professor of Entrepreneurship Yan Gong;
- CEIBS Professor of Entrepreneurship S. Ramakrishna Velamuri.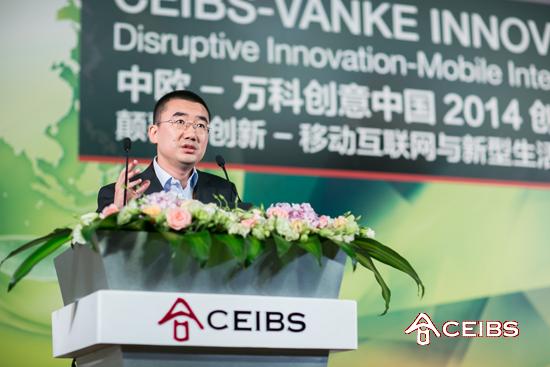 General Manger of Vanke Shanghai Jia Sun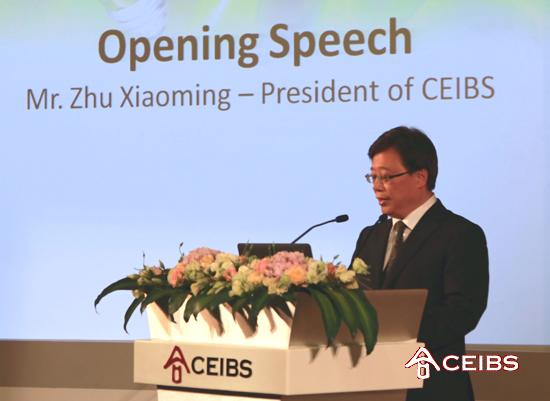 CEIBS Executive President Zhu Xiaoming
Highlights of the day included a welcome address by CEIBS Executive President Zhu Xiaoming, and an address by the General Manger of Vanke Shanghai Jia Sun, who shared some of his company's recent innovations. The day's keynote speech was given by Tesla China Global Vice President Veronica Wu. In her speech, she explained some of the reasons why Tesla Motors decided to take the bold step to make most of its patents available to developers.  CEIBS Vice President and Co-Dean Prof Zhang Weijiong presented the awards to the competitors.