Highlights of CEIBS 9th Being Globally Responsible Conference (BGRC)
Saturday, May 17, 2014
Highlights of CEIBS 9th Being Globally Responsible Conference (BGRC)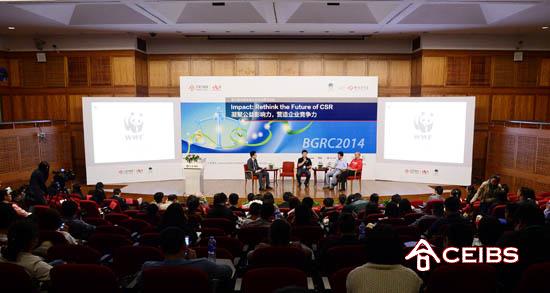 May 17, 2014. Shanghai – The impact of the internet and digital media on corporate social responsibility (CSR) practices was the focus of discussions at Asia's largest student-organized CSR conference which got underway today at the CEIBS Shanghai Campus. The 9th CEIBS Being Globally Responsible Conference (BGRC) attracted 200 participants including MBA students, business executives and various philanthropic organizations. They turned out to hear senior executives from more than a dozen enterprises, including Tencent, BMW, IBM, BSI, Reckitt Benckiser, Raleigh China and Baxter China, share examples of innovative ways that CSR has become integrated into their companies' strategy.

Chen Yuanyuan of the Tencent Foundation
CSR Director of China's internet giant Tencent Chen Yuanyuan spoke about how the Tencent Foundation is using the Internet and Online to Offline (020) tools to promote its CSR initiatives focused on rural development. Among the foundation's long term philanthropy projects she spoke about were "Creating a Dream for a New Village", and "Tencent Philanthropist".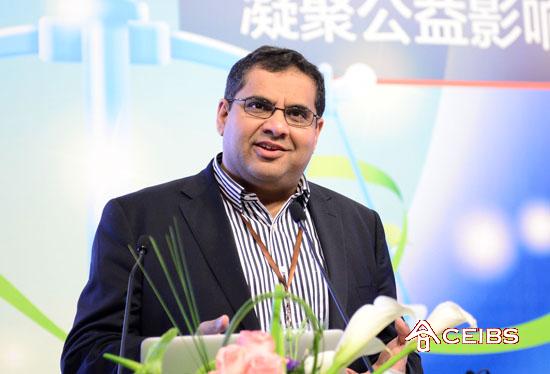 Reckitt Benckiser China Vice President Aditya Sehgal
Aditya Sehgal, Vice President of Reckitt Benckiser China, explained how his company has aligned its CSR strategy with business operations by citing examples of its work in the areas of healthcare, homecare and hygiene. He also gave examples of how his company has partnered with others in order to heighten promotion for its CSR efforts.
Optimizing sustainability in the Esquel Group's cotton production supply chain was both a business and CSR objective of the company, according to a presentation given by company CFO Wilkie Wong. He explained why sustainable development is part of the competitive strategy for Esquel Group, and how the company has successfully promoted its achievements in this area. Wong said that sustainable development helps attract customers and talents and improves the corporate brand image.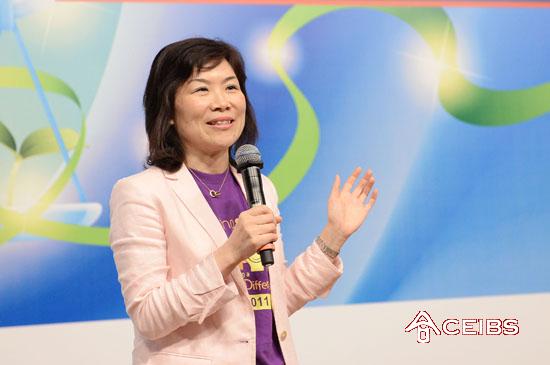 Baxter China HR Director Lin Yiqing
Using CSR in human resources practice was the focus of a talk by Ms. Lin Yiqing, HR Director of Baxter China. She shared her company's experiences in establishing the Hope School in Sichuan Province, organizing fundraising activities and cooperating with other NGOs. Two recent hires at Baxter shared their feelings about how these activities made the company's corporate culture attractive to them.
Ms. Cao Nan, Project Manager of IBM's Corporate Citizenship and Public Affairs Department, spoke about how to evaluate the effectiveness of CSR projects. IBM has earned many accolades for its CSR efforts and has won the Corporate Citizenship Prize several times. She suggested that CSR strategy should be integrated with business growth and if possible should include cooperation with partners. She explained how IBM evaluates the short- mid- and long-term influence of its CSR projects and runs six evaluation index systems to ensure the coordination of CSR projects with enterprise strategies.
Tracking the success of CSR efforts was also the topic of a talk by Dr. Gao Yimin, Managing Director of BSI Greater China Region. He explained how his company considers three areas to be the core value of its CSR efforts: performance improvement, continuous operation, and risk management. He also said that CSR strategies must align with an enterprise's sustainable business strategies and explained that a well-written CSR report keeps a project's stakeholders top-of-mind.
NGO representatives also gave presentations at the Conference. Mr. Chen Shuo, President of Zero Carbon System and Curator of the Expo Zero Carbon Pavilion, spoke about the potential for CSR to transform the zero carbon business into one that is highly profitable. Mr. Lufeng, Founder and CEO of Raleigh China shared examples of some of his company's volunteer projects. Mr. Zhang Binfeng, President of Shanghai Zhonggu Philanthropic Youth Development Centre, spoke about the rising tide of e-waste and shared how the Centre is  creating environmentally-friendly and economically beneficial computerized classrooms in poverty-stricken areas. Dr Zhu Jiang, Dean of the World Wildlife Foundation (WWF) Office for Wuhan Projects, introduced the WWF's efforts in environmental protection. Leo Liu, Business Director of Evonik, spoke about innovative solutions for food security.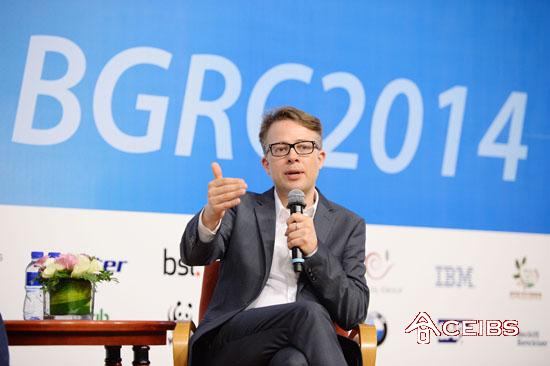 Director of Shanghai BMW Design Workshop Magnus Aspergren
Magnus Aspergren, Director of Shanghai BMW Design Workshop, spoke with CEIBS Adjunct Professor of Management Richard Brubaker on sustainable design. He introduced BMW's Project-I and the carmaker's continuous efforts to study mobility in the cities of the future. He also spoke about how design can solve transportation problems, and shared his insights on the problems caused by the rise of car ownership in China.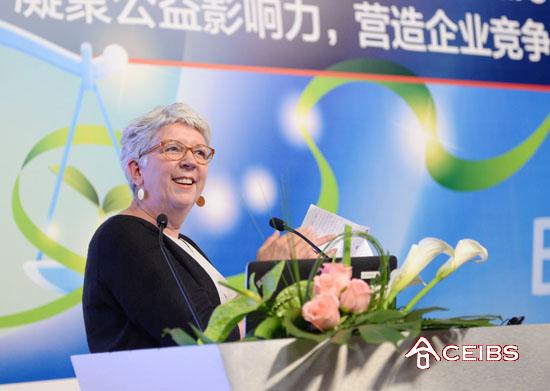 CEIBS Professor of Marketing Lydia J. Price
Introducing the school to conference participants during his welcome address, CEIBS Executive President Professor Zhu Xiaoming pointed out that CEIBS was among the first b-schools to integrate sustainability and CSR into its MBA curriculum. Launched in 2006, the BGRC has become an annual flagship activity of the CEIBS' MBA Programme. This year's 9th Annual BGRC enjoyed support from the CEIBS Education Foundation and the Tencent Foundation. CEIBS Dean and Vice President Hellmut Schütte, in his welcome address, spoke about the role of education in preparing leaders to promote social responsibility. Speaking at the conclusion of the conference CEIBS Professor of Marketing Lydia J. Price encouraged participants to continue their efforts to explore practical solutions for the increasingly complex social issues facing the world today. She said that CSR is a strategic effort that requires collaboration and cost-effective operation.