Global EMBA China Depth Study Tour Visits Shanggong Shenbei Group
Friday, July 11, 2014
Global EMBA China Depth Study Tour Visits Shanggong Shenbei Group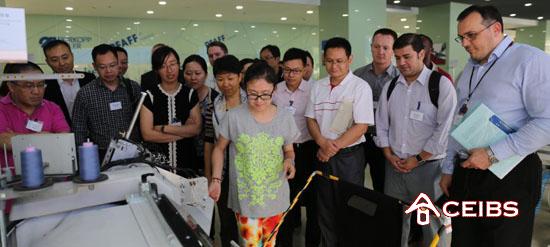 June 11, 2014. Shanghai - The CEIBS Global EMBA 2013 class continued its series of China Depth Study Tours today with a visit to the sewing machine manufacturer Shanggong Shenbei Group (SGSB). The company visit was an eye-opening experience for GEMBA participants as it gave them a first-hand look at how Chinese companies are beginning to flex their muscles through outbound investment and acquisitions.
SGSB Group is a Chinese state-owned enterprise (SOE) that began in Shanghai in 1965 with a single factory. As the company grew, it became an early mover in outbound M&A and in 2005, took over Dürkopp Adler, a German manufacturer with a 150-year history. In 2013 SGSB acquired Pfaff, a household name in Germany that was established in 1862. That same year the Group made its third acquisition, the high-tech German textile company KSL. SGSB Group is now a bona fide Chinese multinational with 3,500 employees worldwide, half of which are outside of China. It has annual global sales of EUR 150 million.
 
The CEIBS group began their tour in the SGSB Group showroom which displays a range of industrial sewing machines, from those used on Chanel bags, to car upholstery to airplane components. Zhang Min, Group Chairman and CEO and a CEIBS EMBA alumnus, then gave an overview of the company's development. He explained each of the Group's acquisitions in detail, including the challenges faced integrating foreign, family-owned companies into a Chinese organisation.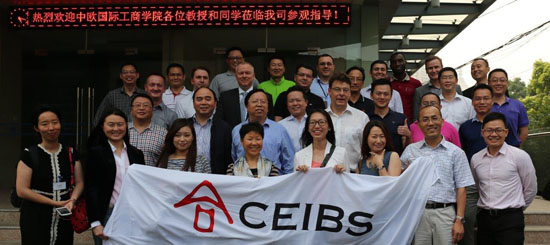 CEIBS Professor of Strategy and International Business Klaus Meyer, whose research focuses on Chinese companies going global, then gave a lecture that looked at the factors driving  Chinese companies to invest overseas. He explained some common mistakes and profiled a typical Chinese company investing abroad and the type of firms they target in the West.
As with all Global EMBA China Depth study tours, the day ended with dinner and drinks and the opportunity for participants to network with fellow GEMBA students and alumni. GEMBA 2013 participants are nearing the end of their two year journey and these China Depth Study Tour activities give the students a chance to continue to engage with the programme in a less formal setting to bolster their China business knowledge and network.