By June Zhu
Lenovo founder Liu Chuanzhi is credited with offering excellent advice on the three elements an entrepreneur must assemble when starting a business: a team, a business plan, and the right partners to help lead the business. Finding the right partners is the biggest challenge; as with marriage, it's important that they share the same goals and values.
Over the past 20 years, CEIBS has played a role in helping many entrepreneurs find their perfect match. The close ties many students develop with one another during their studies have become the foundation for quite a few successful start-up companies by CEIBS alumni. This, along with the knowledge and confidence they developed during their MBA or EMBA studies at CEIBS, helped encourage them to leave behind the relative security of corporate life to follow the challenging journey of an entrepreneur. Read on for first-hand stories from alumni entrepreneurs representing two very different companies – Domob and INCOM – in two very different industries. They are run by business partners who met while studying at CEIBS. They share their unique solutions for making their partnerships, and their businesses, work.
Domob:"Spiritual Practice"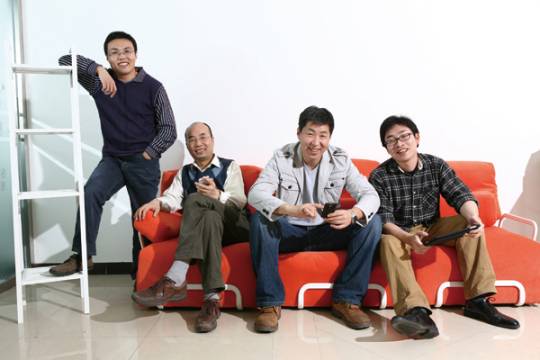 From left: Qi Yujie, Bian Jiageng, Zhang He
"I went to CEIBS because I wanted to start my own business," says Qi Yujie, CEO of Domob. "I hoped to enrich my knowledge, expand my network, meet some successful entrepreneurs, as well as find founding partners". He was lucky enough to quickly fulfil his goal. Right after graduating from CEIBS in 2010, Qi and fellow classmates Zhang He and Bian Jiageng founded their mobile advertising network Domob.
Qi says that finding the right partners was the most difficult part of starting his company. He had set his own criterion: "First, each of them should be a good person and trustworthy; second, we should share a similar working philosophy; third, we should have complementary capabilities." Aware that communication is one of his shortcomings, Qi set out to find an extroverted partner who could help motivate the team. He and Bian Jiageng have similar personalities, so when they convinced Zhang He, whose nickname is 'the entertainer', to join them, the partnership found its equilibrium.  
Another challenge for entrepreneurs is shifting their mind-set, said Qi. For example, the Domob office is far from the Beijing city centre and Bian has to drive three hours to work; space that would be a comfortable office for one person in an established company must now be shared by everyone at the start-up; and because the company is not yet well known, it can be difficult to convince potential clients to take a meeting. Also, in the company's earliest stages, the partners did not draw a salary.
Staying motivated in the face of such hardships requires the right mind-set, says Qi. He therefore regards entrepreneurship as "a spiritual practice, and a process for discovering one's real self". When a company is still in its infancy, he says the founders must mutually agree that everyone is working for the betterment of the company and not themselves, and that it is important to 'practice what you preach'. 
The three have divided the responsibilities of running the business. Zhang is in charge of external affairs such as sales and business development opportunities; Bian is responsible for internal operations, including client services and HR; and Qi focuses on product and technology development, strategy and financing. However they also make many decisions together which requires much discussion and often involves a divergence of opinion. They've had many arguments, especially during the early days. But now, after working together for some time, they have developed a respect for one another's point-of-view, and can reach a consensus more easily. Qi says he has also benefited by examining his own behaviour during their arguments; the introspection has allowed him to know himself better and has changed his approach in dealing with others.
Qi believes entrepreneurship equals self-challenge. Managing a company is a lot different from managing a department. It is much harder to manage a company of ten people than it is to manage a department of 100, because when managing a company, the leadership team faces many complex questions and must listen to many different opinions in order make good decisions.
Domob's corporate culture is simple but effective: focus on doing. Reflecting on his experiences Qi, who is now middle-aged, says, "There are not that many entrepreneurship opportunities for people at my age, so I cherish the process very much, and I believe we can continue to grow Domob's business."
DOMOB
Founded in late 2010, Domob has become the largest mobile advertising network in the Chinese mainland, currently serving over 200 million impressions per day and covering more than 150 million independent mobile device users. Domob's business model aims to create value by connecting advertisers and publishers who contribute to the mobile ecosystem.
Qi Yujie                    CEO 
Zhang He                 COO   
Bian Jiageng            Vice President
All from CEIBS EMBA08BJ2
INCOM: Balance between Yin and Yang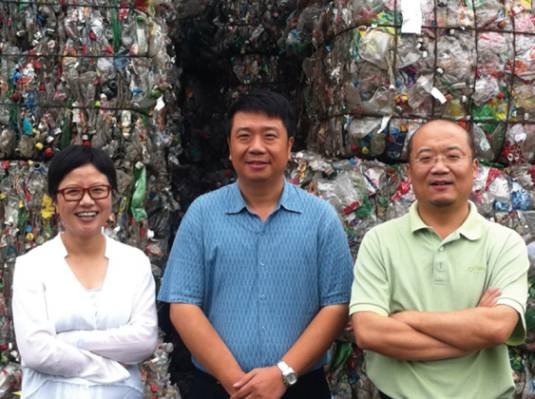 From left: liu Xuesong, Yang Guangze, Chang Tao
Consumers use more than 2.2 billion bottles (about 150 thousand tons) annually in Beijing alone, according to official estimates. Recycling them efficiently is the mission of INCOM Resources Recovery Recycling. The company has three founders: Yang Guangze, Chang Tao and Liu Xuesong.
Before they launched their venture, Yang already had experience in the manufacturing and environmental protection sectors, and believed that traditional industries like these must find innovative ways to implement IT solutions if they are to continue to grow. While studying at CEIBS, he began to think about starting his own business to leverage this premise. His classmate Chang shared the same ambition. "He is very active and smart, and experienced in IT," Yang said of Chang. Yang would seek Chang's advice from time to time and eventually succeeded in convincing him to join forces for the start-up company. Their other co-founder, Liu Xuesong, was a senior professional manager and was willing to relocate from Beijing's Central Business District to the outskirts of the city to work with them.
"The most important thing is building INCOM into a famous brand," says Chang. "All the feelings of achievement actually come from doing something people will admire." He also believes it was important to bring a woman into the partnership, because women have a different perspective and a different way of handling things. "Men tend to be more aggressive, but not so detail-oriented," he says.
In fact mediation is one of Liu's roles in the partnership. "Sometimes Yang and Chang are reluctant to speak frankly, so I will talk to both of them," she explains. "It is easier for a woman to do this."
The business environment is ever changing and Yang realized that it would be easier to develop a business in an emerging area. His goal is to develop INCOM into the leader in its industry in China by the end of 2014. However he knows he faces a long road ahead. "The work load of an entrepreneur is incredibly heavy and one cannot do it alone. We need advice from others to avoid mistakes," he says. Often the trio will ask friends, who are also business executives, for advice.
Their division of labour is quite clear. Yang is in charge of communicating with the parent company, Chang is responsible for R&D, IT and anything Internet related, and Liu works on brand development, policy study and media communications. Chang handles the financials, and said it is usually easier to get his partners to agree on things in this area. He says that Human Resources Management is the most difficult part to manage. Yang has a theory for this. "You can care about your partners' subordinates but ultimately you cannot manage them unless they ask you to do so," he says.
Even with Liu mediating, sometimes Yang and Chang still have heated disagreements. Their solution to making their arguments more constructive is to go to a café or other public place where it would be impolite to get into a shouting match with each other. Each person is given a chance to put forward his opinion. If there is any disagreement, it must be backed up by clear evidence. When there is a conflict, Yang says he reminds himself not to "go over the line".
Liu has a saying she mentions when talking about disagreements between the partners. "If words cannot make dreams come true, they are just nonsense." She also cites a quote from Taiwanese writer Long Yingtai, "Many people choose to keep silent because of love, but actually, frank talk between partners can make them happy." It would seem that in spite of their disagreements, the partners have a strong bond with one another. "We are all friends," they say.
INCOM
INCOM Resources Recovery Recycling was founded in 2008. Its parent company INCOM Resources Recovery is the only Chinese company that can produce high-quality recyclable bottle-grade polyester chips.
Yang Guangze     President
Chang Tao        General Manager 
All from CEIBS EMBA05BJ2
Liu Xuesong      Deputy General Manager 
From CEIBS EMBA01BJ2
Story based on the cover story "We are Partners" which appeared in the October 2013 issue of CEIBS BUSINESS REVIEW.