Benoit Leclercq (left) and his staff
By Charmaine N. Clarke
The numbers are staggering: 600 family members with shares in a consortium of independently run companies that employ half-a-million people; 250 are directly involved in these enterprises that span more than 30 countries around the globe and another 400 – the sixth generation – are next in line to continue the tradition. This is the legendary Mulliez family of France. Companies under its massive umbrella include sporting-goods retailer Decathlon and French supermarket chain Auchan.
In this exclusive interview with TheLINK, Benoit Leclercq, the Managing Director of Mulliez' private equity firm Crehol (China) Investments Consulting Company Limited explains how this uniquely structured syndicate manages the challenges typically faced by family-owned enterprises: grooming the next generation of leaders, finding the balance between 'family' and 'business', and how to know when outside expertise is needed. The lessons he has learned over the years will be vital to Crehol's success as it tries to make a name for itself in China.
TheLINK: What is your vision for Crehol and how does its association with the prestigious Mulliez family help achieve those goals?
Benoit Leclercq: We are an investment company looking to partner with entrepreneurs that share Mulliez' views on long-term stability. We are the stable alternative to volatile financial markets. Having the family's strong financial history is a very good asset, because it provides a sense of stability, reliability. You know you can count on it in the long term once the business is sustainable and proves that it deserves further financing. 
TheLINK: In addition to you, the grandson of founder Louis Mulliez-Lestienne, how many family members are actually involved with the Mulliez consortium?
We have 1,000 living family members; 600 of us are shareholders of privately held companies within the family and of that number 250 of us are involved in the family businesses. We span five generations, with the sixth generation on their way to being shareholders. You can become a shareholder when you become 18 to 20 years of age; you can work and save enough money to buy your first shares. 
In addition, in all our companies we try to encourage employee ownership because we believe this benefits both employees and the company in the long run. Having both family and employee shareholders works well, because all interests are aligned. My interest is that the employee minds the business and his interest is that the company grows in value.
Today we have roughly 500,000 employees in different companies. So it's not one company by itself, but the whole of these various companies. That means we have a social responsibility towards those people, as they do towards the companies of which they are shareholders.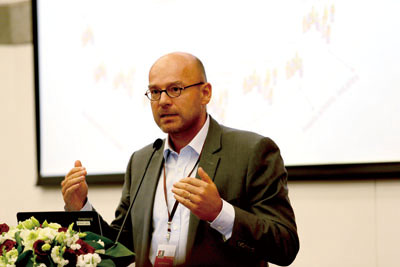 TheLINK: With so many family members working together, how do you separate personal issues from professional ones? 
Of course we have family issues and conflicts. But we share the same vision and we have simple words that have become hues – transparency, courage, desire to develop, people first, company first, clients, improving people's quality of life. Those hues have become so important that they are the cement that binds us together. And of course the strong performance of the companies helps us to stay together, too. That's one very important aspect. If a family member wants to give up his ownership of the company, he can. We have an open market once a year where people can buy and sell family ownership and everybody is free to go; and because of that everybody wants to stay.
TheLINK: In addition to these shared values, what are the concrete structures in place that make your consortium work?
We are very structured; we have a family governance, there are articles of association, so we have rules. We elect our family board members every five years. We elect a surveillance committee of the board, so we have a very structured family organization. We meet twice a year for business only. In between these meetings, every family member has many occasions to participate in one way or another in some aspect of the family businesses. We have, for example, once a year at Auchan an event that's called "live my life". Each family associate and shareholder is invited to live the life of one of Auchan's workers for one day. Some live the life of a butcher; others are cashiers, accountants, the logistic guy, the computer guy, whatever. That's just one example of how we integrate family members/owners into the businesses. Some are artists, some are teachers, some are business developers/owners, so we have all the various types of individuals that you could find in the society.
We have to find ways to integrate them and have them be passionate about the family businesses so that they want to remain shareholders. That is very important to us. At the same time, we have a lot of training sessions. We have a very structured family office that takes care of this and makes sure every single shareholder has a couple of chances every year or so to be trained at his level, whatever it is, to be involved in one of the family businesses and have passion for it.
TheLINK: With so many family members actively involved in different aspects of the family business, succession must be a challenge. How do you address this issue and how are the next generation of leaders selected?
  
We try to have as many family members as possible in the business, at all levels, and then we try to follow their careers, which evolve based on their actual capacity to become leaders or experts in their businesses.
Not everybody is called to become a leader. It is very clear to us that the leaders have to be the best people for the company, and that is not necessarily a family member. Every one of our companies has a coaching committee (which is what we call a board, because we are very simple people). We like, whenever possible, to have a family member be the president of the coaching committee. However, the executive leadership of the companies can be outsiders and managers because they are professionals and they have grown into their position in the business.
If you ask any one of our 500,000 associates, I think every one of them will tell you we are a family business and they are part of the family because they are shareholders as well. So the associate who is not a family member is actually just as devoted and involved as my brother who is a family member. It is very clear to everybody that there is no pre-set seat for anybody. On the contrary, if anything it is more difficult for the family members to actually prove themselves in the business. So it's actually an act of courage to join the family business and show long-term devotion.


In March 2012, Crehol completed their initial investment in Secoo, a second-hand, luxury accessory company that operates both online and offline in China.
TheLINK: How important is it to have a succession plan in place?
It is crucial. That's one of the most important factors for any business. You only see if someone has been good at his job five years after he's left it. You can be a fantastic leader and take the company a long way, but then if two years after you leave the company it's a catastrophe, you've done the worst job of your life because you haven't pre-prepared your successor.
At Mulliez, one of the most important roles of the family board is to assign the leaders and make sure succession plans are in place. A number of times each year, every single person on the coaching committees has to review his succession plan – not just the boss but everybody at all levels. I remember my uncle Gerard, who was the leader of Auchan, told me, "Benoit I spent my life giving my job to somebody that was more efficient, more competent than I was. That's the only way I could grow the business, because there was somebody stronger than I that could take my job and do it better. So I could go and do something else."
For any business, it is very important to make sure that a successor is in place, and is actually there for a few years before the plan is activated. We face this every day. It's a people issue. When you are a big organisation, it all comes down to people. This is why we always put people first. Your company is not worth anything if it does not have the right people.
Within our organisation, most of our family members know the top 2,000 executives of our family businesses. That means a lot of time, a lot of effort and a lot of hours spent together working on issues and appreciating one another. In the end, it's the respect that you give to people, and it goes both ways, that makes the business work. Non-family executives will only work for people they respect. If they don't respect who you put in front, they're going to walk away and find a better company. So make sure whoever you put in place, and this may or may not be a family member, deserves the respect of people. He must be willing to work with people, and not just have people working for him. We're very simple people, very down to earth. We are not highly super-educated people that make elaborate plans and are always in the public eye. We try to be very down to the earth. It has helped so far. It has also helped us remain together as well.