After being admitted to the CEIBS Part-time Finance MBA (FMBA) Programme last year, we were eagerly looking forward to participating in its overseas module. We wondered what the journey would bring and how it would incorporate the CEIBS brand of "China Depth, Global Breadth". This year, in late July, our curiosity was finally satisfied when we embarked on the Overseas Study Tour to London, accompanied by CEIBS Part-time FMBA Programme Director Prof Zhao Xinge.
Classes at London Business School
The tour began at London Business School (LBS), ranked among the world's top ten, where we were welcomed by LBS Dean Andrew Likierman. Our first lecturer was Italian Professor Francesca Cornelli, who spoke about "Evolution of China's Venture Capital & Private Equity Firms". He shared a western perspective on the past, present and future development of China's venture capital and private equity markets.
"Advanced Topics in Valuation" was the title of the next lecture, given by British Professor Ian Cooper, who provided a deep-dive into three significant questions about equity valuation. Professor Cooper also led us in a lively discussion and debate about a few real-life business cases.
Over the next two days, we enjoyed lectures from a variety of LBS faculty. Professor Andrew Scott gave a lecture entitled "Financial Regulation Problems Incurred by the Financial Crisis" in which he addressed the major reasons for poor financial regulation, and affirmed the performance of financial regulation in Asian countries. He also shared his forecast for investment opportunities in Asia. Professor Francisco Gomes explored "Derivatives and Hedging" from a tech perspective, and LBS Visiting Professor Bruce Grundy gave two lectures, "Business Strategies & Real Options" and "Optimism, Pessimism and Real Options". We were all impressed with the course designs and unique teaching methods we experienced at LBS.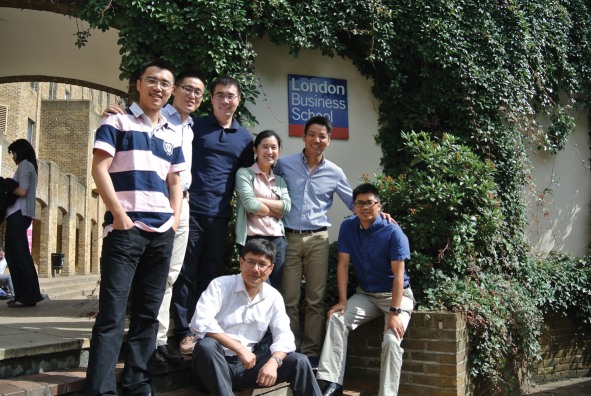 Financial Institution Visits
Another important aspect of the Overseas Study Tour to London is the opportunity to visit globally renowned financial institutions. During our tour, we were able to visit the London Head Office of Standard Chartered Bank, the London Stock Exchange, the Bank of China's London Branch, and Merrill Lynch. Through these visits we gained first-hand knowledge about recent European investments, as well as merger and acquisition activities of mainland and Hong Kong companies. We also learned more about the international appetites of Chinese financial institutions, and discussed recent IPO news. While visiting the London branch of the Bank of China, we were encouraged to pose questions to the bank's top management. Their insightful answers were especially appreciated by those of us working in the banking sector.
Experiencing Cambridge Culture
We also had the opportunity to visit the University of Cambridge and spend a day exploring both the university and surrounding town. The renowned Chinese poet Xu Zhimo studied at King's College, Cambridge and he wrote his famous poem "Saying Good-bye to Cambridge Again" on a return visit he made there in 1928. During our visit, we were able to go rowing on the River Cam, where we searched for Xu's "golden willows by the riverside". We enjoyed the unique charms of this historic university, and its classical architecture.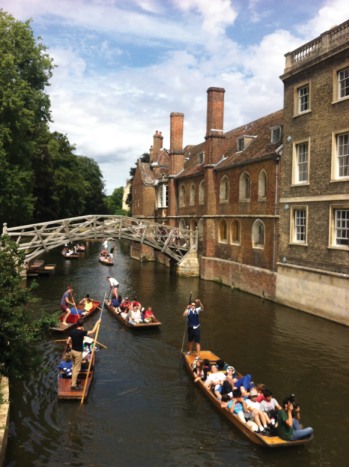 The Overseas Study Tour to London enabled us to gain a first-hand understanding of the sophisticated financial markets and systems of developed economies, and also helped us establish a direction for our future studies and work. Thanks to the thoughtful planning and attentiveness of CEIBS faculty and staff, every aspect of the tour, including the curriculum, accommodation, catering and transportation, made us feel at home. We will carry our wonderful memories of the journey with us as we continue to work towards a brighter future.