by Janine Coughlin
The family unit is so revered around the world that family-owned brands often leverage their family ties when promoting themselves to customers. The idea that a product or service is delivered "from our family to yours" conveys a feeling of trust, stability and romanticism that has universal resonance. Yet sometimes the reality of what is happening behind-the-scenes in a family business can be quite the opposite of stable. The same familial ties that can help promote company culture, build the brand, and streamline decision-making to make family firms more nimble than others, also have the potential to choke a family business and keep it from continuing beyond the first generation. 
Consider what happened with India's Reliance Group. When the founder of this large conglomerate died suddenly in 2002 without a will, it set off a battle between his two sons for control of the company that lasted nearly a decade. The company ended up being split in two, and Indian government officials even became embroiled in the feud. Fearing it might impact financial markets, India's Finance Minister in 2009 urged the brothers to resolve their business differences. 
In South Korea, details of the lawsuits between siblings in the Lee family get more media attention than the unveiling of the latest mobile phone made by Samsung, the multinational electronics giant their father Lee Byung-chull founded in 1938.
Though the founders of Gebrüder Dassler Schuhfabrik (Dassler Brothers Shoe Factory) died in the 1970s, residents of their hometown in Germany are still divided by the 1948 falling out between the two Dassler brothers that saw them shutter their successful sports shoe business and divide its assets. One brother went on to found Adidas, while the other founded Puma, and they became bitter business rivals. Both companies are still headquartered in Herzogenaurach but neither remained in the Dassler family beyond the third generation.
     
"It is relationships among family members that lie at the core of family business governance," says Professor Jean Lee, Academic Director for the CEIBS Kaifeng Centre for Family Heritage. "Family relationships may not appear critical to the success of a family business, but they often result in its collapse when crisis breaks out due to bickering, backbiting, or outright conflict between family members. For this reason, the greatest threat to the survival and success of any family business isn't so much linked with external factors like technology, customers and competitors; it's rather more associated with the relationships among family members."
Research has shown that globally less than 30% of family businesses have a successful transfer to the second generation, and less than 14% are successfully transferred to the third. It remains to be seen how well Chinese family businesses handle the succession process – in the coming decade the majority will undergo their 'first succession', in which the founder passes the baton to the second generation. 
"Entrepreneurs have some very unique characteristics," says Professor Oliver Rui, Co-director of the CEIBS Kaifeng Centre for Family Heritage, in explaining why there is such a high failure rate after a family business passes to the second and third generations. "The first generation, they have the guts, they have the knowledge. They are smart." 
In fact 175 of the world's top 500 firms are currently family-controlled. Among the largest public companies listed in the US, 40% are family businesses and as of July 15, 2012 China had 684 A-share listed family-owned companies, which accounted for 49% of the total listed privately-run companies in the country. Family-owned companies in their third or more generation are more common in the US and Europe than they are in China, since it was only in the 1980s when China began its policy of Reform and Opening Up that Chinese entrepreneurs began to build their companies.
Prof Rui said his interest in researching the family business arena was sparked when he joined CEIBS, where the entrepreneurs in his EMBA classes often share their business challenges. "Some of the students are the first generation family business founders," he says. "They're around late 40s, early 50s and are coming to the age where they should be thinking about how to enjoy life. But they cannot, because nobody will take the responsibility or share the responsibility for the business. I think these are not very isolated cases in China."
There are many lessons that Chinese family businesses can learn from their more mature global counterparts, says CEIBS President and Chengwei Ventures Chair Professor of Entrepreneurship Pedro Nueno. "Quite often families in business [in Europe and the US] prepare their members to have an adequate relationship with the company, as shareholders, directors, or managers," he says. "The relationship tends to be regulated by a family agreed set of norms about the most important aspects: Who can be a manager and what are the basic requirements, such as preparation and experience? Who can be a director and how to assess them? How should the family be rewarded through the company's earnings?"
   
Preparing the second generation to step up is more of a challenge in China, says Prof Lee, since the country's one-child families are less likely to see the kinds of conflicts for control found in the West, where sibling rivalries among the second generation more often make for a messy succession process. However Chinese society still places a high value on family relationships and a Chinese business owner still faces the decision of whether to pass the baton to his child or other family member, or bring in a professional manager from outside the family.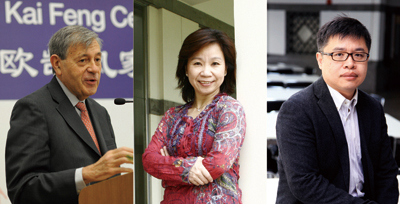 Prof Pedro Nueno         Prof Jean Lee       Prof Oliver Rui
In order to better understand how Chinese entrepreneurs are approaching this all important process, Professors Lee and Rui have done a study that examines the role that social trust plays in the type of CEO the owner of a Chinese family firm chooses. Among their findings, which will appear in a forthcoming paper entitled "Trust and Professional CEO Selection in Family Firms", is that family firms that are larger, have more sales growth, and are located in regions with high social trust, are likely to choose professional managers with no family ties. 
"What's interesting is that a well-educated founder tends not to pass the baton to his child, while the founder who starts from scratch is inclined to hand over his power to his child," says Prof Lee. "In addition, the founder who attaches great importance to family prosperity tends to recruit professional managers to ensure his business is built to last. The first-generation helmsman of a family business may employ family relationships as a tool for corporate governance, while the second-generation entrepreneur needs to exercise professional management while downplaying family relationships." She suggests the third-generation business owners should look beyond the family and improve corporate governance based on professional management.
Despite the unique challenges they face, many family firms have survived and thrived well beyond their third generation. "The Haniel Group in Germany was founded in the late 1700s as a warehouse for regional importers of products from Holland. The company grew, evolved, diversified and deployed globally," explains Prof Nueno. "Today it has a controlling interest in Metro Supermarkets, chains of pharmacies and other businesses. Its turnover will approach Euro 30 billion and it has more than 50,000 employees. The company continues to be family owned after more than 200 years and has more than 600 family shareholders."
A success story from the US cited by Prof Nueno is Cargill, which was founded in 1865 as a cereal storage provider. "Today the company is widely diversified, and includes operations in the food industry, financial services, and energy-related businesses," he says. "The total turnover exceeds US$ 100 billion and the company has more than 100 family shareholders."
How best to manage the divergent interests of all those family shareholders? Prof Rui says that many family businesses set up family trusts or foundations as a means of sharing profits with extended family members, while keeping them at arms-length from day-to-day business operations.
"They want to build a wall between the business and the family," he explains. "They may realise their son or grandson is not smart, so they build a wall between the business and the family to ensure the long-term sustainability of the business they created, so their legacy can continue."
"I think that's why we still remember the name of Rockefeller," Prof Rui adds. "Those second, third and fourth generations of the Rockefeller family, they are not actively involved in the daily operations of their family. They just become passive shareholders."
Only time will tell who among today's Chinese family businesses will have the same longevity of the Rockefellers or the Haniels.
Family Business Facts
- 175 of the world's top 500 firms are currently family-controlled
- Globally less than 30% of family businesses can successfully 
 transfer to the second generation
- Less than 14% of family businesses are successfully transferred 
 to the third generation
- 40% of the largest public companies listed in the US are family businesses
- 49% of the listed privately run companies in China are family-
 owned (as of July 15, 2012)
- 45.9% of the 684 A-share listed Chinese family companies are husband-
 and-wife businesses, while one third are brother-and-brother businesses 
- 46.8% of the 684 A-share listed Chinese family companies 
 involve a parent and child in business together.
The CEIBS Kaifeng Centre for Family Heritage

In order to help Chinese family businesses successfully negotiate the unique challenges they face, CEIBS collaborated with the Kaifeng Foundation last December to establish the CEIBS Kaifeng Centre for Family Heritage.
The Centre aims to become a leading academic and research institution in the area of family business that will provide a platform for knowledge creation and knowledge sharing for family businesses in emerging markets, and between eastern and western family businesses.
Already the Centre has organised two China Family Heritage Forums and several smaller closed-door roundtable sessions which bring together world-renowned academics and family business members to discuss the challenges of family businesses and their potential solutions. Upcoming roundtable sessions will be held in cities across China as well as globally.
Many Chinese family firms are now considering whether they should go global, and the "China Depth, Global Breadth" value proposition offered by CEIBS makes it well-positioned to develop such a family business platform. "CEIBS is a bridge between Eastern and Western management education, and therefore it can play a key role in the sustainable development of Chinese family businesses," said the Centre's Academic Director Professor Jean Lee. "The Centre has a global mind-set, with a China focus."
The Centre is also sponsoring numerous research projects on family business. There are also plans underway to create EMBA and MBA elective courses on the topic for CEIBS students, as well as developing a library, database, scholar network, and network of family business owners.
"We want to leverage the platform of the Centre to do deeper research into family firms," says Centre Co-director Professor Oliver Rui. "Understanding the unique issues of family firms requires in-depth surveys and interviews. You can't just look at the annual report of a listed firm."
Research projects will focus not only on the corporate side of businesses, but also on family relationships. Topics will include succession planning, philanthropy, and how to balance family relationships with good corporate governance, as these are among the topics most critical to family businesses. The Centre will sponsor research by CEIBS professors along with scholars from top universities around the world.