More than 100 participants from the first three sessions of CEIBS Entrepreneurial Leadership Camp managed to complete an 80 kilometre hike through the Gobi Desert near Dunhuang over three days in May. More than 20 volunteers from the CEIBS Gobi Club provided logistics support for the activity. Read on for highlights of the trip.
Hiking the Gobi: Participants began their trek at the Shuangta Reservoir then headed into the wind, sand and blazing sun of the desert. Though most of the group lacked training and hiking experience, the entrepreneurs showed impressive capabilities and persistence and most managed to finish the trek, thanks in part to the encouragement and teamwork from the group. Pictured here are the hardy Gobi hikers.
Desert Wedding: The wedding of first session student Fan Xiaoyan proved to be the most romantic part of the Gobi trip. In grand cinematic style, the bride travelled slowly through the vast desert on a red Jeep Wrangler to be united with her bridegroom. Fireworks illuminated the sky to mark the celebration as everyone shared their wishes of long-lasting happiness with the newlyweds.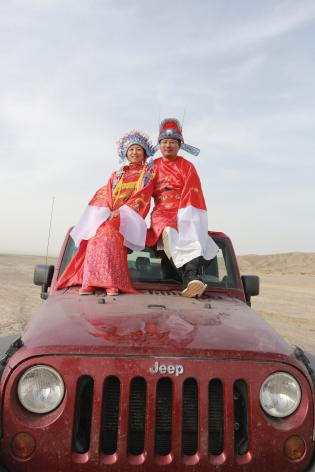 Culture & Philosophy: Fan Jinshi, President of the Dunhuang Cultural Research Institute, met the group on May 1 at the Silk Road Dunhuang Hotel and shared with them the history and significance of the renowned Mogao Grottoes. From left in photos directly below: Hao Chang, Zhang Jun, Yu Wu, Huang Fanzhi, Miao Ke and Li Mengdi share their views on business philosophy with the group. From left in photo below: Executive Director of the CEIBS Centre for Entrepreneurship and Investment Adjunct Professor Kevin Li, Fan Jinshi and Wang Yuhao. Capping off the trip, the newlyweds, speakers, and those who finished the hike first were able to enjoy the beautiful scenery of a Tengger Desert Tour courtesy of Chrysler.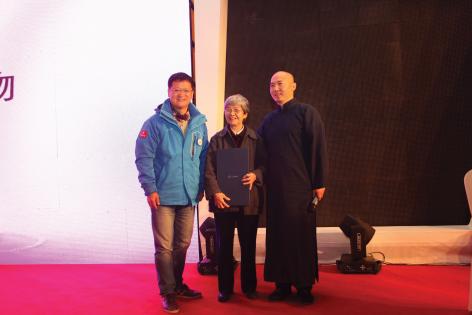 Reflections from Participants:
"Hiking across the Gobi makes me feel more confident, modest, grateful, and more conscious of friendship, trust, teamwork and tolerance."
- Wu Xunxian (CEIBS Entrepreneurial Leadership Camp Session 3 Participant )
"Some people find that it takes more courage to give up than to persevere, especially in a team situation. Knowing yourself, and feeling free to be yourself is the real journey."  
- Wang Dongyan (CEIBS Entrepreneurial Leadership Camp Session 3 Participant)
"One can travel endlessly with friends, and go further when carrying his dreams."
- Ji Pan (CEIBS Entrepreneurial Leadership Camp Session 1 Participant)