Enrolling at CEIBS after over 20 years abroad has been a happy homecoming for MBA 2015 Student Committee President Li Zhongyuan.
By June Zhu
When he was just eight years old, Li Zhongyuan and his family left their home in China's Guangdong Province and arrived on the tiny French-Dutch island of Saint Martin in the Caribbean, with hopes of building a better life. He was totally overwhelmed by his new environment.
"Before then, I had never in my life seen anyone who was not Chinese," Li told TheLINK. The island is a melting pot; there are over 117 nationalities living on a little plot of land the size of Hong Kong Island. His family settled in the Dutch section, known as St Maarten. "I was not able to communicate with anyone due to the language barrier… it was the darkest point in my life," he remembers.
His parents worked in a restaurant and he was often left on his own. They sent him to study English at a private kindergarten with classmates who were only three and four years old; the age difference made him feel awkward, but at least he was able to learn English and make some friends.
However as the German philosopher Friedrich Nietzsche once said, "What doesn't kill you, only makes you stronger". These childhood experiences taught Li to be independent and adaptable. He became mentally strong, and learned how to approach and overcome challenges in order to achieve his goals. Looking back on those days, Li feels lucky – and proud: "Many of the Chinese kids who grew up in St Maarten ended up quitting school when they were still very young. Most became restaurant chefs or went to work in Chinese supermarkets. I'm very proud that I adapted to the way of life in St Maarten and the extreme change of environment, and that I was able to get into very good universities in Europe and eventually join the investment banking industry."
After 10 years in St Maarten, Li moved to Groningen, in the Netherlands, for his undergraduate studies. He then attended the University of Warwick in the UK, where he earned his master's degree. After graduation, in 2006 he joined investment bank ING Barings in London; five years later, he and his family moved to Hong Kong, where he joined a listed US boutique investment bank – Keefe, Bruyette & Woods – and was promoted to vice president a year later. In late 2012, he and his ex-managing director and another colleague set up Asian Capital Advisors, a cross-border M&A advisory company based in Hong Kong. He enrolled in the CEIBS MBA Programme in 2013.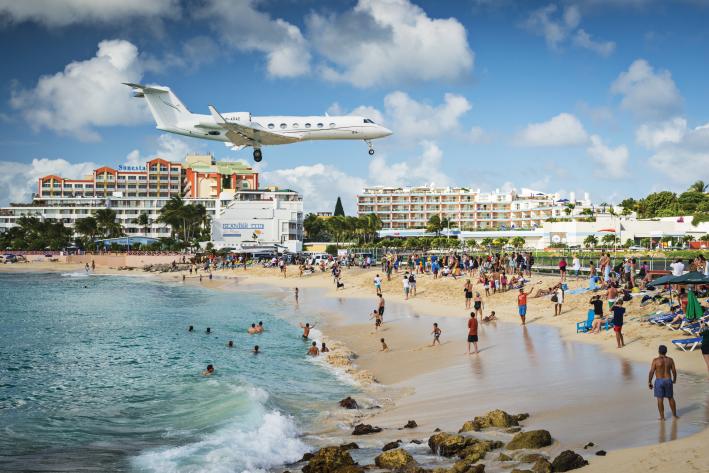 A jet approaches Princess Juliana Airport above onlookers on Maho Beach. The short runway gives beach-goers a close-up view of the planes.
Besides helping him in his professional development, Li's childhood challenges also offered him an object lesson in parenting. "My parents were always too busy to take care of me, which actually helped me to become a very independent child, so I will not coddle my own child," he says. Li's son is six and attends school in Hong Kong. Li flies to Hong Kong once a month to see his wife and son, and regardless of how busy he is he always tries his best to call his family once a day. "I'm very grateful that my wife is supportive of me pursuing an MBA at CEIBS. She takes very good care of our son so that I can focus on my career development," he says. "I am forever in her debt for that. She is a very capable woman, very caring mother, and an extremely empathetic wife!"
His optimism about the potential for future opportunities in Hong Kong led Li to move there in 2011. However he found it to be simultaneously too international and too reliant on the Chinese mainland, making it not "China" enough to him. "I figured why not just go directly to the source of opportunities instead," he says, explaining why he decided to apply to CEIBS. He also thought that enrolling in China's top-ranked MBA programme would help him to significantly build his mainland business network.
"I lacked China depth," he says, a clear reference to CEIBS' "China Depth, Global Breadth" tagline. It was eerie to hear those words, in Mandarin, from the mouth of a man with Chinese features. It helps to remember that Li's parents still live on St Maarten and his nationality is now Dutch. "My Chinese writing is bad," he admits. However he feels that despite his many years abroad and his ability to assimilate with foreign cultures, he will always think of himself as Chinese. "My ancestors are from China, and that's where I'll always belong."
When Li stepped onto the stage of the Shanghai Petrochemical Auditorium at CEIBS on July 15, 2013 as the representative of the MBA 2013 cohort, it marked another fresh start for him. Now he is getting used to the way of life in the land of his birth; many Chinese customs are different from those in the places where he lived in the West. "Living abroad for so long, my understanding of China and the Chinese way of doing business is very limited. As some would put it, I am not sufficiently 'close to the people' (jie diqi)," he says. "I am trying to be more like a local Chinese."
He expects it will be a fast adjustment. "Having lived and worked in different places since I was eight, I have learned to adapt to new environments very quickly. It is easy for me to talk and work with people from different places and cultures. This was a big advantage for me when I first began working in London and then in Hong Kong," he says. It also helped him persuade his classmates to elect him as their Student Committee President, a position that no doubt offers him a platform to get to know his peers better while also honing his leadership skills.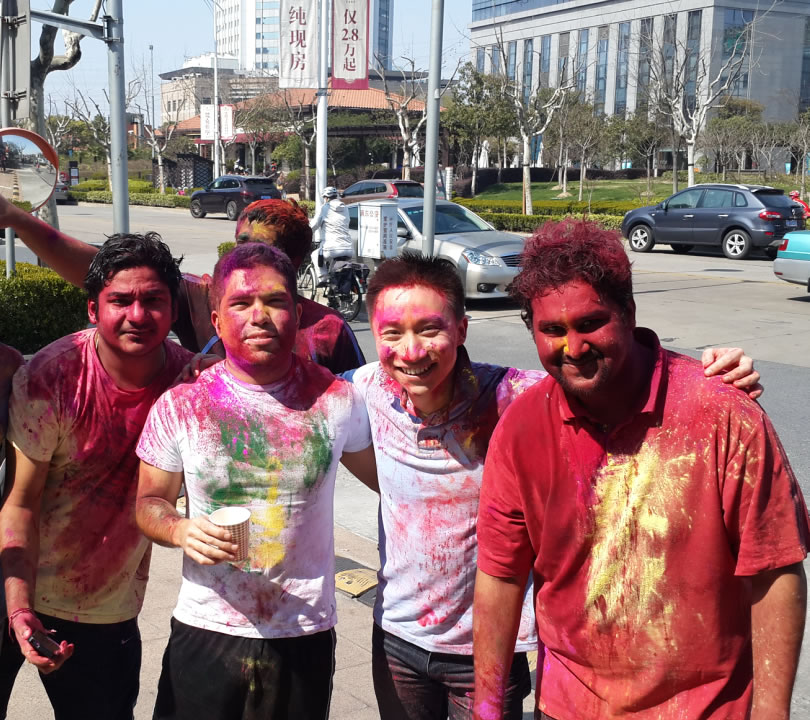 Celebrating Holi, an Indian festival, with classmates
Though swamped with courses and assignments, Li and his fellow Student Committee members try their best to fulfil their responsibilities to their classmates and the CEIBS community. The day they were elected, they began to offer suggestions to the MBA Office and, together with the relevant school departments, began implementing new initiatives. They have already succeeded in setting up a vending machine in the canteen, and are working together with other school departments to enhance the international environment at CEIBS. For example they have made efforts to help ensure that every student-led event will offer some form of translation for  students who don't speak Chinese and are working with the school and fellow classmates to open a student-run lounge on campus.
Professionally, Li expects his CEIBS MBA will help him enter the ranks of Chinese business leaders. Besides helping to build his mainland network, he says the programme gives him an understanding of the Chinese businessman's mind-set. The insights of CEIBS' world-class faculty and their ability to share the latest research findings on the rapidly evolving economic, political and social environment in China and the rest of the world are also invaluable. He also learns a lot from his classmates. "They are smart and have had very meaningful life experiences," he says. "I truly enjoy my time working and having fun with them. Whenever I feel tired or demotivated, they are always there for me."
After graduation Li is hoping to engineer a career switch to a new industry, with a job that allows him to travel between the Chinese mainland and Hong Kong, since he needs to consider his family and work-life balance along with his career.
When it comes to his personal life, he looks forward to exploring more of China. "My vivid childhood memories are of China. Though I have returned for summer holidays since the early 2000s, my true exposure to China was when I moved to Hong Kong in 2011. I flew to Shanghai, Shenzhen and Beijing quite often to meet with clients, therefore my understanding of China is only based on my experience in these mega cities. I know large cities are not representative of the real China, so I look forward to having the opportunity to travel to get a more holistic picture of this beautiful and highly sophisticated country.
Fast Facts
Age: 31
Education: BSc in International Business & Economics at Groningen University (NL); 
MSc in Economics & Finance at University of Warwick (UK); 
CFA Charterholder (since 2009)
Work experience: More than seven years in investment banking, specialising in cross-border    mergers & acquisitions
Favourite sports: Badminton, Football, Basketball, Bowling
Favourite food: Hotpot
Hobbies: Travelling, socialising with friends
The person he most admires: His father
Favourite scenic site: Jiuzhai Gou
Motto: Think positive! There's always light at the end of the tunnel!
Life goal: To spend each day in a meaningful way, and try my best to make people around me happy.