EasyFinance Executives Share Management Solutions
Saturday, April 26, 2014
EasyFinance Executives Share Management Solutions
April 26, 2014. Shanghai – Aligning your employees' goals with those of your company and unleashing your employees' full potential is the key to long term success in today's fiercely competitive and rapidly changing business environment, according to senior executives from EasyFinance who gave a lecture today at the Shanghai Campus entitled, "Inspiring Everyone to be a Manager". Organized by the CEIBS Education Foundation and the MBA and Alumni Offices, the featured speaker was EasyFinance Senior Partner Ms. Yang Jun. In her presentation, she shared practical examples based on her company's management research to illustrate successful solutions to today's common management challenges.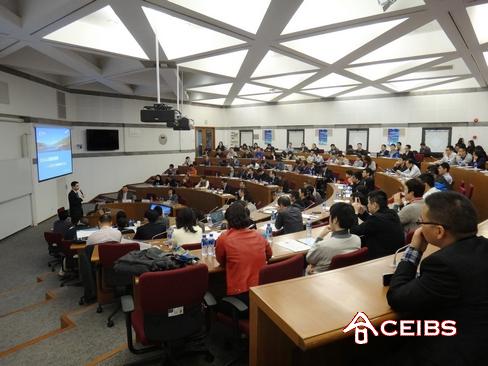 Haier Group, Huawei, Vanke and Jiangsu Aucksun were among the companies she said had effectively adjusted their management systems and processes in response to today's business environment, and that those changes had demonstrated a positive impact on corporate earnings. Her examples also highlighted the value of good management accounting practices, which is the subject of a core management course taught at CEIBS.
EasyFinance General Manager Mr. Ma Shuang also attended the event. CEIBS Associate Dean and MBA Programme Director Professor Chen Shimin opened the event with a welcome address. Following a lively Q&A session with the audience, Prof. Chen presented the EasyFinance executives with copies of the book China Economic Reform signed by the author, Baosteel Chair Professor of Economics at CEIBS Wu Jinglian.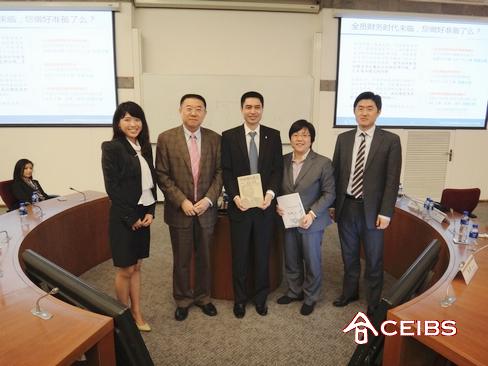 From left: Ashley Jia (CEIBS 2015),CEIBS Associate Dean and MBA Programme Director Professor Chen Shimin, EasyFinance General Manager Mr. Ma Shuang, Ms. Yang Jun, EasyFinance Senior Partner; and Mr. Steven Ji, MBA Programme Assistant Director