By Janine Coughlin
Doreen Deng joined Accenture 17 years ago after graduating from Shanghai Jiaotong University. She began in an entry-level position and worked her way up to her current position as the Greater China Vice President, and the Energy Industry lead. Her clients have included several Chinese and multinational oil and gas companies, leading projects both in Greater China and globally. She is a CEIBS Global EMBA 2003 alumnus.
TheLINK: What are some of the career accomplishments that you are the most proud of?
Doreen Deng: My rise at Accenture happened naturally. At Accenture we have a very clear career path. As long as you do a good job you can be recognized. Regarding project-related accomplishments, there are too many to list. With a consulting job, every successful project is a joint effort between the client and the company. We cannot, by ourselves, make a project successful. One thing I can mention, one of the clients which I had worked with for many years was ranked #1 in 2009 when SASAC (the State-owned Assets Supervision and Administration Commission of the State Council) started to rate SOEs' IT performance. When I read the news, even though I was not working with that client at the time, I still felt very proud because we had contributed to that. Although the #1 ranking was not entirely because of Accenture, we had played a role there and we were part of it.
TheLINK: What do you find the most challenging about your job and how do you tackle the challenges?
Deng: How to prioritize and manage my time is a big challenge, particularly since I have moved into a higher position. Accenture uses three criteria to evaluate employees at management level and above. First is value creation. What kind of value can you deliver to clients and to Accenture? The second is business operation, which means you need to manage the quality of the delivery of your projects. Third is people development. In the consulting business we need to develop our people, otherwise the business is not sustainable. Allocating my time at work between these three areas is a challenge, and I also need to take care of my family.
As a leader I think it's very important to have a team to support you, so the people development part has become more and more important for me, I give it a very high priority. If I have a strong team, I can delegate work to them and they can also grow while at the same time they share my workload.
The other challenge is that I am a woman and I work in an industry that is dominated by men. Most of my client counterparts are men, so I feel it can be difficult to build close relationships. The way I handle it is to focus on helping our clients, either as individuals or to make their companies better. We are a professional consulting firm and we can really provide value and fulfil our commitment to them. Through this I can build trust and good relationships with my clients. I cannot change the fact that I am a woman.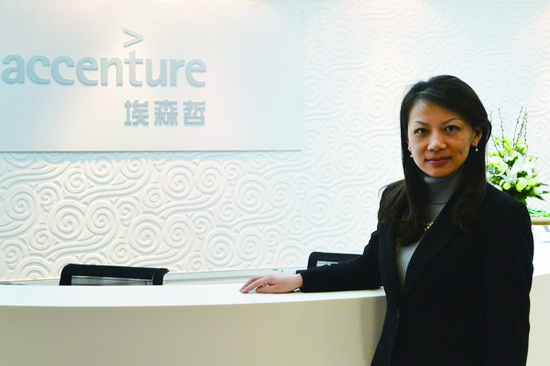 TheLINK: There has been much discussion lately, in the global media, about the lack of women in leadership positions. Since you have been successful in attaining a leadership role in your company, what advice do you have for other women?
Deng: Accenture already recognizes there are fewer women in leadership positions than men, and that it is important to have a diversified workforce. The company tries to support women to be successful within the organization.
When I look back at my own experiences, I think sometimes women don't treat their careers very seriously, because they can choose to go back home. My advice is that women should have their own career if they really like their work.
Women also need to make themselves stand out sometimes. We tend to play a secondary role supporting others, but if you really are capable then you need to be brave enough to show it, and to support your own growth within the company.
Balance is very important, particularly in China where people may think it is more important for women to focus on family. For example if you have a child, then at certain periods in your life you may need to slow down your career and make sure you feel balanced. But even if you slow down for a while, when you come back to work you still need to believe in your own ability. You can still do as good a job as before.
Also sometimes, particularly when we are in higher positions, women feel that there may be many things we don't know. But we should not be afraid of this. If you know that you don't know something that is a good thing. That just means you need to read some books or take an EMBA course so you can get to the next level in your career.
TheLINK: Why did you decide to enrol in the CEIBS Global EMBA programme?
Deng: Since graduating from university, I had always wanted to take an MBA course. At that time I thought maybe I would study in the US. After joining Accenture I was always busy with work, then I got married in 1998 and my husband didn't't want to go abroad. I thought that if I quit my job to do a full time MBA then the opportunity cost would be quite high and maybe I could not find such a good job after graduation, so I only considered EMBA programmes. At that time Accenture was sponsoring their high performers to take the CEIBS Global EMBA so I applied for that.
TheLINK: How has the CEIBS Global EMBA benefited your career?
Deng: When I began in 2003 I was still a manager so I didn't't see an immediate impact but I do feel this programme has helped broaden my knowledge. Since my EMBA, as I have moved up in my career path, the courses have really benefited me a lot, particularly now when I talk to C-level people among my clients. I can better understand their view and what they need to think about for the successful operation of their business.
I still look back and think the most enjoyable time was those four days per month when I could just sit and listen to the professors and share those case studies. It was really a rewarding experience.
 
TheLINK: What advice do you have for people who may be considering the CEIBS GEMBA programme?
Deng: Based on my own experience I would recommend that they try to fully leverage this opportunity and try to learn as much as possible from the professors, as well as from their classmates. During those two years, I could only really focus on those four days [of classes every month] because my other time was spent working and I also needed to take care of my baby – my son was only one year old at that time. I wish I had spent more time doing pre-readings and that I had spent more time with my classmates.
TheLINK: Why have you stayed with Accenture for so many years?
Deng: One reason is that Accenture provides a good platform. I like it, I like the culture, I like the type of work I do, and I like the company's six core values. Whenever a client really recognizes our efforts and contributions I feel a sense of accomplishment. Secondly, I am always very busy so I don't have time to think about leaving. Accenture is a great place to work. Every year we have a survey and one question it asks is how long you will you stay with the firm. I always say two or three years at least.
TheLINK: What is your long-term career goal?
Deng: I don't really have a very aggressive long-term career goal. I hope I can have a balanced life and I just always try to be the best that I can be.