By Charmaine N. Clarke
One of the ways that Atlas Copco prepares its high-potential middle managers working in China for greater responsibility within the company is to enrol them in CEIBS DIMP.  Since 2001, more than 120 Atlas Copco staff members have completed the Diploma in Management Programme at CEIBS.
With increasing competition from local companies, Atlas Copco knows the value of having a strong management team on the ground in China, leaders with both the practical and theoretical management skills needed for the company to maintain its position as one of the world's leading providers of industrial productivity solutions. The 140-year-old company has almost 40,000 employees across 90 countries and with 6,300 employees in Greater China, the country is its largest market in terms of number of employees. A mix of locals and foreigners, these employees are vital to Atlas Copco's operations and its long-term growth.
In this interview Nico Delvaux, Senior Executive Vice President Atlas Copco AB, Business Area President Construction Technique, talks about the role CEIBS plays in helping his company meet its commitment to employee development.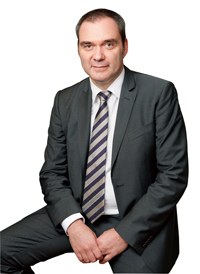 Nico Delvaux
TheLINK: How does CEIBS Exec Ed, and the DIMP in particular meet your company's needs?
Nico Delvaux (ND): We send many of our middle managers – and this includes Chinese and foreigners below general manager level – to the CEIBS DIMP. It gives them a wide view on management issues. It's a programme for people that we think have the potential to make the next steps in our organization in the future; people who want to develop and take on greater responsibilities. About 90 to 95% of our people who study at CEIBS are in the DIMP.
We are clients of CEIBS Exec Ed because we want to invest in our people, our most important asset. We have fantastic products, fantastic services but it's really our people that make the difference every day.  We want diversity in our group, including diversity from a leadership point of view, and we want our different markets to be well represented at various leadership levels. Obviously China is an important market and therefore we need strong local leaders to take leading functions in China – and abroad.  We believe in internal mobility, that  Chinese employees can take up international careers and gain international experience and become stronger as individuals, thereby being able to contribute more to the organization.
TheLINK: There are other business schools who offer executive education programmes, why did you choose CEIBS?
ND: We chose CEIBS because we believe that it is an organization with high standards, in general, and also has a high standard of teachers and classes. What is also good about the DIMP is that it's an open programme where other companies participate as well. This gives our people a wider view and valuable 'outside-in' input because they work together with people from other backgrounds, people who have other challenges and people that work in very different environments. This makes the learning broad and interesting for our employees. It's also a well-balanced programme that covers different aspects of management, and the modular structure, which includes a group project during the final course, is an effective teaching method. Yes, there is room for improvement (for example if there were guest speakers from different companies who could help make the link between the theory covered in the course and real life, and if there could be more emphasis on the specific B2B environment in manufacturing) but overall people seem to be very happy with the quality of the course. The participants are happy, and so are the people who sent them on the course.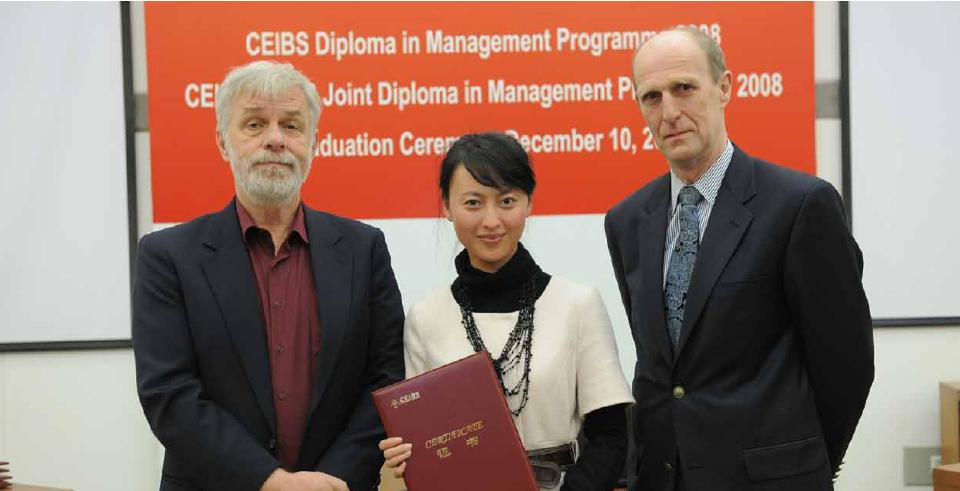 Graduation Day
TheLINK: What are some of the advantages that the DIMP provides?
ND: One of our reasons for having employees participate, and this is one reason we should not underestimate, is that we see it as a way to give them recognition, to show that we as a company invest in them. We have invested a lot in their competencies in order for them to become stronger employees afterwards and also to make sure that they are well prepared to take on greater responsibilities in our company in the future.
Then there are the group projects where 4 or 5 programme participants have to work together on a real life case study and we provide topics for the students to work on. On one hand it helps the students, and on the other hand the outcome of the study is also interesting for us.  It's a win-win situation.
Another benefit is that participating in this programme also gives our company insights and exposure to the academic world of CEIBS – both from being a corporate sponsor and also from the benefits of the case studies mentioned above. Atlas Copco has been one of CEIBS' corporate sponsors since 2006.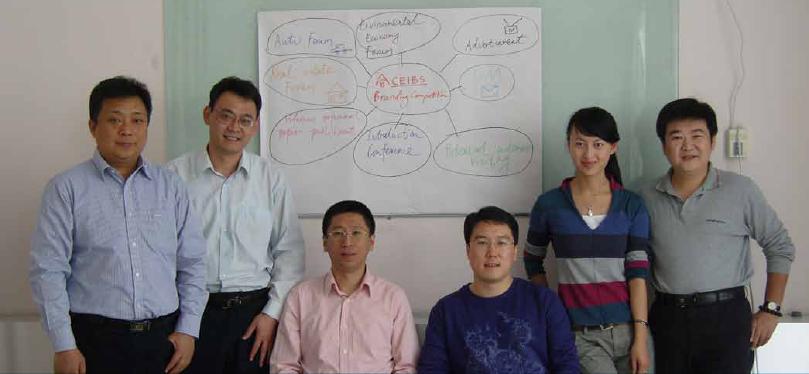 Class paticipatants and CEIBS staff pause for a commemorative photo during a course.
TheLINK: Can you give me specific examples of how Atlas Copco participants have benefitted from doing the CEIBS DIMP?
ND: I have seen different people, who did the programme a couple of years ago, progressing through the company ranks. Some of those people who were middle managers at the time they did the course are now general managers either here in China or abroad and/or became part of a divisional management team. Currently, and in the past, I have a couple of people directly reporting to me that have done the programme. I would not go as far as saying that it is only because of the programme that they got promoted but I think the programme helped them to build their competencies. It made them stronger, more confident and therefore made them good candidates for promotion.
TheLINK: How does CEIBS DIMP fit in with Atlas Copco's wider global efforts in employee development and the work done by the Atlas Copco China Academy?
ND: The Atlas Copco Academy is a worldwide initiative within our organisation. It's our internal "university". There are different courses and competencies, and development tools made available. The advantage of the Academy is that we try to group it all together and structure it in a logical way in order not to re-invent the wheel every time we do a training course.  There are very general courses such as computer courses or specific courses for a country – such as cultural training courses. I participated in such a course after I arrived here in China last August.  There are also very specific training courses – these may be product related or business related. We strive to have most of the teachers being internal, it helps us to build our company culture and strengthen the network between our employees. The CEIBS DIMP is one of the programmes in our overall training structure. As we like to say, learning does not stop when you finish university/school. We believe our employees should continue developing their competencies and keep learning throughout their careers.

About Atlas Copco
Atlas Copco's products and services include compressors, expanders and air treatment systems, construction and mining equipment, power tools and assembly systems, and related aftermarket and rental. Products from its four business areas – with their respective head offices in Belgium, Sweden, US and China – span a wide range of interconnected industries. The company was founded in 1873, is based in Stockholm, Sweden, and has a global reach spanning more than 170 countries.
DIMP Details
The Diploma in Management Programme (DIMP) is aimed at ambitious managers who have already distinguished themselves and are on a fast track of management development. By focusing on the individual, this programme enables participants to step back from their daily responsibilities and gain a broad, integrated perspective of general management. The DIMP specifically helps managers understand their role in their company, learn how to manage up, down, across and outside of their company's organisation, perform a working assessment of their organisation and formulate solutions to individual job challenges.
The programme is divided into two parts – a compulsory section of seven modules and an elective section of one module. This year, each compulsory module is presented in a single four-day session across a weekend from June 2013 to the second half of 2014. The timing of the elective module, which is offered in 2014, depends entirely on the individual participant's speciality and choice.