By Professors Juan Antonio Fernandez, Xu Bin and Zhou Dongsheng
With the Chinese economy experiencing rising labour costs and slower growth rates in recent years, companies in China – both domestic and foreign – must adjust their business strategies to adapt to the new business environment. This trend is spot on, according to the CEIBS Business in China Survey 2013 which polled 1,214 executives from Chinese and foreign companies doing business in China.
The CEIBS Business in China Survey is an annual poll of business executives working in China for both Chinese-owned and foreign-owned companies. The 2013 survey was completed by 1,214 executives in November/December 2012, with 768 from Chinese companies and 446 from foreign enterprises. Among them were 539 CEOs, GMs, and company owners, and 388 Vice Presidents, Vice General Managers or Directors, while the rest represented all the remaining business functions: HR, Finance, Marketing, Sales, Operations and Research & Development. Of the respondents, 81% are from the Chinese mainland, 3% from Taiwan, Hong Kong or Macao, and 16% from 28 different countries. The great majority of them (92%) have more than 10 years work experience, with 40% of them having more than 20 years work experience. This broad and experienced sample added rich and valuable perspectives to the survey. 
The adjustment to China's new business climate is reflected in the confidence index, which is based on the question "How confident are you that your operations in China will be successful in the next year?" On a scale between 0 (no confidence at all) and 10 (maximum confidence), the average rating by Chinese company executives is 6.3 for 2013, dropping from 6.7 for 2011 and 6.6 for 2012. The average rating by foreign company executives is 6.5, dropping from 7.2 for 2011 and 6.6 for 2012 (see chart 1). Although the confidence index remains above 5, the downward trend indicates that the slowdown of businesses in China impacted negatively on executives' business confidence levels.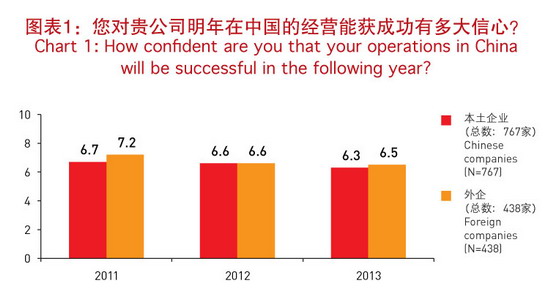 Challenges and Success Factors
China's new business climate is evident in the challenges faced by executives. According to the survey, the top three external challenges for companies doing business in China are rising labour costs, increasing competition, and the slowing of the Chinese economy (see chart 2).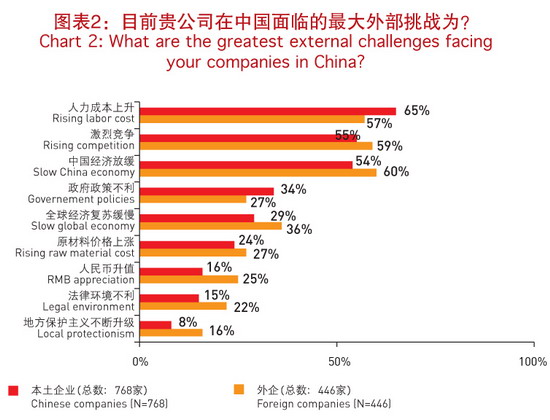 Rising labour costs have been ranked high in all three recent surveys, which is a key characteristic of China's new business environment. Another key characteristic is intensifying competition in China, especially from Chinese private companies. When asked who their main competitors in China are, 70% of Chinese executives and 62% of foreign executives choose Chinese private companies (see chart 3).
With the Chinese economy in transition, how do companies respond to the change? The survey results give the answer. When asked what are the most important factors for their companies to be successful in China, the top answer is quality of products and services (see chart 4).
In order to achieve higher quality of products and services, many companies plan to increase their investment in innovative activities. The survey results indicate that 66% of the companies who did R&D in 2012 plan to increase their R&D investment in the next 3 years (see chart 5).

Looking Ahead
Facing more difficuties in doing business in China, a majority of the executives surveyed are optimistic about the future. When asked how they expect their company's business to perform next year (2013) compared to this year (2012), 62% of the Chinese company executives and 58% of the foreign company executives choose "better than this year", and another 11% of the Chinese company executives and 8% of the foreign company executives choose "much better than this year" (see chart 6).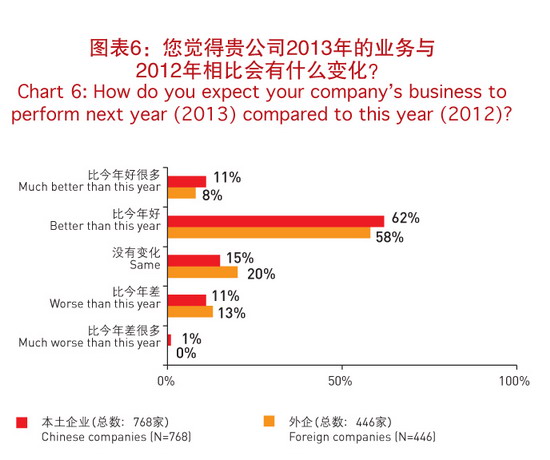 It is worth mentioning that 52% of surveyed foreign companies cite an increase or a substantial increase of the share of their China sales in global sales, and 52% of foreign companies reported R&D activities in China in 2012, up from 39% in 2011. These statistics indicate that foreign companies have been actively adjusting to the changing charactersitics of the Chinese economy. For Chinese companies, there is a trend to increase investment abroad, with 42% of the companies stating plans to invest outside China in the next 3 years. It is intersting to note that 50% of the Chinese company executives cited "corporate governance" as a great management challenge in contrast to only 22% for foreign company executives. These statistics suggest that in facing China's new business environemnt, Chinese companies are paying more attention to issues such as corproate governance, and are implementing new strategies such as investing abroad.
Juan Antonio Fernandez is Professor of Management at CEIBS, Xu Bin is Professor of Economics and Finance, while Zhou Dongsheng is Professor of Marketing. The authors would like to acknowledge the support of a CEIBS research grant, and excellent research assistance from Maria Puyuelo and Jenny Li.