By Lei Na & Sherry Zhou 
Jiangning District is the fastest growing industrial base for Nanjing's economy; many global Top 500 enterprises have operations there. But there are still some pockets of serenity. The view from the window of the meeting room in the newly-built Nanjing Yincheng Crowne Plaza, for example, provides clear line of sight to a tranquil lake, surrounded by a handful of buildings. Compared with noisy downtown, this spacious area exudes its own air of grace. "These were all farm fields before," says President of Yincheng Real Estate, Huang Qingping (CEO 2003), as he points to a plot of well-maintained land. "This place used to be the countryside. Later, enterprises moved in and industry prospered, turning the nearby farmers into industrial workers. Villages and towns gradually disappeared, or merged into the city. This is the natural process of urbanization."
Cities Born of Industry
With his deeply-ingrained way of thinking within the broader historical context, Huang views urbanization as much more than the process of relocating farmers into the city and providing the necessary infrastructural upgrades. "The key is to nurture the environment, to make sure there is an atmosphere in which people seek to innovate and start businesses," he says. "This cannot be done at one stroke; it will be a long process. First, you have to make rules and laws, and provide financial and technological support. When people can enjoy the fruits of business success, and are not afraid of failure, farmers swarming into the city will no longer feel lonely and helpless, because there are enough jobs for them to find a living there."
Huang's first-hand view of how industrialization leads to urbanization has shaped his opinion of the how the new round should be implemented. "Farmers in the city must turn into industrial workers or service workers, or they will be an unbearable burden to the government," he says. "Employment is an important issue in our effort to turn farmers into city dwellers. In my opinion, one way out is to develop private enterprises. Data shows that private enterprises provide nearly 80% of China's urban job opportunities, and their role in China's urbanization should not be neglected. They can shoulder the responsibilities of China's employment, as nearly two thirds of China's GDP is generated by private enterprises."

Industry Burgeoning with Reforms
His comments are a tip-off to his hope for a society that encourages entrepreneurship. They indicate that he is not merely a seasoned businessman standing at the pinnacle of a huge real estate empire after the vicissitudes of running his business. He is also, at his core, still just a man determined to earn a living, a man hoping for a better life in the city. Maybe it is because he knows how hard it is to be an entrepreneur and just how precious favourable policies are, that he is so passionate about ensuring that today's youth can live in a better time, one where they have more choices. 
"The basic problem for urbanization is the reorganization of China's economic structure. Without solving this problem, urbanization will surely narrow its focus onto steel and cement. If the aim of urbanization is just to consume the existing surplus capacity without considering the balance between input and output, there will be bigger bubbles," he warns. "As [CEIBS] Professor Xu Xiaonian has pointed out, 'every village wants a railroad, but not every railroad into a village will bring equivalent reward'. From an economic viewpoint, we cannot invest blindly hoping for a return, we should try other ways."
Though he knows it will be a difficult process, Huang is convinced that urbanization is a must for China's sustained future development.
Real Estate in Urbanization
The saying that the things most sought after are often the most misunderstood seems to apply to China's real estate developers. Huang sees parallels between his sector and the financial industry: there are great opportunities to amass and leverage immense wealth, which leads to a public backlash. But he is undeterred; he has peace of mind. "Real estate is the third pillar of the financial sector. It is a kind of service, providing space for people to work and live," he says. "People will only dream of buying bigger houses when their income increases. Without practical ways to create wealth, just having a wish to start a business is not enough. Without the creation of wealth, the real estate industry has no way to develop itself. Urbanization is never just about real estate development."
This is why he has been calling for reforms, even though that means everything will change. The halo around the real estate industry will fade, and the industry itself will no longer be the crown jewel of China's economy. It will no longer be a 'magical' industry that survives rounds of governmental 'macro-control'. Huang prefers to work in collaboration with other industries in a healthier environment where economic rules are better respected, and to be among those whose united wisdom, courage, diligence, and insight into the trends of history help blaze a hard-earned trail towards China's urbanization.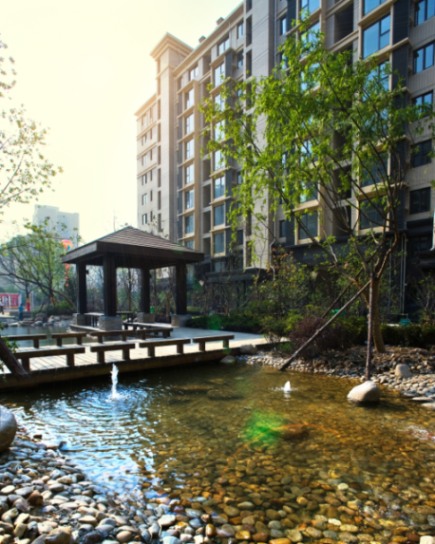 TheLINK: Your career is closely linked to the development of Yincheng Real Estate. Could you brief us on its history?
Huang Qingping: Yincheng used to be a state-owned enterprise. It was set up to help the government build bridges and roads, along with houses for employees of institutional organizations. In 2001 Yincheng became a private entity, and began to truly enter into the market. For the past 20 years, we've been striving to grow against the background of China's development and within the framework of its macro controls. The company has now expanded its business line to include residential real estate development, which is its main focus, along with hotel management, office buildings, commercial real estate, as well as real estate management, interior design and fitness training, among other supporting industries. In the coming decade, the company expects to focus on three major areas: homes, hotels, and real estate management.
TheLINK: Do you think the central government's new urbanization push will provide a wave of development opportunities for the real estate industry?
There will surely be opportunities out there, but I hope the policies can be made clearer. The development of cities will stimulate demand for housing, services and commerce.  Currently there are not enough cities to contain the incoming population, which brings opportunities for developers. We can meet the demand from the market and create proper products to supply the needs of local residents. But in the meantime, we cannot invest blindly before clearer policies come out. We are expecting the national decision makers to initiate certain reforms, such as the loosening of the household registration system, allowing mortgage of rural farms, and ensuring that the children of migrant workers have access to education. Urbanization is the future trend of China's society. With the swelling of the cities, there will be greater and greater gaps between rich and poor, which must be filled by urbanization. But the premise is that reforms are carried out, and they must be genuine reforms that break the status quo.
TheLINK: Yincheng has operations in Nanjing, Wuxi and south western China. Do your future plans include focusing on existing areas or going into more cities?
We're going to make some adjustments. In recent years our focus has been on Nanjing, and we will be more prudent in expansion. China's real estate industry has shown considerable structural differences between cities, which mainly results from the differences between the number of incoming people and the development of urban service industries. We'll first consider areas where there are relatively small stocks of commercial houses. When we choose cities for our future development, we'll mainly focus on the number and structure of the incoming population, and the level of development of local financial and service industries, as well as that of consumption. If a city is attractive to neighbouring areas, its real estate will also prosper.
TheLINK: Yincheng is among the first real estate enterprises that advocated green and energy saving buildings. Do you think environmental protection and economic development can go hand in hand with urbanization?
Yincheng Real Estate has been trying out energy-saving buildings since 1996, five years earlier than the promulgation of the national energy-saving standards. At the time, we researched the real estate industry at home and abroad, and Nanjing's climatic feature of 'freezing in winter and sizzling in summer' gave me the idea. Nanjing does not have an internal heating system, and its residents had to wear as much inside their homes in winter as they did outside. To change this, we planned to build a type of house that keeps warm in winter and cool in summer. Based on this concept, we began to develop energy-saving housing. Currently our company commands mature technology in energy saving and environmental protection. By the end of 2012, Yincheng had completed a total of 3.2 million square metres of construction area of green energy-saving housing, among which more than 1 million square meters are classified, at state level, as exemplary green building construction projects. About half of Nanjing's energy-saving environmentally friendly housing was developed by our company. Can environmental protection and economic development go hand in hand? I think first there must be national legislation concerning the matter. Only when there are strict regulations can people resist the allure of profits and seek to harmoniously develop the two.