Zhou Ye
By June Zhu
Two years ago, President of China Payment and Remittance Service (China PnR) Zhou Ye, jokingly predicted that within three years, cell phones would replace bank cards and point of sale (POS) terminals. Today, he's more convinced than ever that he was on the right track back then. Not many would disagree with him. "If the regulations were loosened a little, that would be the norm," says the CEIBS EMBA 2000 alumnus.
In June 2006, encouraged by the huge potential he saw in electronic payments (e-pay), Zhou left ChinaPay, a well-established state-owned company, and set up China PnR with an elite group of his former co-workers. "In 2006, I saw so many opportunities either in e-pay or other sectors related to payment. I really believed that the entire payment industry would benefit greatly from innovation; but that innovation would require changes in the structure of companies, in their systems and their operations. This was impossible for a state-owned company," explains Zhou.
With innovation as its core value, China PnR has seen high-speed growth over the last eight years. From the very beginning, it made the "channel" the most important element and focused on three industries: investment funds, aviation and games. This turned out to be a smart move. China PnR turned a profit only 26 months after its launch, and was the first company licensed by the China Securities Regulatory Commission to provide payment services for online fund sales. By launching the brand new product Tian Tian Ying in 2010, the company reached its goal of ensuring that "investors could purchase anytime, at any place any product directly being sold by an investment fund". In recent years, China PnR has expanded its scope of business from its three initial core industries to a much more complicated structure that covers thousands of clients from the fund industry, airline ticketing, commercial distribution, digital entertainment, etc. The company is now an established player in the market and in 2013 it was ranked third behind ChinaPay and AliPay.
In a recent interview with TheLINK Zhou shared his views on what's ahead for China's Internet finance.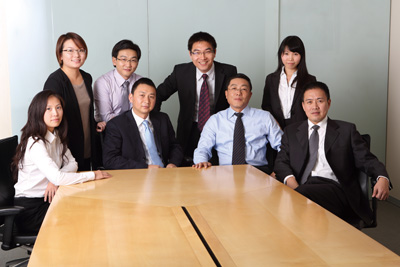 Vice President of China PnR, Liu Gang (2nd right, front row) and his elite team.
TheLINK: What are the strategic moves that have contributed to your company's success?
In the last few years, the company's revenue has at least doubled year-on-year. There are three reasons for our success. One, the payment industry has a huge existing market; and the market potential is also huge. Two, over the years technology, especially Internet technology, has transformed the entire payment industry; there were radical changes in aspects such as product creation and post-product operations. Three, comparatively speaking, over the years we have been encouraged by various policies from the national and local levels as well as the central bank.
TheLINK: What are your core products? How have these changed over the last eight years? Will you have new products in the near future?
Our products have varied over time. In the first five years, we focused on payment platforms for industrial chains such as aviation. So we designed many products that facilitated payment, helped with cash management, as well as some credit instruments. That approach has been really successful. After we became a licensed third party payment provider our product line was enhanced by transactions from POS terminals. We also entered into the realm of financial management, and after we got approval from the China Securities Regulatory Commission we began to handle payments for financial management and sales. The third part of our business is account trusteeship. That's because we have seen a surge in demand for financial accounts. Though there are more and more P2P companies emerging, it's still difficult for them to set up an account system that's equivalent to banks. That means many quasi financial companies need account systems that are similar to the established banks. It's not as complicated as it sounds. We have set up many small AliPay account systems for people from many different industries. Our goal is to innovate and develop, so we won't stop creating new products.
TheLINK: How does your company differentiate itself from local competitors such as AliPay, and international ones such as PayPal? Who are your biggest local competitors?
We largely focus on payment applications for many industries instead of just setting up accounts. For example, we've customised payment applications for the aviation and investment fund industries and there are also hundreds of thousands of small and micro businesses waiting for our payment solutions. We focus on providing solutions, but our competitors, such as AliPay, are more focused on just providing accounts for B2C businesses. Our competitors are everywhere in China, but the biggest opponent we have in this industry is actually cash.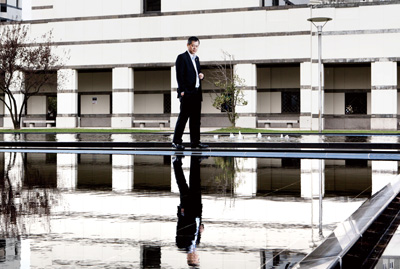 TheLINK: Because of the nature of your company, you work closely with domestic commercial banks and international credit card companies. How responsive is China's traditional banking sector to internet financing? Has their attitude changed over the years? What about internationally?
Commercial banks have been paying close attention and so they're aware of the trends and developments taking place. To a large extent, banks view the Internet as a tool, and they also know how important it is to transform the existing banking structure and the wider field of finance. However, people have different opinions on a number of issues such as how important a role should the Internet play in the entire industry or within an organisation. Another issue is: after a trend has been identified, will the "body" react accordingly? Does the body even want to react? Whether it does or not makes a big difference.
TheLINK: There is always concern about the safety of online data, a topic that comes up every now and then. There have a number of well-publicised security breaches in the US, for example. How concerned should the public be about the safety of their information when they use your products?
In this regard it is safer in China than in the US. In America, many credit cards don't even have passwords. China's credit card technology system began in the 1990s, and from day one, the banks' approach was that anyone could be a 'bad' man, so banks should be cautious of everyone. That's why all cards have passwords, and all transfers are confidential. China has always been stricter than the US. However, because mobile Internet does need some innovation, sometimes we have to compromise safety to improve convenience. But I don't think it should be a big concern, you can make up for it by setting limits to the amount of money that can be accessed or spent, so you have backstage supervision in place as well as a risk-control system.
TheLINK: What has been your most innovative addition to the online payment industry, and why?
There have been two major innovations by China PnR which are now being used by the entire industry. The first is payment by credit. We were the first company to incorporate a credit limit into payments for airline ticketing. We did this from as far back as December 2007. The second is the Tian Tian Ying fund transaction platform. We were actually the first ones licensed, then yu e bao and other competitors followed us. This platform opened a door for not only China PnR, but for the innovation of the entire industry.
TheLINK: What's the next big trend for online payment in China?
There are two directions for China's payment industry: mobile payment and Internet finance. Today, Internet finance is a hot topic; but I believe the breakthrough will be in payment, because its scale is bigger than any other, it has a much bigger client base, a lot of capital as well as much more innovation.
TheLINK: Is there any innate advantage in developing Internet finance in China?
The huge number of Chinese netizens is an edge. The increasing use of smart phones to access the Internet has really tapped into their potential. China has very good infrastructure, and the Chinese have been 'trained' to 'live' online. That's where they get news, check out restaurants and fun things to do, that's where they shop. Everyone's good at this now.
TheLINK: What are the biggest bottlenecks/obstacles to  being a provider of online payment in China? What needs to be done to overcome these, and who needs to act?
There is still some dispute about the location of the boundaries between payment and Internet finance. The biggest bottleneck is that we haven't reached a consensus among the various parties – the traditional financial industry, regulatory institutions, as well as the emerging payment industry. It is beyond our control. We need consensus and, on the basis of that consensus, the industry would grow quickly as long as appropriate regulations are in place.