China Management Accounting Forum 2014
Saturday, October 11, 2014
China Management Accounting Forum 2014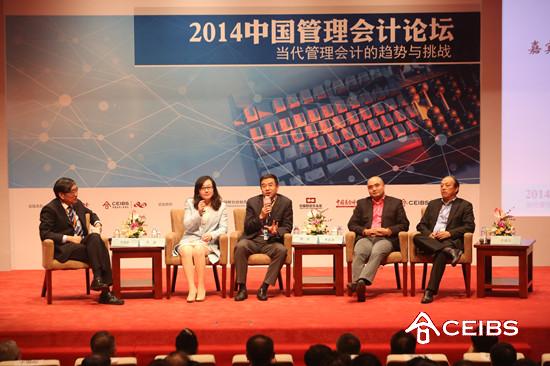 October 11, 2014. Beijing – "Contemporary Management Accounting's Trends & Challenges" was the focus of the China Management Accounting Forum 2014 held today at the CEIBS Beijing Campus. The forum was co-hosted by CEIBS and the China Association of Chief Financial Officers with support from the CEIBS Alumni CFO Association. CEIBS Vice President and Co-dean Professor Zhang Weijiong gave the welcome address. "China's Management Accounting: Past and Future" was the topic of the keynote speech given by the Vice Minister of China's Ministry of Finance Hu Jinglin. Other participants included:
- Haier Group CFO and Senior Vice President Ms. Tan Lixia, who is also a CEIBS alumnus;
- Baosteel Group Vice President Ms. Chen Ying;
- China South Industries Group Deputy General Manager and Chief Accountant Mr. Li Shouwu;
- New China Life Insurance Vice President and Chief Financial Officer Mr. Chen Guogang;
- CEIBS Associate Dean and Essilor Chair of Accounting Professor Xu Dingbo;
- Academic Deputy Director of the CEIBS EMBA Programme Professor of Accountin Su Xijia;
- CEIBS Professor of Accounting Hwang Yucheng;
- President of China Association of Chief Financial Officers Ms. Liu Hongwei; 
- Former Director of the Department of Accounting, University of Illinois at Chicago and Advisor to the Governmental Accounting Reform Commission for China's Ministry of Finance Professor Chen Liqi.