CEIBS Vice President Zhang Weijiong & Alan Greenspan Discuss China & US Economies
Wednesday, September 24, 2014
CEIBS Vice President Zhang Weijiong & Alan Greenspan Discuss China & US Economies
September 24, 2014. Washington D.C. – CEIBS Vice President and Co-dean Professor of Strategy Zhang Weijiong met today with former US Federal Reserve Chairman Alan Greenspan for a discussion on issues pertaining to the Chinese and US economies.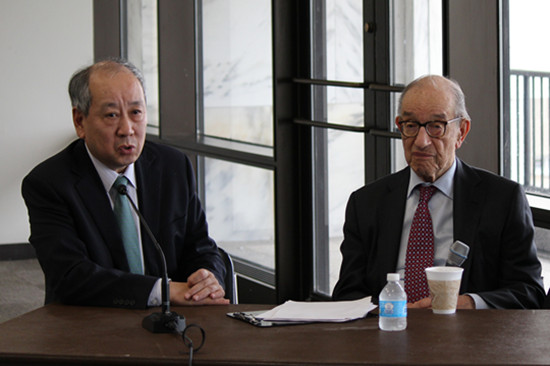 Professor Zhang Weijiong asked Mr. Greenspan about his views on the slow growth of the US economy and the impact of the recent NYSE listing by Chinese E-commerce giant Alibaba. Mr. Greenspan said that in his opinion, the US economy was not performing as well as the country's financial industry. He noted that the Federal Reserve has been taking measures to make investment in real estate and securities attractive and that the key to stimulating growth in the US economy is to ensure capital investment. A declining savings rate has led to the slowdown of the US economy while at the same time, the budget deficit and governmental debt grew. Therefore, the US needs to increase its aggregate capital to boost its economy.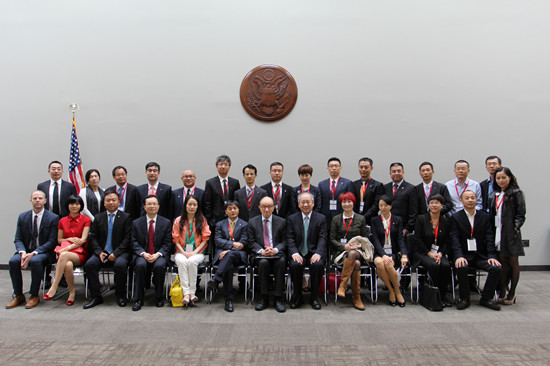 Mr. Greenspan also shared his views on the sustainability of China's economy and its financial systems. He said that despite China's rapid growth over the past 30 years, it still lacks notable technological innovations, while comparatively science and technology have always been the driving force of the US economy, even in periods of slow growth. He also cited a Reuters report on the world's 100 most innovative companies, which included 45 American companies; no Chinese companies made the list. Shadow banking and local government debt were other problems facing China's economy Mr. Greenspan said. He pointed out that the percentage of shadow banking and private lending in China's GDP has increased from 15% in 1999 to 60% in 2013 and the ratio of debt to GDP has increased from 175% to 240%. He believes the decline of China's property market and local governments' debt will affect the sustainability of China's economic growth. However he was optimistic about China's future and confident in its leaders' abilities to cope with these problems.