The CEIBS-UNESCO-CHIC 4th China Agri-Business Forum 2015
The CEIBS-UNESCO-CHIC 4th China Agri-Business Forum 2015
Cross-Sector Collaboration: Spearheading a New Era for Modern Agriculture
Contact
Post:
Ms. Molly Meng/ 699 Hongfeng Road, Shanghai 201206, PRC
China's agricultural sector is on the verge of a profound transformation. At the Central Economic Work Conference 2014, "accelerating a shift in the model of agricultural development" was on the government's list of five major economic tasks for 2015. Also, it was proposed at the Central Rural Work Conference 2014 that modern organizational models, such as the industry and value chains, should be introduced into the agricultural sector to facilitate integration and interaction among primary, secondary and tertiary industries.
Forum Organisers

China Europe International Business School
CEIBS is a not-for-profit joint venture established in 1994 with the support of the Chinese government and the European Commission. Over the past two decades, CEIBS has made outstanding achievements and received wide recognition from the society, with its reputation as a prestigious business school in Asia being further strengthened and enhanced. With a vision to become the most respected international business school in the world, CEIBS is committed to educating socially responsible leaders versed in "China Depth, Global Breadth". As one of the leading business schools worldwide, CEIBS organizes a number of high-level international forums and roundtables each year that offer an open platform for industry leaders, senior government officials, and renowned academics to share their insights on hot issues facing China and the world.
  
UNESCO-CHIC Harmony aims to narrow the gap between rural & urban areas by redefining their relationship and realizing sustainable development of an integrated urban & rural economy, society, environment, culture and education. CHIC Group is the initiator of Biosphere Integrated Rural Urbanization Program (BIRUP), the implementer of the total value chain solution of the integrated rural urbanization, and a platform for management. CHIC Group is a transnational corporation, involved in six divisions, namely food, agriculture, home and garden products, medical equipment, integrated supply chain management solution and execution, and biosphere integrated rural urbanization project (BIRUP) development and investment. It's the largest export-oriented fruit processing enterprise in China.
Co-organizer:

China Agriculture Industry Chamber of Commerce (CAICC)

China Good Agri-products Development& Service Association(CGAPA)
Programme
May 17 (Sunday)

08:00~08:30

Registration

08:30~08:35

Welcome Address
Dr. Li Mingjun
President, CEIBS

08:35~08:45

Keynote Speech
Prof. Wu Jinglian
Baosteel Chair Professor of Economics, CEIBS

08:45~09:05

Keynote Speech
Mr. Han Jun
Vice Chairman, Office of the Central Leading Group on Financial and Economic Affairs, Office of Central Rural Work Leading Group

09:05~09:25

Keynote Speech 
Mr. Maarten Camps
Secretary General, Ministry of Economic Affairs, the Netherlands

09:25~09:45

Keynote Speech 
Mr. Edward Zhu Y.M.
Chief Executive Officer, CHIC Group; CEIBS Alumnus

Moderator:
Dr. Snow Zhou
Assistant President, CEIBS

09:45~10:15

Coffee Break

Session I: Sinking Investment Capital into Modern Agriculture: Shaping a New Pattern

Over the past few years, China's agricultural sector has been inextricably and very obviously linked with investment capital. But is the honeymoon coming to an end? The answer depends on the ongoing and much-discussed land reform issues. As land has bearing on the vital interests of farmers, reform policymakers are walking a tightrope. How will the government strike a balance between spurring innovation and tightening regulation to ensure efficient allocation of earnings to both farmers and investors? How will capital and modern-day agriculture be combined to produce a win-win result rather than a zero-sum game?

10:15~11:55

Speakers:

Mr. Zhang Xingwang, Director-General, Information Center, Ministry of Agriculture; CEIBS Alumnus
Prof. Yang Tuan, Deputy Director of Social Policy Research Center, Chinese Academy of Social Sciences
Dr. Zou Lixing, Deputy Dean, Center for Financial Research and Development, China Development Bank
Mr. He Xuegong, Chairman, Beijing Nongpintang Food Co., Ltd.

Panel Discussion:
Moderator: Dr. Yang Yanqing
Deputy Editor-in-Chief of China Business News (CBN Newspaper), Managing Director of CBNRI (CBN Think Tank), Host and Commentator of China Business Network(CBN TV)

Topics:

Probing Land Reform
Capital Input in Agriculture: Prospects for Investment Opportunities
From Farm to Fork: Case Studies on International Agricultural Industrialization
Review and Reflection: Efficient Cross-Sector Collaboration

11:55~12:35

Luncheon

12:35~12:55

Keynote Speech 
Prof. Dang Guoying
Research Fellow of Rural Public Service Innovation Research Team, Chinese Academy of Social Sciences

12:55~13:15

Keynote Speech 
Ms. Sophie Wu
Senior Vice President, Alibaba Group; CEIBS Alumnus

13:15~13:35

Keynote Speech 
Mr. Ma Jianrong
Vice President, Jing Dong Group

Session II: Integrating Modern Agriculture with Internet: Creating a New Engine

Internet thinking is an inspiration for traditional agriculture as the sector transitions towards becoming modern. The Internet is inherently decentralized, while Chinese farmers are more engaged in self-employment. In this sense, the partnership between the two appears to be a marriage made in heaven. E-commerce giants are mounting intensive marketing campaigns for farm produce. While ensuring food safety, traditional agribusinesses are integrating the Internet with traditional marketing channels so as to give their brands a new lease on life. These Internet pioneers are reshaping traditional agriculture with new products, concepts and models. Will they be able to overcome the barriers to funding and cold-chain logistics for agricultural production so as to give fresh momentum to the development of agriculture, farmers and rural areas?

13:35~15:15

Speakers:

Mr. Li Changping, President, China New Rural Planning and Design; Research Fellow, China Society of Economic Reform
Mr. Zhao Pingyuan, Founder and Chief Executive Officer, COFCO WOMAI Limited
Mr. Cui Xiaoqi, Executive President, SFBEST.COM
Mr. Paul Lau, Founder, Vizdan
Mr. Zhong Wenbin, Chairman, Xinnongtang; General Manager, Hangzhou Chuangzi Agricultural Technology Co., Ltd.

Panel Discussion: 
Moderator: Mr. Hu Haiqing
Partner and General Manager, Tangu Investment

Topics:

Exploring an Online-to-Offline Model for Agricultural Organizations
Path to Transition: Marriage between Traditional Agribusinesses and Internet
Removing the Obstacles to Cold-Chain Logistics
Internet-based Prospects for Agribusiness

15:15~15:45

Coffee Break

Session III: The Netherlands Miracle:  Valuable Lessons for Chinese Modern Agriculture?

Despite gross scarcity of natural resources, the Netherlands, whose total area is merely two-and-a-half times the size of Beijing, has performed an impressive agricultural miracle by bringing its fertile soil into full play for highly segmented specialized farms and independently developing modern farming and processing technologies to convert imported raw materials into high-value-added agricultural products. During President Xi's state visit to the Netherlands in March 2014, China and the Netherlands signed Memorandums of Understanding on cooperation in agricultural products and food safety. Holland Center was launched to strengthen trade cooperation between China and the Netherlands. How will China make full use of the platform to advance new cooperation in modern agriculture?

15:45~16:55

Speakers:

Mr. Chen Fuquan, Vice President, Inner Mongolia Yili Industrial Group Co., Ltd.
Ms. Meiny Prins, Chief Executive Officer, Priva Company
Dr. Wang Jun, Executive Chairman, China Real Estate Managers Union;           President, China Development Orient Urban Development Investment Co., Ltd.
Mr. Eric Fransen, Managing Director of Wholesale Clients International, Rabobank China

Panel Discussion: 
Moderator: Dr. Aalt Dijkhuizen
President, Topsector Agri&Food in The Netherlands; Former President and Chief Executive Officer, Wageningen UR (University & Research Centre)

Topics:

Enlightenment about Agricultural Development in the Netherlands
Agricultural Cooperation between China and the Netherlands: A Voyage of Integration and Innovation
Food Safety: Opportunities and Challenges from Globalization

16:55~17:00

Closing Address
Mr. Hans Dencker Thulstrup
Programme Specialist for Natural Sciences, UNESCO Office in Beijing
Conference Fee
Standard Fee: 
RMB 6,800    USD 1100  
Early-bird Discount:  Paid by April 17, 2015
RMB 6,000    USD 950 
It is subject to the Conference Fee listed on the official website. CEIBS alumni can also enjoy a 20% off discount (alumni ID number required).
Note
If you cancel at any time up to May 1, 2015, a prompt refund will be made to you upon receipt of your written notice (faxes are acceptable). A USD110 (or RMB 700) non-refundable registration fee will be deducted from your payment. After that date, no refunds will be made. If, for any reason, this conference is cancelled, we will offer you a 100% refund of the conference fee. CEIBS shall not, however, be held responsible for covering airfares, hotel or other costs incurred by registrants.
The fee includes attendance at all conference sessions and discussions, luncheon, coffee breaks and full documentation. The fee does not include your travel or hotel expenses. Please note that we must receive your payment before the date of the conference.
Easy Ways to Register
      Please scan the code below to register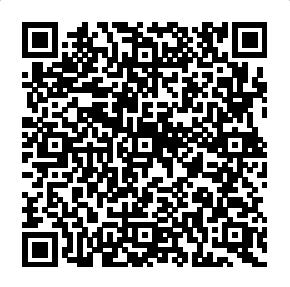 Conference Venue
The Conference will take place at the Lv Zhihe Auditorium located at the China Europe International Business School's Beijing campus.
Address: Building 20, Zhongguancun Software Park, 8 Dongbeiwang West Rd., Haidian District, Beijing
Map to the China Europe International Business School
Accommodation
1. Shangri-La Hotel Beijing
40-minute taxi ride to CEIBS Beijing Campus
Address: 29 Zizhuyuan Road, Beijing
Tel:        +86-10-8296 6600/6630
Fax:        +86-10-8296 6788
http://www.shangri-la.com/
Superior Room  RMB 1100(one breakfast)
Deluxe Room     RMB 1150(one breakfast)
Contact person: Ms. Chen Fei: 13371611253, 010-68412211 to reservations
2. Crowne Plaza Beijing Zhongguancun
25-minute taxi ride to CEIBS Beijing Campus
Address: No. 106, Zhichun Road, Beijing
Tel:        +86-10-8296 6600/6630
Fax:        +86-10-8296 6788
www.crowneplaza.cn
Superior Room  RMB 750(one breakfast)
Deluxe Room     RMB 900(one breakfast)
Contact: 010-59938888 to reservations
Reservation
Please indicate that you are participating in the 4th China International Agri-Business Forum 2015. The discounted rate is effective on or before May 7. Reservations after this date will be taken on a space and rate availability basis.
Sponsorship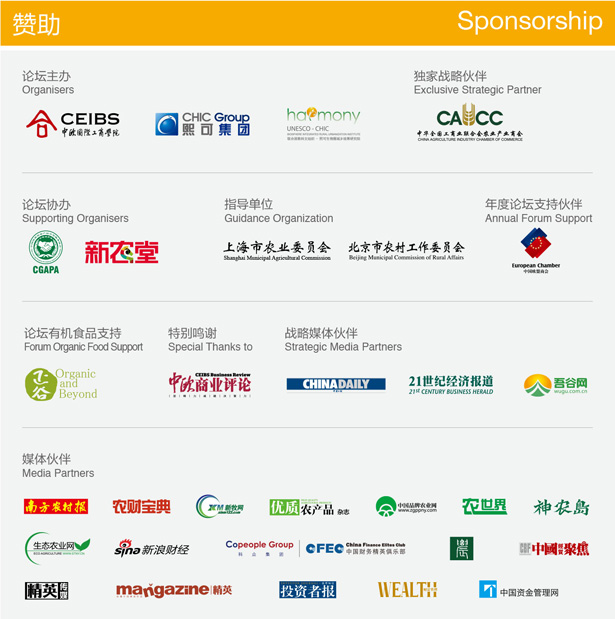 Contact us
For more details about The CEIBS-UNESCO-CHIC 4th China Agri-Business Forum 2015, please contact:
Ms. Molly Meng (Registration)
Marketing & Communications Department
Tel: +86-21-28905046/5588  |  Email: agriforum@ceibs.edu
Ms. Sophie Zhu (Cooperation)
Marketing & Communications Department
Tel: +86-21-28905305  |  Email: agriforum@ceibs.edu
Ms. Amy Liang (Chinese Media)
Marketing & Communications Department
Tel: +86-21-28905494  |  Email: lamy@ceibs.edu
Ms. June Zhu (International Media)
Marketing & Communications Department
Tel: +86-21-28905073 | Email: zjune@ceibs.edu
Address: China Europe International Business School (CEIBS)
699 Hongfeng Road, Pudong, Shanghai 201206 P.R.C.
Tel: +86-21-28905890  | Fax: +86-21-28905678 | Map