CEIBS Team Wins National MBA Dragon Boat Race
Sunday, May 18, 2014
CEIBS Team Wins National MBA Dragon Boat Race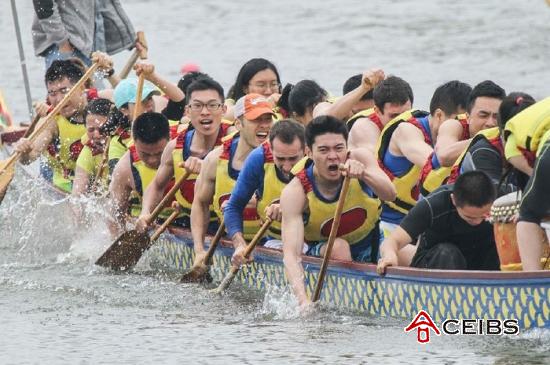 May 18, 2014. Shanghai – In a great display of teamwork, camaraderie and dedication, the CEIBS Dragon Boat Team "Power Stroke" defeated 12 others to win the National MBA Dragon Boat Race. Hosted by the East China University of Science and Technology (ECUST) and the Shanghai MBA Networking Association the 200-metre race course was located on ECUST's Fengxian Campus Tonghai Lake. The competition featured two rounds, and a total of 13 schools participated, with each team comprising 18 rowers (12 men and 6 women) and a drummer.
On race day, the CEIBS team, led by Felicia Nan, spent the morning experimenting with different strategies and practicing their rhythm in order to prepare for the afternoon's competition. CEIBS finished fourth in the elimination round, posting a time of 1:05:85, which was enough to secure them a spot in the finals. The team huddled before the final round to discuss ways to improve their performance.
As the final race began, all four teams were neck and neck for the first 100 metres, but once teams crossed the midpoint of the course, the CEIBS team really hit its stride and took the lead. They crossed the finish line far ahead of the others, posting a time of 1:00:29. The Shanghai MBA Networking Association team crossed the finish line four seconds later, followed by the third place finishers from the University of Science and Technology of China.