CEIBS MBA Management Consulting Club Hosts Alumni Lecture on Business Strategy
Wednesday, January 22, 2014
CEIBS MBA Management Consulting Club Hosts Alumni Lecture on Business Strategy
January 22, 2014. Shanghai – Mr. Michael Adick, founder of the Shanghai-based consulting firm Articulate and a CEIBS Global EMBA 2011 alumnus, gave a lecture tonight entitled "Business Strategy and Strategic Management". The event was organized by the CEIBS MBA Management Consulting Club. It was well-timed for MBA 2015 students as they have recently begun a strategic management course; the lecture gave them many valuable practical insights to complement what they are learning in the classroom. Mr. Adick also volunteers his time to work with current MBA students in the CEIBS MBA Mentoring Programme.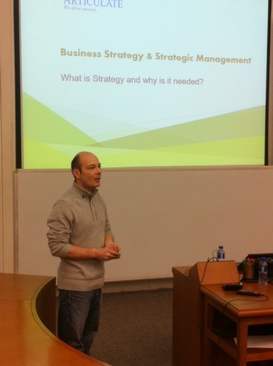 Mr. Adick giving a presentation to MBA students
Mr. Adick made three main points in his lecture – what is strategy, why it is needed, and how it is implemented. He brought the topic to life by sharing both classic strategic theories and real-life cases drawn from his own experiences in his journey as an entrepreneur. Using the metaphor of a trek to the top of Mount Everest, he also explained how to translate a firm's strategy into its value, mission and vision. His presentation gave students a deeper understanding of the role played by consultants.
Encouraged by Mr. Adick, attendees peppered him with questions throughout the lecture, and participants enjoyed the lively discussion. As the evening drew to a close, President of the Management Consulting Club, Maple Zhu, presented Mr. Adick with a copy of the book The Legend of CEIBS and thanked him for making the time to share his insights with the group.