CEIBS MBA 2013 China Discovery Week
Monday, March 24, 2014
CEIBS MBA 2013 China Discovery Week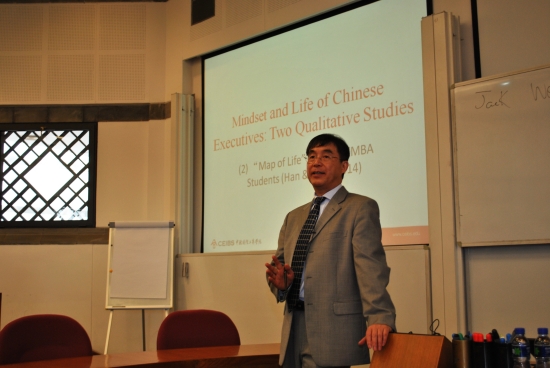 Professor Liang Neng speaking at China Discovery Week
CEIBS MBA 2013 students focussed on improving their "China Depth" this week during the programme's highly-anticipated China Discovery Week which saw CEIBS' outstanding faculty and other expert speakers deliver a series of lectures on a wide range of aspects of business and economy in China. CEIBS Dean and Vice President Hellmut Schütte opened the door with a lecture entitled, Competition in China and Beyond. Other topics covered included:
- Structural Issues and Growth Prospects of the Chinese Economy by Professor of Economics Zhu Tian;
- The Financial System in China by Professor of Finance & Accounting and Co-Director of the CEIBS Kaifeng Centre for Family Heritage Oliver Rui;
 - The Development of E-Commerce in China: the Past, the Present, and the Future by Professor of Marketing Wang Gao;
- Why is Health Care Reform So Difficult? China and the US Comparison by Director of CEIBS Centre for Health Care Management & Policy John Cai;
- China with Urban Characteristics by Dr. Jonathan Woetzel, a Director of McKinsey & Company;
- Leadership and Life of Chinese Executives: Two qualitative studies by Professor of Management and Director of CEIBS Case Development Centre Liang Neng;
- Issues on Traffic Congestion by Professor of Finance Zhang Yimin;
- Building Up a Firm Life through Learning Chinese Philosophy by Mr. Yin Jianwei, former VP Texas Instruments, Asia region;
- Transformation of Chinese Companies through Supply Chain and Service Innovations by Professor of Operations and Supply Chain Management Zhao Xiande;
- HRM/Talent Management in China by Associate Professor of Management, Co-Director of CEIBS Centre on Innovation Han Jian;
- Entrepreneurism and Value Creation by CEIBS Associate Dean, Professor of Accounting and Essilor Chair of Accounting Professor Xu Dingbo.