CEIBS Honors 2014 MBA Recruiters
Wednesday, May 28, 2014
CEIBS Honors 2014 MBA Recruiters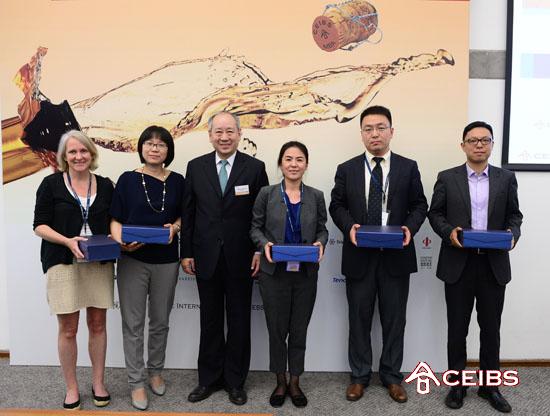 CEIBS Vice President & Co-Dean Zhang Weijiong (third from left) with recipients of the Diamond Recruiter Award
May 28, 2014. Shanghai – CEIBS today celebrated the contributions that renowned multinational and Chinese companies have made in recruiting CEIBS graduates by holding an MBA Recruiters' Appreciation Workshop & Cocktail Reception. Organized by the CEIBS MBA Career Development Centre, the event drew more than 100 executives from about 90 companies, including AB InBev, Amazon, AstraZeneca, A. T. Kearney, Bayer, AIG, CICC, Apple, Dow Chemical, DuPont, Education First, IBM, Jaguar Land Rover, Paypal, McDonald, Microsoft, Ping An, Roche, and Tencent.
CEIBS presented the following awards to recruiters from around 30 companies:
Diamond Recruiter Award
Recognises those recruiting the largest number of CEIBS graduates in the past three years

2013 Golden Recruiter of the Year
Recognises the greatest contribution in recruiting the MBA 2011 cohort

2013 Best New Recruitment Award
Recognises new recruiters who have recruited more than two graduates

2013 Best Campus Recruitment Award
Recognizes the most popular campus recruiters

Loyal Partner Award
Recognizes the great support of long-term partners

Another highlight of the event was when CEIBS Department Chair of Organizational Behaviour and Human Resource Management Professor Juan A. Fernandez shared the findings of the most recent CEIBS Business in China Survey. He said they indicate that the main challenges for local and international companies doing business in China include: the slowdown of the Chinese economy, rising labour costs, finding and hiring suitable talent, generating commitment and loyalty, and unrealistic expectations of the post-90's or millennial generation. Nevertheless, over 70 percent of the companies surveyed had a positive outlook the future potential for higher sales and profits in China.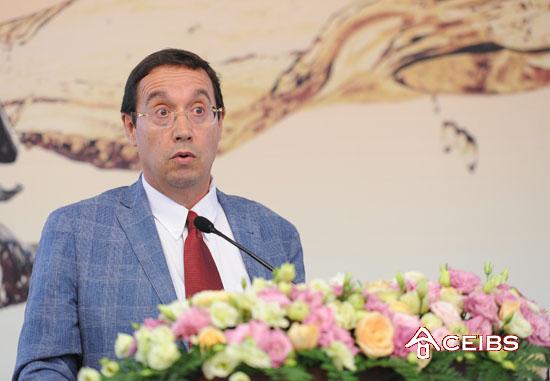 Professor Juan A. Fernandez
A lively panel discussion on human resources practices in fast-growth companies and in the context of global business expansion followed. Panellists included:
- Former CEO & President of Siemens China Mr. Cheng Meiwei;
- Eli Lilly China Vice President of Human Resources Mr. Giorgio Davidoni;
- Dianping.com Vice President of Human Resources Mr. Ling Zhenwen;
- CEO of DDI Leisure & International Operations Mr. Peter Wood.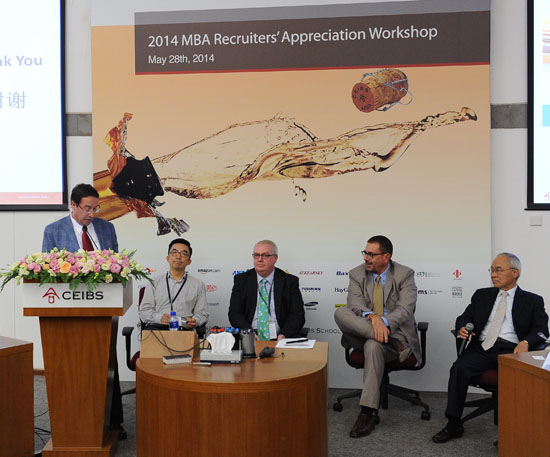 Prof. Fernandez moderates a panel discussion
Representatives from Dupont, Microsoft, Hay Group, AB InBev, and EF Education First also spoke during the event. In acknowledging the knowledge, management skills and international mindset of CEIBS MBA graduates they said they looked forward to continued close cooperation with the school.
CEIBS Vice President and Co-Dean Professor Zhang Weijiong, Associate Dean and Academic Director of the MBA Programme Chen Shimin, Associate Dean, MBA Director of Admissions and Career Services Yvonne Li, Deputy Director of EMBA Admissions Zhao Xiaolei and Deputy FMBA Programme Director Michelle Zhu were on hand at the event to express their gratitude to the recruiters.
Professors Zhang Weijiong and Chen Shimin each gave a brief speech at the opening of the event. Collectively they spoke about CEIBS' mission, vision and values and its unique positioning of "China Depth, Global Breadth" and the strengths of the school's globally-ranked MBA programme. They also thanked the recruiters for their on-going support of the CEIBS MBA Programme.
The CEIBS Career Development Centre (CDC) aims to enhance students' overall career development capabilities and to provide a platform for them to realise their career goals. The MBA 2013 students who graduated earlier this year benefited greatly from the support of the CDC: 195 graduates from 21 countries and regions developed knowledge and skills through the Career Development Programme (CDP), internships, Integrated Strategic Projects (ISP), Responsible Leadership Projects (RLP), and business simulations during the 18-month study at CEIBS. Their job placement rate three months after graduation was 90.1%, while average salaries reached RMB473K and 83.5% of graduates successfully made a career switch.
We greatly appreciate the partnership we have with our recruiters. Those interested in learning more about recruitment opportunities with CEIBS can contact us at cdc@ceibs.edu or +86 21 2890 5142.