CEIBS & ESMT Co-host Event in Berlin
Saturday, October 18, 2014
CEIBS & ESMT Co-host Event in Berlin
October 17 & 18, 2014. Berlin –  Seventy-five Chinese and European senior executives, including several CEIBS alumni, gathered in Berlin for a two-day conference where keynote speakers, expert panellists and faculty led sessions on the opportunities and challenges of developing cooperative and competitive business relationships between China and Europe. The event was co-hosted by CEIBS and the European School of Management and Technology (ESMT).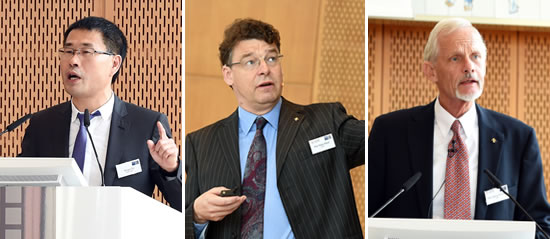 From left: Mr Cai Mingpo, Prof Klaus Meyer, Dean Hellmut Schutte
CEIBS EMBA 2004 alumnus Cai Mingpo, the President of Cathay Capital Private Equity, delivered a keynote speech that focused on the importance of developing trust to promote relationships between East and West. CEIBS Professor of Strategy and International Business Klaus Meyer led an interactive case discussion on the considerations that traditional premium European companies need to make when entering new "good enough" markets like China. CEIBS Dean and conference co-host Professor Hellmut Schutte led an expert panel discussion on "China goes west" and later provided a synthesis of learning points for the conference.
The final conclusion of the days' events: regardless of the challenges involved, the opportunities of cultivating cooperative and or competitive relationships to and from China are simply too important to ignore.