CEIBS and UN Sign Strategic Partnership
Friday, April 25, 2014
CEIBS and UN Sign Strategic Partnership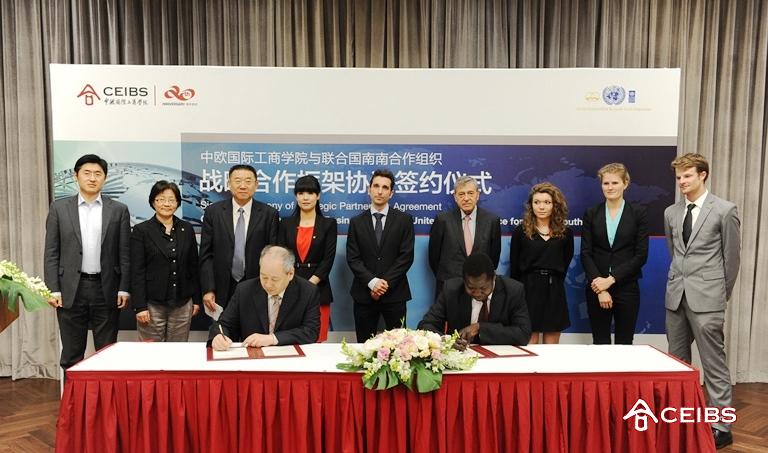 CEIBS Vice President and Co-Dean Prof. Zhang Weijiong and the UNOSCC's Mr. Kingsley Kalusha signed the agreement on behalf of both sides.
April 25, 2014. Shanghai – Within a few months, two China Europe International Business School MBA students will be working from the United Nations Headquarters in New York. Today, CEIBS and the United Nations Office for South-South Cooperation (UNOSSC) inked a deal that will pave the way for the school's MBAs to gain vital international work experience through internships at the UN.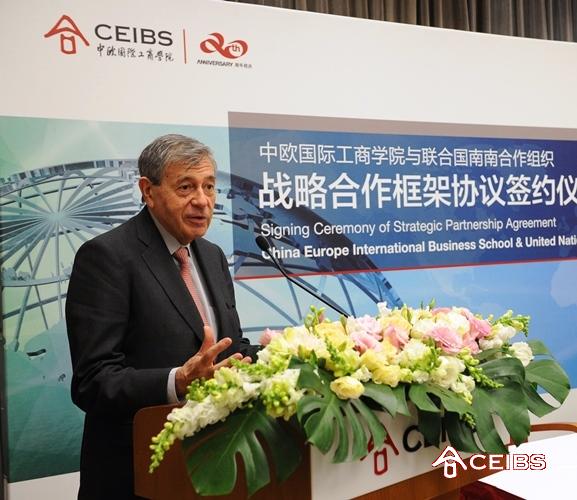 "This will be a fantastic learning experience for our students," said CEIBS President Prof. Pedro Nueno.
Arnaud Monges, a French student from MBA Class of 2014, and Elaine Gu, a Chinese member of MBA 2015, were selected from among 50 applicants who vied for the prestigious six-month-long internship. They began the first stage, a two-month part-time internship at the UNOSSC's Shanghai office, last week. This will then be followed by at least two months working full-time at the UNOSSC New York office starting in mid-June. The final leg will be another stint at the UNOSSC's Shanghai office. After the half-year internship is completed, they will receive a certificate from the United Nations and can also request a specific recommendation letter from the organisation for future job applications.
"Throughout the internship, CEIBS students will assist in overall project management, conference planning and support, marketing, research, budgeting, and other activities assigned by UNOSSC," explained MBA Director Professor Chen Shimin in providing an overview of the South-South-Global Assets and Technology Exchange (SS-GATE) Internship Programme. The students will also be a bridge between UNOSSC and CEIBS alumni in the private sector as well as participants in CEIBS EMBA programme.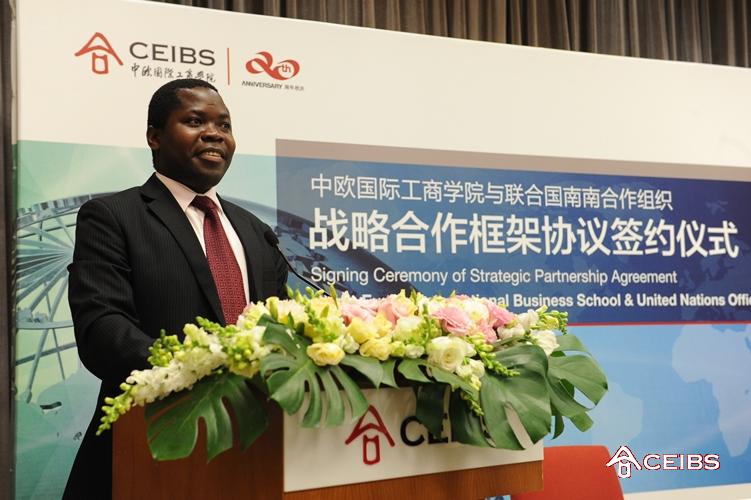 "This partnership will further provide an opportunity for knowledge exchange that will enable participants to find and pursue new opportunities in international and local communities. The ever growing demand for highly skilled employees reinforces the need for such partnerships," said UNOSSC Project Consultant Mr. Kingsley Kalusha, who spearheaded the project. "We are of the view that the partnership will benefit CEIBS as an institution both in terms of outreach and visibility. The good work of the students will not only be attributed to them but to the very core values of CEIBS."
In an excellent example of cross departmental collaboration, CEIBS Foundation provided sponsorship of RMB40,000 per student to cover living expenses for the interns while they are working at the UN's New York office. Both students expressed their gratitude to the UN, as well as CEIBS MBA and Foundation Departments, for working together to provide them with this opportunity.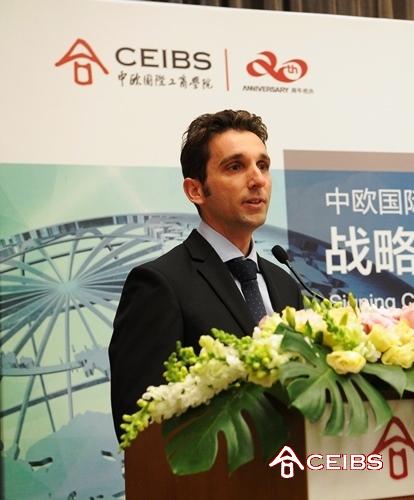 Monges, who has long had an interest in the UN's global role, said he was particularly excited about being assigned to the SS-GATE project because it promotes cooperation between developing countries. He is currently working, at the UNOSSC's Shanghai office, on issues related to the environment. "Thanks to this new collaboration, Elaine and I are going to be able to work for the largest intergovernmental organisation in the world in both Shanghai and New York," he said.
Gu is now working on healthcare related issues. "SS-GATE facilitates the realisation of actual business transactions through a market mechanism," she said enthusiastically. "I'd love to leverage my business knowledge and experience to make a real contribution."
About CEIBS:
The China Europe International Business School (CEIBS) offers a unique combination of "China Depth, Global Breadth" – taking advantage of its position as a leading business school in Asia to train responsible leaders. CEIBS' vision is to become the most respected international business school by linking East and West in teaching, research, and business practice and by promoting China's social and economic development through high-impact knowledge creation and dissemination. The school's origins as a joint venture between the European Commission and the Chinese government have allowed CEIBS to develop a unique positioning in offering truly world-class business management education with proven China expertise. After 20 years of phenomenal growth, CEIBS' impressive 13,500+ alumni base includes 2,000+ CEOs and top-level decision makers. CEIBS offers a full-time MBA, part-time Finance MBA, EMBA, Executive Education and PhD programmes. CEIBS has campuses in Shanghai and Beijing as well as operations in Shenzhen – in the South of China – and in Accra, Ghana.
About United Nations Office for South-South Cooperation's SS-GATE:
The United Nations Office for South-South Cooperation (UNOSSC) established the South-South Global Assets and Technology Exchange (SS-GATE), headquartered in Shanghai and endorsed by the United Nations General Assembly as being an effective system in providing relevant development solutions.  The SS-GATE initiative is one level of UNOSSC's 3-in-1 support and service delivery architecture for South-South cooperation. SS-GATE is a physical and Internet-based platform that securely facilitates the exchange of technologies, assets, services and financial resources between small and medium-sized enterprises (SMEs) and other entities for inclusive growth of developing countries in the South. The market driven system matches demand and supply for technology transfer and finance in core areas such as infrastructure, human development, food security, global health and clean energy and environment.