CEIBS Alumnus Invests in Research & Chair Professorship
Tuesday, October 7, 2014
CEIBS Alumnus Invests in Research & Chair Professorship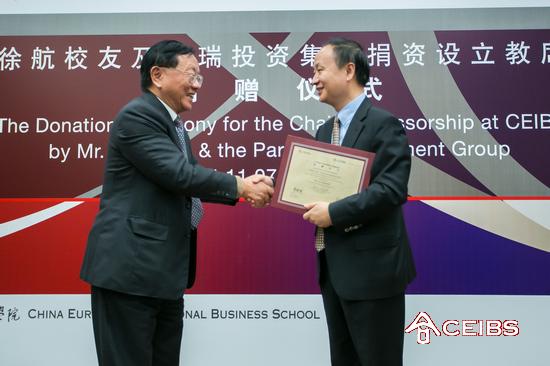 Nov 7, 2014. Shanghai – CEIBS EMBA 2002 & CEO 2008 alumnus Mr. Xu Hang, Founder and Chairman of Mindray Medical International and Chairman of Shenzhen Pengrui Investment Group, will invest RMB 10 million for the establishment of a new research programme and chair professorship at the school. A donation ceremony was held today in the Spanish Centre on the CEIBS Shanghai Campus to accept the investment, which also honoured the 20th anniversary of the school. CEIBS Executive President Professor Zhu Xiaoming, President Pedro Nueno, and Honorary President and Chairman of the CEIBS Education Foundation Mr. Ge Jun collectively thanked Mr. Xu for his generous support of the school and said they looked forward to further cooperation with him and his companies in the future. Mr. Xu said during the donation ceremony that he was grateful for the thought provoking learning he experienced at CEIBS, and hoped his investment would help the school further develop its research programmes. Also participating in the ceremony were:
- Vice President and Co-Dean Prof Zhang Weijiong;
- Vice President and Dean Prof Hellmut Schütte;
- Baosteel Chair Professor of Economics Professor Wu Jinglian;
- Senior Research Fellow, Development Research Centre of the State Council of PRC
 and Honorary Member of the CEIBS Corporate Advisory Board Chen Qingtai;
- Former Dean of CEIBS' CEMI Programme Dr. Chen Derong.