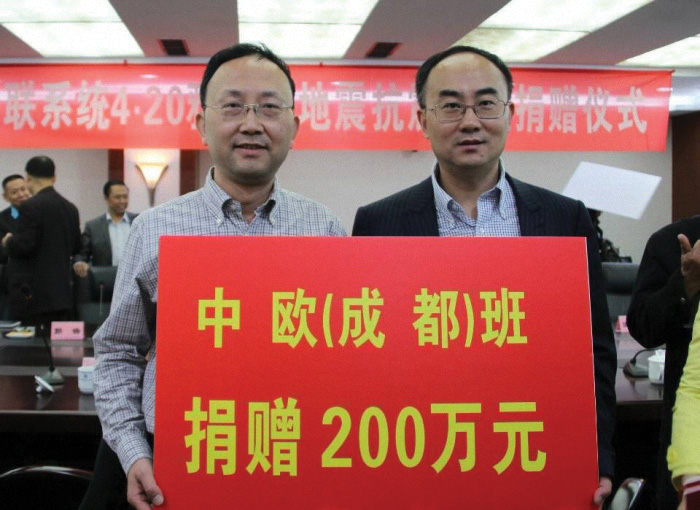 The April 20 Ya'an Earthquake triggered an outpouring of support and caring from CEIBS alumni across China, and beyond the country's borders. Many mobilised to join the relief efforts while others donated funds. Their efforts are an indicator of the importance that the school and its alumni place on social responsibility.
  
When he heard about the earthquake, Xiang Zhongzai, the Monitor for the Chengdu Class of EU-China Business Management Training Project (BMT) personally donated RMB 1 million and urged his classmates to help as well. By April 23, CEIBS BMT Chengdu Class had donated RMB 2 million to Ya'an through the Chengdu Charity Federation.
Alumni in Korea also began to collect donations as soon as they heard about the disaster. On April 28, Sam Lee (MBA 2005), the representative of the Korea Chapter,presented their RMB 20,000 donation to Director of CEIBS Alumni Relations Office Wang Qingjiang and Assistant Director Tanya Fu. They accepted the funds on behalf of the CEIBS Alumni Association and sent it to Ya'an.
CEIBS Alumni Sichuan Chapter and other alumni associations also acted immediately after the disaster. They collected donations and made contributions to the post-disaster reconstruction.