CEIBS Alumni 2014 Class Representatives Hold Annual Meeting
Saturday, June 28, 2014
CEIBS Alumni 2014 Class Representatives Hold Annual Meeting
une 28, 2014. Shanghai – More than 300 representatives from nearly 200 classes including MBA, EMBA and Executive Education programmes gathered today at the Shanghai campus for their annual meeting. President of Anhui Gujing Distillery Liang Jinhui sponsored the event. An alumnus of the CEIBS China CEO Leadership Programme, he also donated a set of Gujing Yuanjiang collectible liquor valued at RMB 98,000 to the school.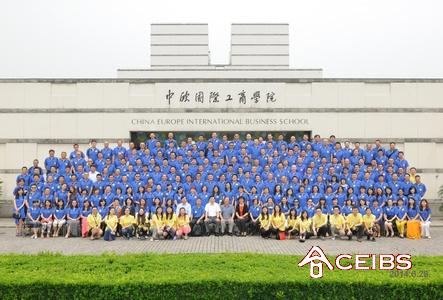 During the Class Committee Meeting session, participants heard from seven class representatives, who shared details of their class activities along with moving recollections of their time studying at CEIBS. Speakers included Lang Wangkai, an alumnus of the CEMI Programme which preceded CEIBS, Han Shenyao (EMBA 1995), Xing Bo (AMP Programme), Chen Danwen (EMBA 2009), Luo Siming (MBA 2011), Fang Yongmei (EMBA 2000), Li Xiaoyu (EMBA 2007) and Lian Yunchi (EMBA 2007).
The day's activities also included two lectures. "Executive Incentive Pay in China: From Theory to Practice" was the title of a lecture by CEIBS Professor of Accounting Hwang Yuhchang. Fudan University Professor of Philosophy Wang Defeng gave a lecture entitled "The Philosophical Realm for Chinese Entrepreneurs" in which he spoke about the importance of balancing material wealth with spiritual wealth.
CEIBS Executive President Professor Zhu Xiaoming, Honorary President Liu Ji and Vice President and Co-Dean Professor Zhang Weijiong also participated in the meeting and  gave addresses during the event.