CEIBS 2014 Donor Appreciation Banquet
Wednesday, September 3, 2014
CEIBS 2014 Donor Appreciation Banquet
September 3, 2014. Shanghai – The CEIBS Education Foundation and MBA Office together held the 2014 Donor Appreciation Banquet this evening to thank those who have generously invested in the school's continued development by funding MBA scholarships and other initiatives. Around 100 alumni turned out for the event, which coincided with the arrival of China's Mid-Autumn Festival. School leaders, faculty and department heads also attended.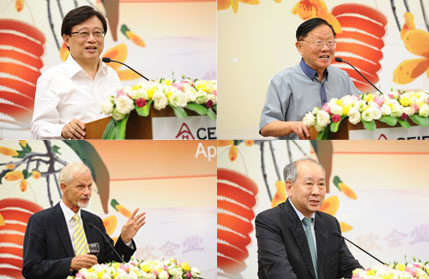 Clockwise from top left: President Zhu Xiaoming, Honorary President Liu Ji, Vice President & Co-Dean Zhang Weijiong, Dean & Vice President Hellmut Schütte 
CEIBS Executive President Professor Zhu Xiaoming, Chairman of the CEIBS Education Foundation and Honorary President Liu Ji, Dean and Vice President Professor Hellmut Schütte, and Vice President and Co-Dean Professor Zhang Weijiong attended and gave addresses. Collectively they expressed their appreciation for all those who have generously supported the continued development of CEIBS. They also spoke about the key role that alumni investment and other support has played in the great progress that the school has made since its founding 20 years ago.
Jiang Jinzhi (CEO2008), Ma Shuang (MBA2001) and Xie Zhen (MBA2000) spoke on behalf of alumni who have invested in CEIBS. They recounted the many great efforts of faculty and students that have helped CEIBS progress, and they encouraged alumni to work together to build a culture that promotes investment in the school. They also encouraged MBA students to cherish their many opportunities and to work hard to contribute towards developing CEIBS and society. Speaking on behalf of the students, scholarship recipient Deng Qin (MBA2016) expressed appreciation to those who have generously invested in scholarship funds. She said that she would not have had the opportunity to study at CEIBS were it not for the scholarship that she received. She promised to continue that spirit of generosity by investing in CEIBS in the future.