CEIBS 1995-1999 Alumni 20th Anniversary Reunion in Shanghai
Saturday, May 10, 2014
CEIBS 1995-1999 Alumni 20th Anniversary Reunion in Shanghai
May 9-10, 2014. Shanghai – Around 230 CEIBS alumni who graduated between 1995 and 1999 returned to their alma mater for two days of celebratory reunion activities made all the more special by this being the year that the school is also celebrating its 20th anniversary. Among the school leaders on hand to welcome the alumni were
- Executive President Professor Zhu Xiaoming
- Honorary President and Chairman of the CEIBS Education Foundation Mr. Liu Ji
- Vice President and Co-Dean Professor Zhang Weijiong
- Dean and Vice President Professor Hellmut Schütte
- Assistant President and Secretary General of the CEIBS Foundation Mr. Ge Jun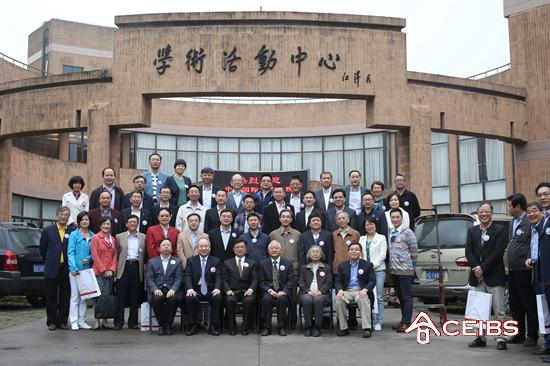 One of the highlights of the reunion was a visit to Shanghai Jiao Tong University's Minhang campus, which is where CEIBS first began offering programmes in Shanghai. President Zhu, Vice President Zhang Weijiong and Baosteel Chair Professor of Economics at CEIBS Wu Jinglian led a group of 200 alumni there to meet with Jiang Sixian, Shanghai Jiao Tong University's Party Secretary. The group then travelled to the CEIBS Shanghai Campus for a memorial service to commemorate the contributions of CEIBS' first two presidents, Professor Li Jiagao and Professor Zhang Guohua, which was hosted by Vice President Zhang Weijiong. Family members of the two past presidents were in attendance, along with President Zhu and Mr. Liu Ji.
Alumni also had the chance to enjoy a series of lectures by CEIBS faculty and fellow alumni during the reunion. President Zhu Xiaoming lectured on internet finance, Vice President Zhang Weijiong lectured on "Transformation, Upgrade, Innovation, Subversion", Prof. Wu Jinglian lectured on China's economic transition and market reforms, and Associate Professor of Strategy Chen Weiru lectured on platform strategy and innovation. Alumnus Chen Hang (EMBA1998), Managing Director of China Culture Industrial Investment Fund, lectured on investment opportunities in the culture industry. Private equity and venture capital were the topic of a lecture given by Liu Qin (MBA1998), Partner at Morningside Ventures and Zhang Suyang (EMBA 1998) partner of IDG Capital.
A donation ceremony was also held to accept an investment made by the MBA 1999 alumni that will see AC1 Discussion Room 106 renamed for their class. During the ceremony alumnus Sun Wenyu presented check to Honorary President Liu Ji on behalf of his class.