Over the past 20 years, 15 distinguished figures have made remarkable contributions to the founding and development of CEIBS. As pioneers of Chinese modern management education, their foresight, wisdom and spirit have helped shape CEIBS' unique characteristics and values and have had far-reaching influence on China's management education.
Li Jiahao
"The purpose of our lives is to create value for society."
An excellent educator who aimed to establish an international business school, CEIBS Founding President Prof Li Jiahao blazed a trail towards internationalisation. His great contributions to the school will never be forgotten. A visionary, Prof Li built an institutional basis for the establishment of CEIBS. He was also one of the main designers of CEIBS' institutional structure and management system. While in his 70s, he drafted many of the school's policies and regulations by hand as computers were not yet widely used. He was an EMBA lecturer, he did recruitment for the programmes and he provided oversight for the construction of the Pudong Campus.  The unexpected complexity of the project took a toll on Prof Li's energy and health. He passed away only six months after construction began. In April 2001, he was posthumously awarded the CEIBS Outstanding Contribution Award for his historic contributions. Other noteworthy facts:
- Prof Li's attitude towards work was "sixty seconds of hard work gives you a minute of life." He devoted the last six years of his life to educating China's managers.
- To fill a funding gap during the construction of the Pudong Campus, Prof Li sought sponsorship from Chinese enterprises. He raised RMB 10 million in donations that were mostly from the chemical industry, in which he used to work.
- In 1996, he used the salary he had saved over the years to guarantee banks loans for MBA students. This was the first ever student loan for an MBA programme in China.
- He set up the SAIC Education Foundation to train automobile industry managers and help offer scholarships to CEIBS' less well-off students for their internships in Europe.
Zhang Guohua
"My dream is to take CEIBS into the global Top 10."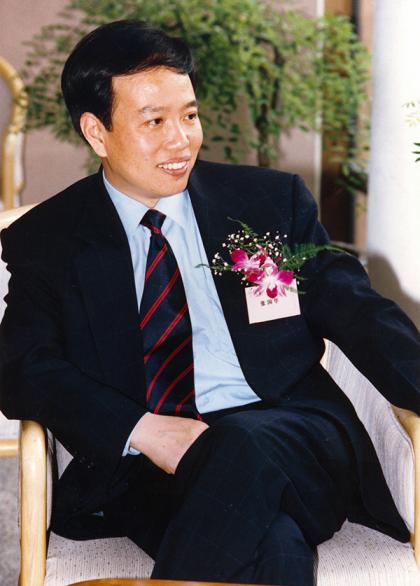 Prof Zhang Guohua was also one of the founders of CEIBS. He joined the school-founding negotiations with the European side in 1992, assumed the role of CEIBS Vice President in 1994 and took the concurrent post of Dean in 1995. He became CEIBS President in 2005 and passed away in 2006. During the 14 years of his life that he dedicated to CEIBS and management education in China, his biggest dream was to see CEIBS ranked among the world's Top 10 business schools. Other noteworthy facts about Prof Zhang Guohua:
- He didn't get the chance to go to university until he was almost in his thirties.
- In 1990, at 43 years old, he enrolled in the University of Birmingham in the UK. In 1991, after obtaining his MBA, he returned to China and became Vice President of the School of Management at Shanghai Jiao Tong University.
- Prof Zhang predicted the huge demand for management education during China's rapid economic development. He also felt the huge gap between business schools at home and abroad. His role at CEIBS was his way of addressing these two issues. 
- In June 2006, the Academy of International Business posthumously conferred the "Best Business School Dean of the Year" award to Zhang Guohua, in commemoration of his great contribution to China's management education. He also received the "National Achievement Grand Cross" from the Spanish Government in 2004.
Pedro Nueno
The school's international "ambassador" and a major force in fundraising efforts.
From as far back as the 1980s, when he served as Vice Chairman of EFMD, Prof Pedro Nueno proposed the launch of a joint educational project focused on management in China and participated in founding CEMI, CEIBS' predecessor. He was CEIBS Academic Council Chairman and Director from 1994 to 2004, and assumed the role of CEIBS Executive President between 2004 and 2009. Today he is the school's President as the executive presidency has rotated to the Chinese side according to the guidelines established when the school was founded.
As a former chancellor of the International Academy of Management, Prof Nueno took the lead in putting together CEIBS' first academic council, and introduced a scientific appraisal system for programmes and research projects to ensure all such activities would meet international standards.
Prof Nueno has actively promoted CEIBS' cooperation with other top-tier business schools around the world; he acts as the school's international "ambassador" and has been a major force in CEIBS' fundraising efforts. Other noteworthy facts about Prof Pedro Nueno:
- He briefed two former US Presidents, George H W Bush and Bill Clinton, on CEIBS and both became interested in the successful story of the young business school.
- In the early days, he went to Hong Kong nearly every month to visit the regional headquarters of multinational companies such as British American Tobacco and Bayer. Many of these global multinationals eventually signed up as the school's long-term sponsors with some sponsorships lasting over a decade.
- He has played an important role in enhancing cooperation between CEIBS, the Spanish government and Spanish enterprises which are among the school's largest sponsors having donated three chair positions, two campus buildings, one research centre fund, one development fund and five MBA scholarships.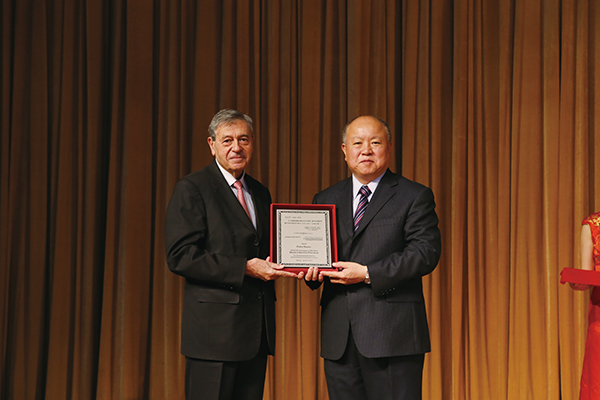 - During construction of the Pudong Campus in 1998, Prof Nueno convinced the Spanish government to offer an endowment of USD 3 million to CEIBS, the largest donation the school had ever received at the time.
-  During a visit to CEIBS on March 9, 2003, the 30th anniversary of the establishment of diplomatic ties between China and Spain, Spanish Princess Sofia de Grecia awarded Prof Nueno the Order of Civil Excellence. He also received the Saint Jordi Cross from the Government of Catalonia.  On June 25, 2007, His Royal Highness King Juan Carlos I of Spain awarded Prof Nueno the international Gresol Award for 2007. The award is given annually by the Gresol Foundation of Spain to the year's Most Influential International Business Leader.
- To recognise Prof Nueno's outstanding contributions to business education in China, the Shanghai Municipal Government awarded him the "White Magnolia Award" on November 8, 2004, and the "Golden Magnolia Award" in 2007. Prof Nueno received the esteemed Friendship Award from the Chinese government, the highest honour to recognise foreigners' contribution to China's economic construction, social development and cultural exchange. On April 27, 2014, Prof Nueno received an award from the State Administration of Foreign Experts Affairs in recognition of his exceptional contributions to management education in China over the past 30 years.
Liu Ji
Conceptualised the CEIBS Motto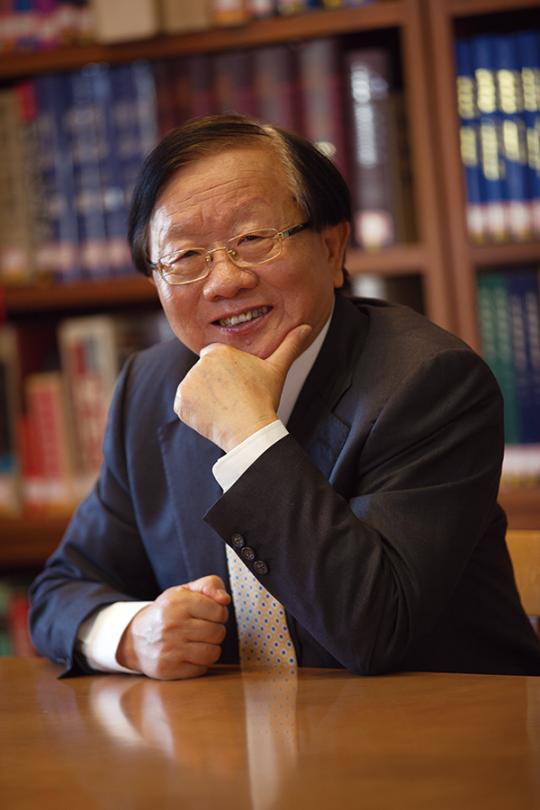 After Prof Li Jiahao passed away in May 1998, the post of CEIBS Chinese President became vacant. In 1999, then Shanghai Municipal Party Committee Secretary Huang Ju nominated Mr Liu Ji as CEIBS President. Mr Liu, a prestigious scholar in China, had just stepped down as Vice President of the Chinese Academy of Social Sciences. During his tenure at CEIBS, the school completed its first steps and finally took off, experiencing the fastest five years of growth it had seen yet. Other noteworthy facts about Mr Liu Ji:
- He conceptualised CEIBS' motto – "Conscientiousness, Innovation, and Excellence".
- Thanks to his persistence, CEIBS, after years of waiting, finally has its MBA degree officially recognised by the Academic Degree Committee of the State Council in 2002.
- In addition to being Chairman of CEIBS Education Development Foundation, he is also the initiator of Liu Ji Education Fund and has personally donated RMB 5 million to help outstanding students in need of funding. Today, in his eighties, he is still active in the school's fundraising efforts.
- In 2012 Liu Ji's negotiation skills played a significant role in the signing of the agreement for CEIBS extension, thus laying a solid foundation for the school's next 20 years. 
- In recognition of his great contributions to the school's development, CEIBS Board of Directors invited Mr Liu to serve as the school's Honorary President from January 1, 2005.
- On March 9, 2003, the 30th anniversary of the establishment of diplomatic ties between China and Spain, Mr Liu Ji became the first Chinese to receive the Encomienda de Número del Mérito Civil. Her Majesty Queen Sofía of Spain presented him with the award.
Wu Jinglian
An active reformist for the Chinese economy.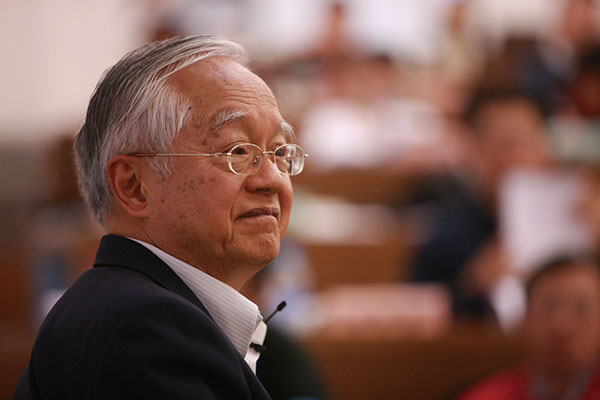 As one of the most prestigious economists in China, Prof Wu Jinglian joined the faculty of China-EU Management Institute (CEMI),  in 1984 and later became a member of CEMI's Academic Council. After CEIBS was established in 1994, he became a member of its Academic Council, as well as a visiting professor and a core professor at the school. In 2002, he accepted a formal invitation from CEIBS and became its full-time professor and the first Baosteel Chair Professor. Over the past three decades, Prof Wu has exerted a positive influence on CEMI and CEIBS in many ways.
He is an active reformist for the Chinese economy, and is always willing to share his cutting-edge economic knowledge with CEIBS students. He also plays an active role in establishing academic standards for the school and promoting the development of CEIBS' faculty team. 
Other noteworthy facts:
- The Wu Jinglian Academic Fund, donated by Prof Wu, was set up in 2007 to support the development of the school. The fund was officially launched in June 2008 to provide financial support for excellent MBA candidates at CEIBS and to subsidise the development of an academic research team at the school.
- On June 13, 2004 the International Academy of Management honoured Wu Jinglian with the Outstanding Achievement Award to acknowledge his excellent contribution to the field of management. Prof Wu became the first Chinese, and the first Asian scholar, to receive this honour.
- On March 24, 2005, Prof Wu Jinglian received the first China Economics Prize.
Joachim Frohn
Source of advanced concepts and experience in the area of management education.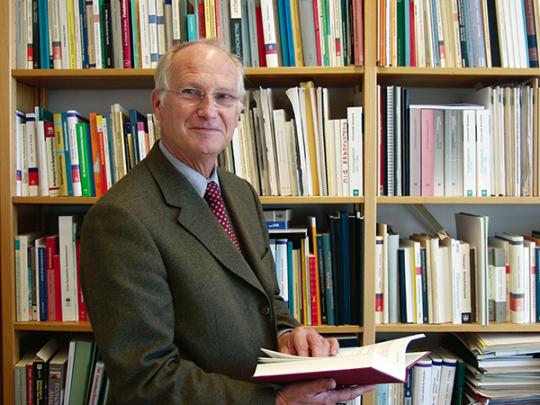 In March 1995, following a recommendation by the EFMD and approval by the Board of Directors, Prof Joachim Frohn assumed the roles of Executive President and Dean at CEIBS. A well-known German educator and former Vice Chairman of the German Statistical Society, the EFMD appointed him as Dean of CEMI between 1990 and 1991. He was thus believed to be familiar with China's conditions and to have deep ties to the country. The effective work he did in the start-up phase laid a solid foundation for the school's rapid development later on.
Prof Frohn was an excellent source of advanced concepts and experience in the area of management education. He placed great emphasis on building a high-profile faculty team and helped the school recruit top-quality visiting professors from around the world, helping ensure the school's ability to offer world-class education from its inception.
In the early days of the school, Prof Frohn actively supported CEIBS' efforts to establish and expand its market presence. He frequently visited foreign-funded enterprises and, because of his efforts, a string of European enterprises entered into long-term relationships with CEIBS and have regarded the school as an important training partner for the past 20 years.
Prof Frohn set up rigorous requirements for the faculty team, and  made prudent management a CEIBS tradition since its founding.
Jan Borgonjon
Tied to CEIBS' history.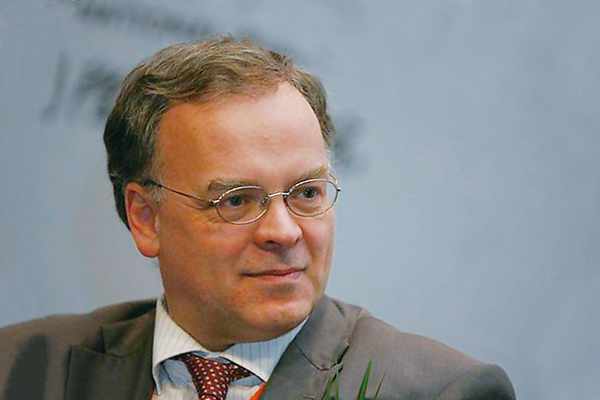 Mr Jan Borgonjon came to China in the early 1980s and took successive posts as Administrative Director and Director at CEMI in 1988 and 1990. When the CEMI cooperation agreement was about to end in 1992, the European Union asked Mr Borgonjon to consider changing CEMI from a cooperative education programme into an independent business school featuring international management education. He failed in early attempts to use Beijing as the location for a first-class, globalised business school that functioned autonomously from state institutions with support from a joint venture partner. He took Prof Wu Jinglian's advice and headed for Shanghai where he hammered out a preliminary agreement with Professors Li Jiahao and Zhang Guohua. They got along well and soon reached a preliminary framework for cooperation.
After two years of strenuous negotiation, CEMI was finally relocated to Shanghai and then CEIBS was established.
Zhu Xiaoming
At the forefront of innovation.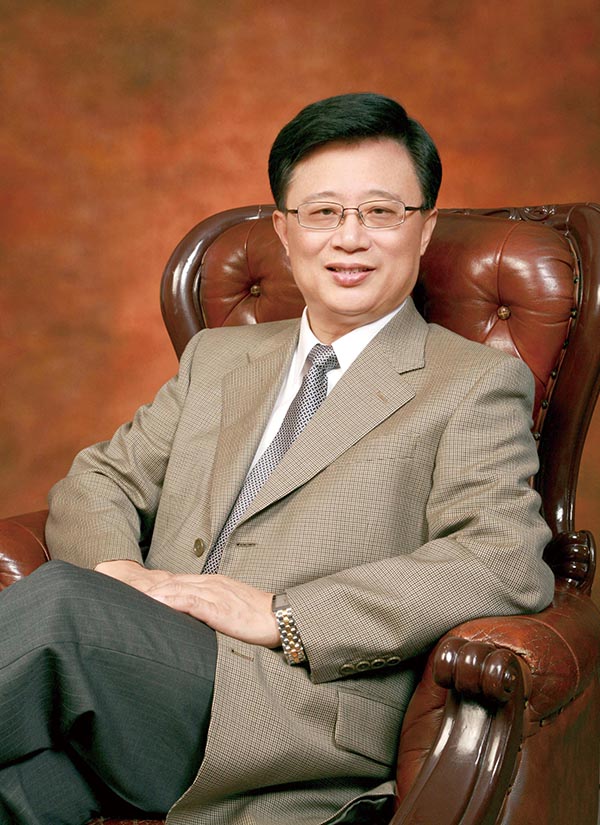 Prof Zhu Xiaoming's history with CEIBS dates back to the early years when the school was still in the early planning stages. As then General Manager of Jinqiao Export Processing Zone Development Co Ltd, Prof Zhu invited CEIBS to locate its campus in Jinqiao. At that time, he didn't expect that he would develop such a deep relationship with the school. On June 5, 2006, while he was then Deputy Director of the Standing Committee of the Shanghai Municipal People's Congress, Prof Zhu was appointed Chinese President of CEIBS.
Throughout his various roles – from entrepreneur to government official, and then to educator – Prof Zhu has always been at the forefront of innovation. His diversified experience in the business, academic and political fields gives him unique perspectives as a business school leader. With his efforts, "innovation" has been an increasingly important part of CEIBS' DNA and has brought great vitality to the 20-year-old school.
In the early days, the issue of where to locate the campus was one of the major decisions CEIBS faced. Jinqiao Development Zone was one of the three options provided by the Shanghai Municipal Government. During their visit to Shanghai in 1993, Profs Wu Jinglian and Pedro Nueno made a special trip to Jinqiao. They were received by then General Manager of Jinqiao Development Company Zhu Xiaoming even though he was ill and hooked up to an IV drip. After learning that China and the EU were looking for a location to house a world-class international business school, Zhu immediately showed interest in providing land. A few days later, he wrote to the Shanghai Municipal Education and Public Health Office on behalf of the Jinqiao Development Company, saying that it was willing to provide land free of charge.
Soon after, it was officially announced that CEIBS was to be placed in Jinqiao. Since then, Prof Zhu's name has become synonymous with CEIBS. He joined the school's governing board in 2000, and assumed the office of CEIBS Executive President in 2006. Other noteworthy facts: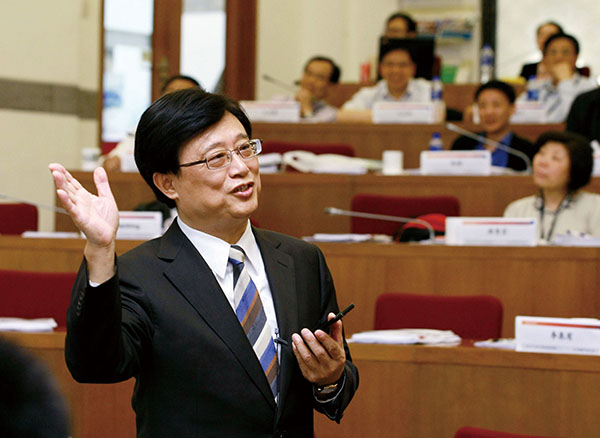 - In the early days when CEIBS had a challenge attracting clients for the EMBA and Executive Education programmes, Prof Zhu, then Deputy Secretary-General of Shanghai Municipal People's Government and Chairman of both Shanghai Foreign Economic Relation and Trade Commission (SFERTC) and Shanghai Foreign Investment Commission, was instrumental is convincing a large number of SFERTC employees to enrol.
- When the school's rapid development led to a need for more teaching facilities President Zhu tirelessly lobbied the Pudong New Area Government for the land needed to expand CEIBS Shanghai Campus. On August 3, 2006, Jinqiao Development Company entered into a land transfer agreement with CEIBS to transfer 36,000 square metres of land to the school. The expansion doubled the size of CEIBS Shanghai campus.
- During the negotiation on the CEIBS Extension Agreement, Prof Zhu's guidance and wisdom were indispensable in bringing together all the parties involved and helping them reach the consensus needed to accomplish their goal. A man of ideas, he often put forward feasible proposals and solutions for overcoming hurdles encountered along the way.
- In addition to programme innovation, President Zhu is also known for his innovation in teaching methodology. He was the first CEIBS instructor to embrace the technology for using wireless projector, wireless video and audio technology ensuring improved interaction with students. He took the lead to introduce state-of-the-art teaching applications and facilities that have greatly improved students' learning experience. He also provides special training to faculty members on how to use advanced technology and tools that can improve the teaching effect. With the high efficiency brought about by digital teaching tools, President Zhu completed 50 teaching materials, hand-outs and keynote speeches in 2013 alone. His teaching and researching workload is almost equal to that of professors who do not have the added responsibility of management tasks.
Zhang Weijiong
Man of many roles.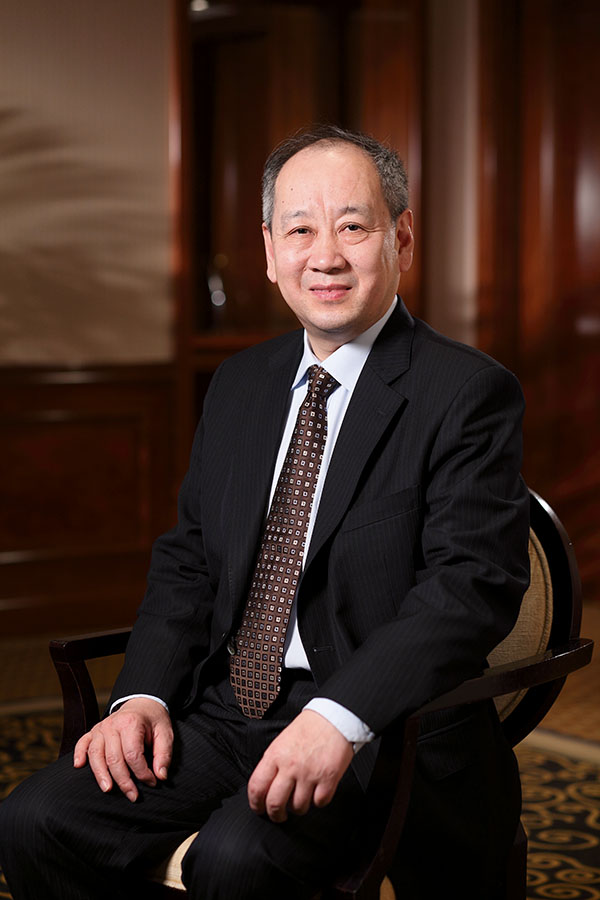 Prof Zhang Weijiong's history with CEIBS goes back to when the school was just established. In May 1997, invited by then CEIBS Vice President Zhang Guohua, Prof Zhang joined CEIBS as the first EMBA Director, and later successively assumed the positions of Associate Dean, Vice President & Co-Dean. He has made a tremendous contribution to the development of CEIBS' programmes, faculty team and the school's day-to-day operations.
During his five-year stint as EMBA Director Prof Zhang helped lay a solid foundation for the future development of the programme. In 2002, he was appointed Associate Dean of CEIBS to handle faculty management and recruit excellent faculty members for the school. He soon set up a faculty support department.
Prof Zhang became CEIBS Vice President and Co-Dean in 2005 and he often compares this role to being the school's "housekeeper". He defines his mission as building CEIBS into an excellent platform to provide the school's faculty with the ideal teaching environment, students with an excellent learning experience, and staff with desirable working conditions.
He is known within the CEIBS community as a "tight-fisted" person as he is in charge of the school's finances and insists on only "spending money on things that are vital". He has been able to find the right balance. He has never scrimped when expenditure is necessary and meaningful to the school and never wasted a penny on anything that is not essential to the school's operations.
Prof Zhang wades through many tedious details on a daily basis, and over the past two decades he has assisted the school in overcoming countless difficulties. He played a major role in facilitating the launch of the EMBA and Global CEO programmes, finding land for the Phase III campus construction in Shanghai, and actualising the signing of CEIBS extension agreement.
John Quelch
Pushed international perspectives and standards at CEIBS.
In February 2011, Prof John A Quelch succeeded Prof Rolf D Cremer as CEIBS Vice President and Dean. Upon completion of this tenure in January 2013, he was appointed Co-Chairman of CEIBS International Advisory Board.
After joining CEIBS, Prof Quelch vigorously promoted the adoption of international perspectives and standards at CEIBS, driving the school to benchmark itself against the world's leading business schools.
During his two-year tenure at CEIBS, Prof Quelch, by capitalising on his experience accumulated at Harvard and London business schools, was dedicated to facilitating the school's development at a faster speed than ever, cultivating CEIBS students into excellent business leaders, and bringing Chinese culture and values onto the world stage as a leader of globalisation efforts. He is widely respected by the CEIBS community and people from all walks of life for his enormous contribution to the school and his unique personal charisma.
One of Prof Quelch's most significant contributions was the redefining of CEIBS positioning. Today, the "China Depth, Global Breadth" tag line has become synonymous with CEIBS. This catchy slogan has helped the school build its brand image and push forward its strategic development.
After joining CEIBS, one of Prof Quelch's major jobs was to help the school recruit the best professors from around the world. This created a high demand for funds. However the school was unwilling to increase revenue simply by raising the tuition fees or just increasing enrolment. Prof Quelch made a daring proposition: attempt to raise money from CEIBS alumni. However, China does not have a history of alumni donation and it is very difficult to raise enough funds this way. Prof Quelch said frankly in an interview, "Chinese people are shy to ask others for money, but it is not a problem for me, an American. I don't mind if people complain that I'm brash. I hope that my effort will bring about more donations for the school." Though the size of CEIBS' alumni donations is far smaller than that of HBS, Prof Quelch's determination and persistence have had a positive impact on a great number of alumni and a donation culture has gradually grown at CEIBS.
Hellmut Schütte
Focused on taking CEIBS global.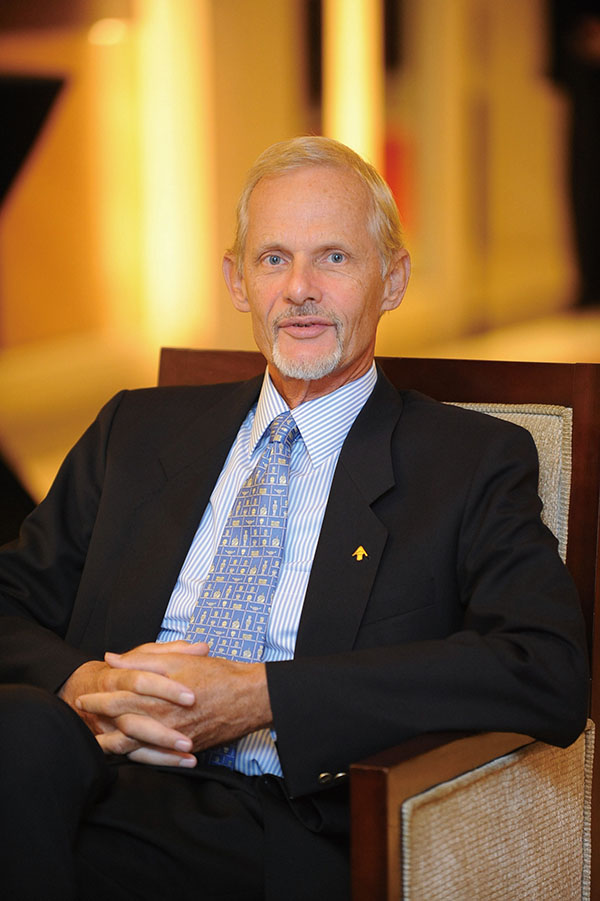 Prof Hellmut Schütte officially joined CEIBS in September 2009 as Distinguished Professor of Management and European Chair for Sino-European Business Relations. In February 2013, he succeeded Prof John Quelch as CEIBS Vice President and Dean.
As early as 25 years ago, Prof Schütte had come to China to give lectures. He taught at CEIBS' temporary campus at Shanghai Jiao Tong University's Minhang campus and attended the inauguration ceremony of CEIBS permanent campuses.
After assuming the role of CEIBS Vice President and Dean, Prof Schütte made it his goal to enhance the school's international dimension, an objective shared by CEIBS Board of Directors.
He acknowledges that CEIBS still has a long way to go to truly realise its goal of internationalisation, and he has embraced this challenge. Since joining the school, he has actively facilitated the implementation of international initiatives, including adding new research topics and new courses such as multinational corporation management, cross-culture management, international marketing, etc. There have also has been more opportunities for Chinese students to complete some programme modules overseas; a push towards enrolling more students from abroad to create an international atmosphere and enhance the richness and diversity of in-class debates; the introduction of an "integrated teaching" approach to combine online courses with offline discussion, so that students are not limited by time and venue, and there is more time and energy for classroom discussion and interaction.
Eric Cornuel
Major player in EQUIS accreditation.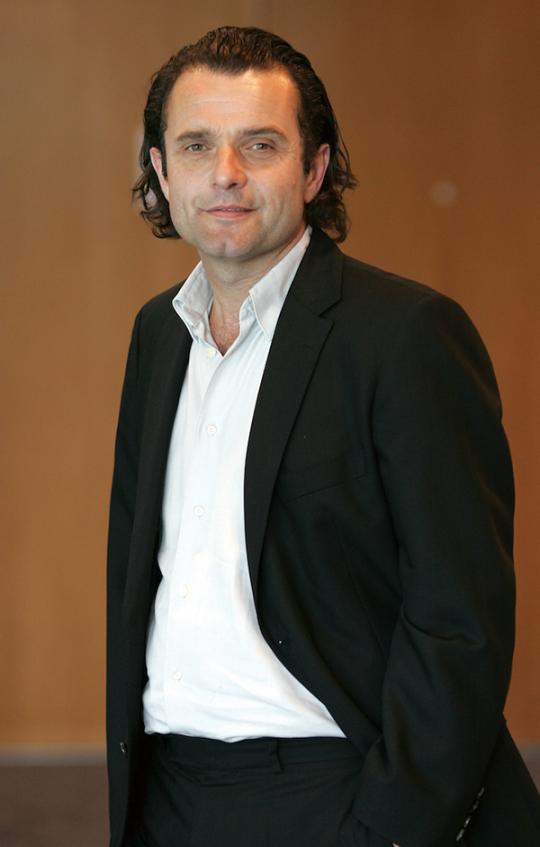 In 2004, CEIBS received international accreditation from the European Quality Improvement System (EQUIS), the first school in mainland China to accomplish this. Mr Eric Cornuel, Director General & CEO of EFMD who joined CEIBS Board of Directors in 2007, played a vital role in helping CEIBS become accredited.
EQUIS was created in 1997 by mandate of EFMD's member business schools in Europe. The EQUIS accreditation is managed and operated by EFMD. The fundamental objective of EQUIS, linked to the mission of EFMD, is to raise the standard of management education worldwide, and improve the quality of management education globally. With its origins in Europe, EQUIS accreditation has global coverage, provides a fabulous framework for business schools and evaluates the quality of these schools in highly diversified cultures and systems. EQUIS has been widely regarded as the leading accreditation in the field of business management education.
With his in-depth understanding of CEIBS and EQUIS accreditation, Eric Cornuel vigorously promoted CEIBS' application for this international stamp of approval. EQUIS accreditation, he explains, "attaches much importance to whether a business school is able to achieve excellent performance and continuous quality improvement based on its strategy and vision."
CEIBS drew on the experience of applying for EQUIS accreditation to make constant improvements, which contributed to its later success in obtaining AACSB (the Association to Advance Collegiate Schools of Business) accreditation in 2008. Only about 5% of business schools around the world have gained AACSB accreditation.
Weng Shilie, Xie Shengwu & Zhang Jie
Board Chairmen

As stipulated in the Financing Agreement, the president of SJTU, CEIBS' Chinese executive partner, shall be appointed Chairman of CEIBS Board of Directors. Over the years, that role has been successively filled by Professors Weng Shilie, Xie Shengwu and Zhang Jie.
As chairman of CEIBS' first Board of Directors, Prof Weng played an important role in helping the school shake off a long list of restrictions and win autonomy in its operations. During the preparatory phase for CEIBS' launch, Prof Weng was President of SJTU while Prof Xie was Vice President in charge of international cooperation, exchange & postgraduate education. From 1992, the two professors began to get involved in facilitating the establishment and development of CEIBS. While acknowledging the school's independent status, they tried their best to justify the existence of the school within the framework of China's education system.
In recognition of the contributions made by Profs Weng and Xie as CEIBS Board Chairmen, the school conferred them each with the CEIBS Outstanding Contribution Award and named them CEIBS Honorary Board Chairmen.
Prof Xie served as CEIBS Board Chairman for 9 years. His gentleness and kindness deeply impressed school directors and his colleagues. He led the Board of Directors in making many major decisions for CEIBS, such as pinpointing the campus expansion project, and determining the school's development strategy. In addition, he played an active role in seeking approval and recognition for CEIBS' MBA degree from the Academic Degrees Committee of China's State Council.
On June 30, 2008, the incumbent President of SJTU Prof Zhang Jie became Chairman of CEIBS Board of Directors. Prof Zhang has attached great importance to long-term planning for the school's future development. With his strong support, the CEIBS Extension Agreement was successfully signed, paving the way for another 20 years in the CEIBS story.