CEIBS 10th Health Care Forum Explores Industry's Healthy Development
Saturday, June 14, 2014
CEIBS 10th Health Care Forum Explores Industry's Healthy Development
une 14, 2014. Shanghai – The healthy development of the healthcare industry formed the basis for discussions today during CEIBS' 10th annual Health Care Forum, which brought together experts in the field for frank discussions on the way forward. The event, held at CEIBS Shanghai Campus attracted about 400 participants hosted in the Petrochemical Auditorium and a smaller lecture hall.
 
A few highlights from the keynote speeches in session one, which explored Strategic Thinking on the Development of the Health Care Industry:-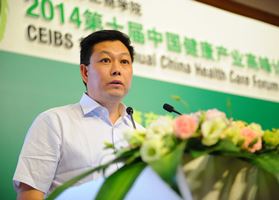 From left: Former Vice Minister in China's Health Ministry Mr. Wang Longde and Former Director of the Medical Reform Office for China's State Council, Mr. XU Shanchang. 
Former Vice Minister in China's Health Ministry Mr. Wang Longde shared his solutions to existing problems in the country's health care industry. The title of his keynote address was Thinking over China's Healthcare Industry. Mr. Wang is also an Academician at the Chinese Academy of Engineering, Chairman of the Chinese Preventive Medicine Association (CPMA), and Member of the NPC Standing Committee.
The challenges that need to be overcome, he said, include the lack of adequate education about healthcare issues and professionals who can provide this information; inadequate focus on preventative care, with most of the focus on chronic diseases; inadequate services for infants and the aged (babysitting and nursing homes); over reliance on imported large scale medical equipment; the quality of drugs available, shortcomings in R&D, production and management. "There is a big gap between reality and expectations; we need to deepen the reforms in the health care sector to successfully address these problems," he said.
His solutions included: clearly identifying social needs that must be met (e.g. the needs of China's aging population); a clear understanding of government policies in order to effectively implement them; as well as positioning the health care sector as a major priority for the economy, with policies and regulations that promote innovation. In the future, he said, China has to explore prevention of chronic diseases, gene diagnosis, rely on innovation to make major technological breakthroughs in large medical equipment, as well as focus on R&D for small diagnostic equipment and mobile medical service facilities. This should all be accompanied by talent building and development in the IT system. "Investment in the health care sector is an investment that will bring returns in the long term," he said in closing.
The #40 Document
Former Director of the Medical Reform Office for China's State Council, Mr. XU Shanchang, spoke about Policies for Development of the Health Care Industry in the day's second keynote speech. He analysed the #40 Document, which was introduced last year. He explained that contrary to some people's opinion, the document was not introduced merely to boost China's economy. "It was a necessary step because as the country develops, there is a growing middle class that needs healthcare. There's also the issue of the aging population," he noted. He highlighted various recommendations made in the document such as the need for coordination among the different sectors in the industry, including insurance; the need to speed up development of the private health care system and encourage innovative business models in areas such as TCM, clinics, health check facilities, care for the aging, tourism healthcare, etc.
He also spoke of the importance of developing the pharmaceutical medical equipment and 3rd party service sectors.  "China has 6,000 pharmaceutical companies. The top 100 have an annual income of only RMB 46 million. That's the annual income of Pfizer alone!" he said. He added that it was important to be aware of the potential opportunities in the health care industry, which is expected to be larger than RMB 8 trillion by 2020. "The health care service industry is also very promising. In the past health care meant treating a disease, it was a small market," he said. "In the future it will be both upstream and downstream, preventative care will become more important so the market will be much broader than it has been in the traditional sense and there will be more investment in these sectors and also in health insurance. So businesses need long-term vision and strong products and services to succeed in the health care industry."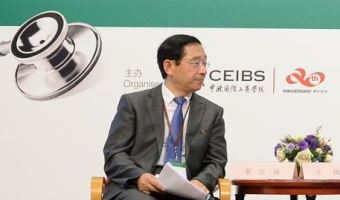 From left: CEIBS Executive President Prof. Zhu Xiaoming and Professor John Cai, Director of the Centre for Health Care Management & Policy at CEIBS, who moderated the opening session.  
The Digital Era
Who will be more resourceful in the digitalized medical era?  That was the question explored during the day's third keynote speech by CEIBS Executive President Professor Zhu Xiaoming.  Pointing out that today's digitalized world has given patients a lot more access to information, Prof. Zhu stressed the need for health care providers to keep up. In the future, patients' personal health records (PHR) he said, will include both medical and lifestyle information which, when combined, will provide the data needed to increase the level of care medical professionals are able to provide. "Sometimes information and data are more important than physical facilities and doctors," he said.
Prof. Zhu, who is also Zhongtian Chair in Management at CEIBS, also spoke about opportunities that can come with making linkages from online to offline (O2O) activities in the healthcare sector, as is currently done in many other industries. Patients can register online and then access treatment offline, their condition can be analysed and monitored through data that's available to medical staff online and health care providers can provide preventative care based on mining the data available. "PHR and O2O will provide big data, which needs to be accurately mined to maximise its usefulness in creating value for patients and the wider society," he said.
CEIBS Dean & Vice President Professor Hellmut Schutte gave the welcome address and Professor John Cai, who is Director of the Centre for Health Care Management & Policy at CEIBS moderated throughout the keynote speeches.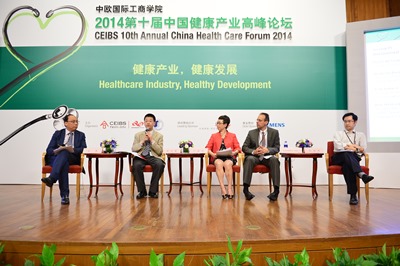 Panel discussions
The forum continued throughout the day with the second session exploring Opportunities and Challenges for Diversified Hospital Ownership. The panellists for the lively roundtable were:
- Mr. ZHONG Dongbo, Deputy Director, Beijing Municipal Commission of Health and Family Planning who shared his views on Policy System for Diversified Hospital Ownership;
- Ms. WANG Xinglin, Director of the Hong Kong-based Asclepius Consulting whose topic was Opportunities and Challenges in Developing Private Medical Institutions in China;

- Ms. CHANG Yumei, Chairman of Taiwan's Ten-Chen Medical Group who discussed Taiwan's Experience in Developing Private Medical Institutions;
- Mr. CHEN Haibin, Chairman & President of Dian Diagnostics whose topic was How Diversified Hospital Ownership Facilitates the Development of the Independent Medical Diagnostics Industry; and
- Dr Eric Chong, Deputy Secretary General of the Chinese Hospital Association. He shared is views on Distinguishing between For-Profit and Non-Profit Healthcare Institutions by the Source of Investment.
Session three revolved around the topic of Promoting the Development of the Health Care Industry through Innovation. Panellists were:
- Prof. GAO Jiechun, Deputy Director at Shanghai Shenkang Hospital Development Centre who also serves as President of Hospital Management Institute at Fudan University. He discussed How to Promote Hospital Informatization in Shanghai through Innovation.
- Mr. Frank WU, EVP & President of Healthcare Sector at Siemens Ltd., China, whose topic was How to Meet the Demands of Emerging Markets through Innovation.
- Mr. Jean-Luc LOWINSKI, Senior Vice President for Sanofi's Asia Region. He shared his views on Innovations for Patient Engagement.
- Mr. Leon WANG, Vice President of GRA BU at AstraZeneca China who spoke about Innovations in the Sales Model of Multinational Pharmaceuticals.
International Experiences in Health Care Industry Development was the topic for the day's fourth session. Panellists were:-
- Prof. CHEN Yingyao, Vice Dean at Fudan University's School of Public Health. He discussed International Experience in Public Hospital Reform.
- Dr. Jui-fen Rachel LU, Professor of the Graduate Institute of Business and Management and Department of Health Care Management in the College of Management at Chang Gung University. She looked at Major Decision Points in the Development of Taiwan's National Health Insurance Program.
- Prof. Arthur DAEMMRICH, Associate Professor at University of Kansas' School of Medicine who is also Affiliated Professor at CEIBS Centre for Healthcare Management and Policy. He shared his views on Internationalization of Medicinal R&D and the Development of the Pharmaceutical Industry.
- Prof. SONG Chengli, Executive Director of Shanghai Institute for Minimally Invasive Therapy within China's Ministry of Education, who is also Deputy Dean of the School of Medical Instrument and Food Engineering at the University of Shanghai For Science and Technology. He discussed Innovations and Opportunities in the Chinese Medical Devices Market.
CEIBS 10th Annual China Health Care Forum 2014 ended with closing remarks from CEIBS President Pedro Nueno who spoke of the fruitful dialogue the event has generated over the last decade and the need for continued dialogue in the years to come.