Live to Create --- Opening Ceremony of 2015 CEIBS China Entrepreneurial Leadership Camp
On March 27, 2015, the Opening Ceremony of 2015 CEIBS China Entrepreneurial Leadership Camp & "Live to Create: Lifestyle of the Young Generation" Talk Show were held at CEIBS Shanghai Petroleum Auditorium. The event attracted not only the participation of the 52 members in the 2015 Camp, but also Camp alumni and more than 200 Camp fans. The event was also attended by an impressive roster of school leaders, professors and business leaders including Prof. Liu Ji, CEIBS Honorary President, Prof. Zhang Weijiong, CEIBS Vice President & Co-Dean, Prof. Gong Yan, CEIBS Professor of Entrepreneurship, Prof. Kevin Li, Executive Director of CEIBS Centre for Entrepreneurship and Investment, Ms. Zheng Jie, President & General Manager of Chrysler Group (China) Sales Limited, Mr. Sha Ye, Chengwei Ventures Partner, Mr. Chuan Thor, Managing Director of Highland Capital Partners, and Ms. Li Xin, Chairman of Merry Sunny Wealth Management Co., Ltd.
Top-notch Entrepreneurs & Young Talent
"Looking for not Jack of all trades, but master of one" has been a unique admissions criterion of the Camp since it was first launched. More than 450 entrepreneurs applied to this year's Camp, further heating up the competition for admissions. Those who were admitted after rounds of rigorous interviews included renowned business leaders like New Oriental founder Mr. Yu Minhong, Sogou.com founder Mr. Wang Xiaochuan and Noah Private Wealth Founder Mr. Wang Jingbo, and the young post-85s and maverick industrial innovators. The whole admissions process attracted much attention from Chinese entrepreneurs. It has been a firm belief of the Camp that the future belongs to the young, and young people stand at the center of innovation.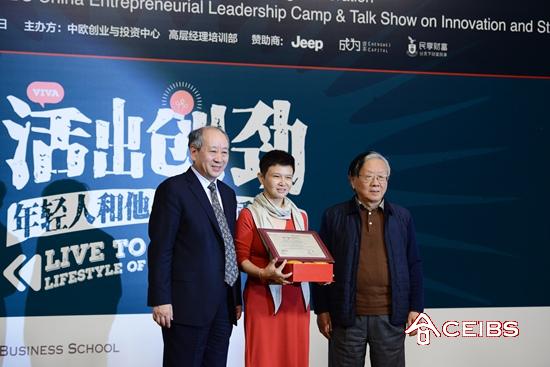 School leaders present donation certificate and souvenir to Ms. Li Xin
Dream Sponsors
In addition to the continued support from Chrysler, Chengwei Ventures and Share Capital, Merry Sunny Wealth Management also appears on this year's list of dream sponsors. It has donated RMB 1 million to fund the teaching activities of the Camp. Ms. Li Xin, Chairman of Merry Sunny noted, "Entrepreneurship means a path where there is no turning back. The trust from your team, investors and friends does not allow you to give up easily. With years of entrepreneurial experience, I know well the pains and hardships to start an undertaking. I'm willing to cheer for the Camp participants and provide a continuous source of funds to support their entrepreneurial moves!" Prof. Liu Ji received the donation and presented the donation certificate and souvenir to Ms. Li on behalf of the school. In his acknowledgment speech, Prof. Liu expressed heartfelt thanks to Ms. Li for her generosity and underlined the importance that a successful entrepreneur must undertake social responsibilities. He also pointed out that the rapid development of a business is contingent on entrepreneurs endowed with the spirit of dedication and innovation. The Camp will donate all the ticket receipts to CEIBS Education Foundation to support MBA students' entrepreneurial activities.
Launch of CEIBS Venture Capitalist Camp
Prof. Gong Yan announced at the ceremony that the first CEIBS Venture Capitalist Camp is now available for application. With partners from VC firms as its major target audience, this new programme will help venture capitalists seize first-mover advantage in the mobile Internet era, and sharpen their innovative investment mindset. CEIBS will fully mobilize and coordinate the strengths of the Entrepreneurial Leadership Camp and Venture Capitalist Camp so as to build an ecological system to boost the development of the best entrepreneurs and investors in China.
Live to Create --- Lifestyle of the Young Generation
Six passionate young people from 2015 CEIBS China Entrepreneurial Leadership Camp participated in the Talk Show and shared their different entrepreneurial stories.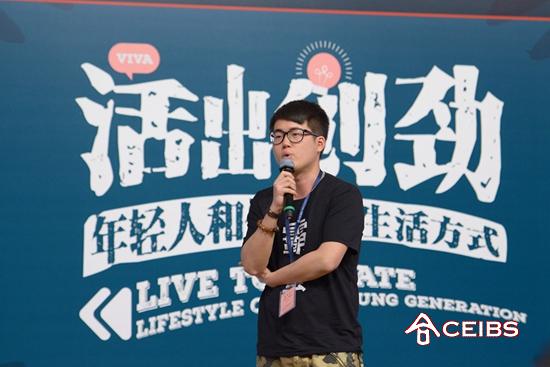 Funiutang Founder Zhang Tianyi---"Young People's Hard Bone Community"
Zhang Tianyi, a post-90s, received his master's degree in law from Peking University, and is known as a "talented speaker" and a "young hard bone" good at writing. After graduation from Peking University, he started his own business "Funiutang" to sell rice noodles, and sold 15,031 bowls of rice noodles in three months! To market his business brand, Tianyi established the "Hard Bone Community" where young people can communicate and form interest groups. A job at Funiutang is by no means boring and tedious, but somewhat like a game, inspiring the enthusiasm in every employee to take rice noodles selling as their shared interest and goal.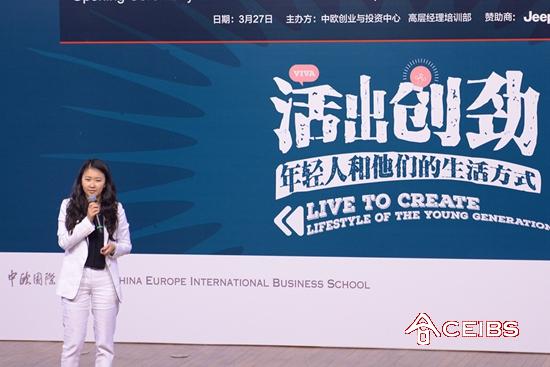 Brain Intelligence Founder Tang Ruihong---"Human brain Is the Incubator of All Innovations"
She is an expert of cognitive neuroscience and aspires to run a company that can read people's brains. Backed on the consumer EEG data it collects, Brain Intelligence can help brands deliver better emotional experience to consumers and provide enterprises with precise guidance on decision-making. She shared her insights into innovation and brain science with the audience.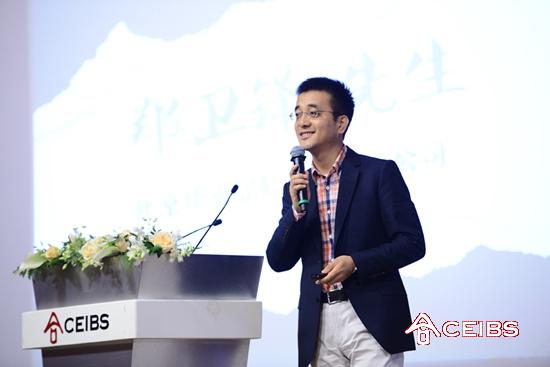 PowerVision Technology Founder Zheng Weifeng---"The Future of Unmanned System and Intelligent Robot"
His sharing refreshed the perceptional dimensions of every audience. He showcased his vision of the future, shared his "robot + mega data" strategy, and described what PowerVision is doing and where it is heading. He hopes to use the mega data to create a business that will put a dent in the universe.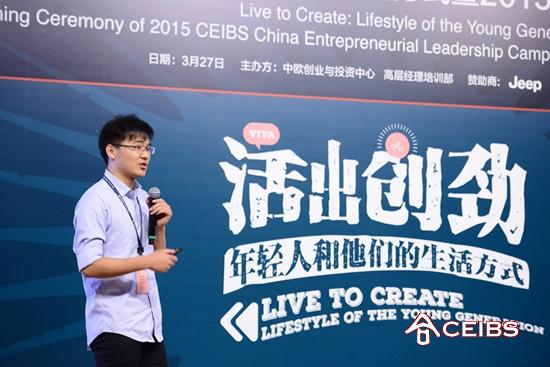 INMOTION Technologies Founder Zhou Wei---"Gazing at the Singular Point: Robot Times Is Around the Corner"
According to Zhou Wei, robot will be a key word of the Internet 3.0 and the majority content and data will be generated from frequent interactions between robots. Service creates value, while data provides a basis for the provision of service. The wide adoption of robots will lead to a social change: all services will be fulfilled by robots, and robots will merge into every aspect of people's future life. The development of intelligent hardware may face a predicament in the short run. But as relevant technologies attain mature and immense capital flows into the robot sector, it can be predicted that this sector will grow large enough to change the world one day.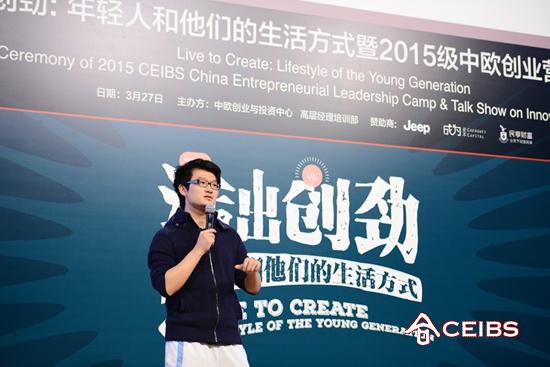 17chang.com Founder Yin Sang---"Reinventing Offline Consumption for the Development of O2O 3.0" 
He first put forward that the O2O market in the Internet era should give priority to transaction, information and experience, and renovate the nature of consumption to reinvent consumers' offline consumption behaviors. He then explained the reasons why he chose to start a business in the KTV sector. According to him, since every action of a consumer in the KTV involves data processing, the KTV consumption can be informatized. He asserted that companies should reinvent the offline experience, identify the tipping point of user experience, cultivate user habits and create more consumption possibilities.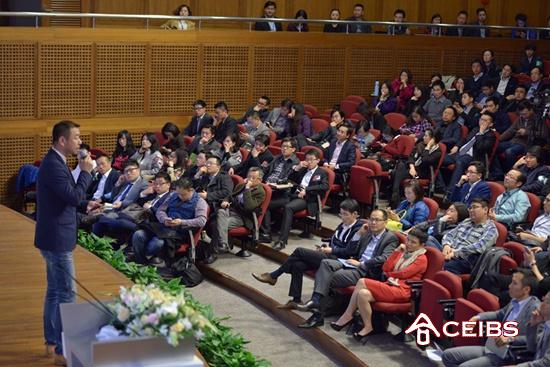 YOU+ Founder Liu Yang --- "The Utopian Dream of YOU+"
He has been devoted to reforming the traditional rented housing industry with Internet mindset, providing the youth with "a sheltered housing full of love", and helping the rootless young people make their "Utopian dream" come true. After founding YOU+, he came to see that "love" had the magic power to turn your business into a great success.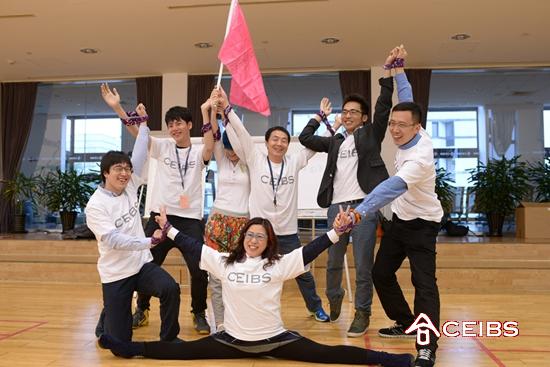 Camp Participants in the team-building exercise
The fantastic speeches of the six young entrepreneurs provided a feast for the eyes and ears of the audience, and broadened their horizon with regard to the Internet-based business models. Following the completion of the Talk Show, participants of the 2015 CEIBS China Entrepreneurial Leadership Camp took part in a string of team-building exercises to get to know each other and get mentally prepared for the first module to be held in the next four days.