How Did the CEIBS Entrepreneurship Camp Course Work for NPS Higher than 9.56?
This Summer, the 4th phase of CEIBS Entrepreneurship Camp initiated the 2nd module, that was "Product Innovation in Beijing". The CEIBS Entrepreneurship Camp, in entrepreneurship area, has already been famous for its top class and entrepreneurship community, it, however, has stronger attitude towards each of classes compared with each product's iterative upgrade of one super App.
At the 2nd intensive class, all of us gathered together for 96 hours. During this period, more than 54 product masters competed against each other. Two months after class, a huge change would be a fantastic experience that was created by class team and students together.
The 4th phase of the Entrepreneurship Camp finished admission in the race for 9-1. In this journey, each of students found answers for why they struggled for admission to this class in this interview. Also, professors and class team proved answers for why they were so selective to entrepreneurs. This answer exposed that the impressive refinement needed the truest collision.
In the 1st module, the temperament of people who are not elegant and who do not follow the crowd completely formed already.
Part One: Group Participation, "Challengers" or "Builders"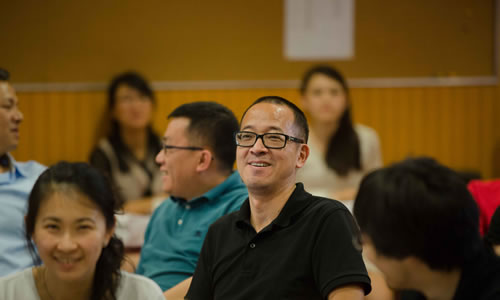 Distributing course evaluation form is daily work of each class in business school. In the product module of the Entrepreneurship Camp, the course organizer not only distributed assessment questionnaire for grading the course itself, but also distributed a copy of the overall questionnaire including feedback forms for students themselves, team collaboration and course service team.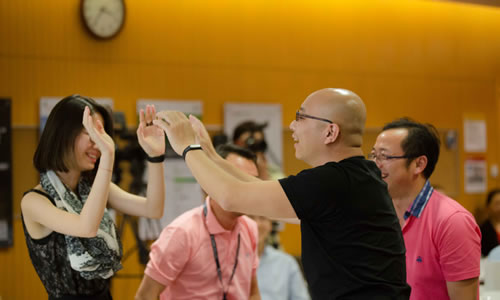 Through a series of questions for feedback such as "What kinds of things were changed because of the camp in these two months?" "What  methods did you expect to promote mutual understanding and collision between these camp participants?" "Please describe your expectation and prospect about the 4th phase of the Entrepreneurship Camp." Our students left their feedbacks to our course group, meanwhile, summarized their periodic growth.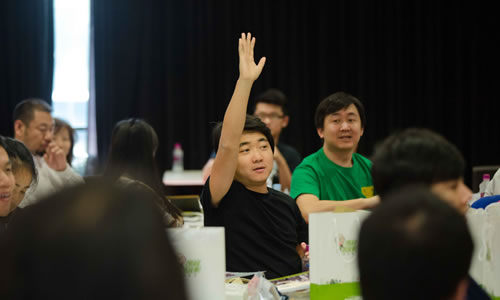 The questionnaire also included NPS - the final question, "Do you prefer to share your benefits and feelings from our camp to your friends or staff , and how much? " (1 point represents no share, 10 points represent share with the strongest willingness). Our students gave us 9.56 on the average in the end.
Part Two: Real-time Update, Give Good Products the Sense of Temperature
one sentence that is always shared in our camp says, "Do what you see as perfectly as you can, next step will become good absolutely." We always make our efforts to do each of modules the best.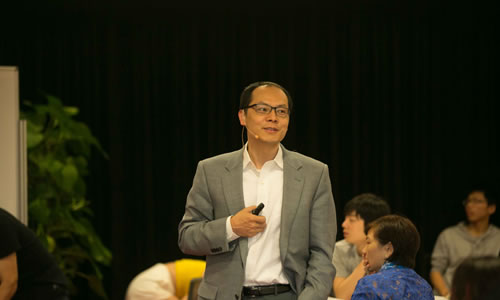 Prof. Li, Shanyou and Prof. Gong, Yan always showed in the class and deeply participated each of parts. Prof. Gong's "Lean Startup" is one of the most popular courses annually. Each time, the course is always updated. There are more than 300 pages of PowerPoint including huge amount of useful information and materials. On May 21st , we had materials about UBER's operational strategies on May 20th to share. And our professor is a product manager of this course, who is continuously studying the product. This is what we call "the sense of temperature".
Part Three: Genius on Board, Students are Also Our Teachers
In this product module, all students of the 4th phase, Sogou's founder Mr. Wang, Xiaochuan well prepared something about his own discovery and recognition on the internet base-level logics. His great share was admired. Besides, " Wang's share was a good approach, which stated business value on the aspect of the World Views," students all agreed. More and more shares like this would be wished.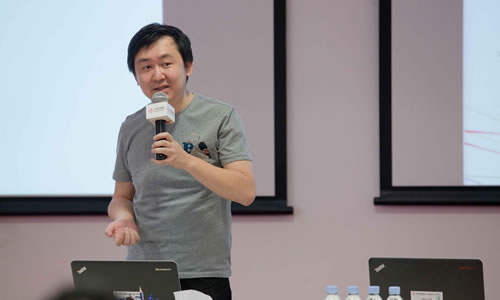 Our students of the 4th phase Wang, Xinwen, who is the founder of Lilith Technology, combined the course share from "Lean Startup" with his company's experiment for developing the game called "Sword and Tower".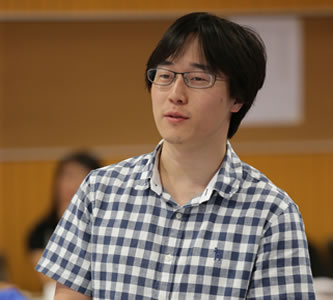 The founder of Cheetah Mobile Mr. Fu, Sheng, who secondly came to our class, shared "How does a CEO make a strategy?" based on development of his company's oversea mobile advertisement in the past half years. The theme subsequently was shared on Mr. Fu's personal WebChat public account. The volume of reading exceeded over 70,000.
The general manager of WebChat Pay Mr. Wu, Yi came from Guang Zhou. Due to more thunderstorms around the Guang Zhou airport at that day, Mr. Wu took train to come to the class in Beijing in the morning of that day. He explained the ecosystem of WebChat Pay in details.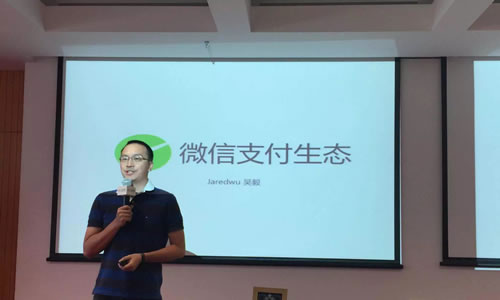 Part Four : Optimization of Mechanism,  Let Good Product Speak During the PK
In our camp, we had a private Board of Meeting. Besides, we made a group to finish group work targeting commoditization community. Each of founders showed their strength on product practice to share and competed against each other.
Compared with the past three phases of the class where 7 or 8 students in a group, the 4th phase of the class changed the rule of group making, that is, 3 students in a group. Each of groups was required for group discussion, enterprises 'visits, and MINI Entrepreneurship Camp's practice, which were proved to be a more effective interactive approach inside the team.  
The fourth day of the product module was totally prepared for students 'products competition. After joining the team, students firstly competed group products, and then were arranged for taking part in the afternoon's class competition. After heated competition, the founder of Teambition Mr. Qi, Junyuan, the founder of Kai's Telling Stories Mr. Wang, Kai, the founder of Luo Ji Si Wei Mr. Luo, Zhengyu and the founder of Noah Wealth Mr. Wang, Jingbo became our winners in this competition. Our students' conscientious study and practical recognition made each of students in the class benefit a lot.
A sentence in our class says, "The product making is a combination of the process of thinking with heart feeling and making." The former, heart feeling, is what we call product, the later is called as making.
A good course with NPS 9.56 was an exciting product, which was managed carefully. The Entrepreneurship Camp will keep its the heart of craftsmen and teacher's love to continuously create exciting educational experience for our entrepreneurs in this era.