CEIBS Venture Capitalist Camp -- The Edge of Tomorrow
June 12, CEIBS Venture Capitalist Camp Orientation "The Edge of the Tomorrow--Investment Rule for Internet Age" Speech Ceremony was held at Petroleum Hall of the Shanghai campus. This is absolutely a breathtaking debut since the Venture Capitalist Camp was established, which was celebrated and supported by the school, the investor community and entrepreneurs.  CEIBS honorary professor Liu, Ji, Management professor (pre-president) Zhu, Xiaoming, Entrepreneurship professor Li, Kevin, deputy director of Executive Education Gao, Gordon , as well as the founder of Noah Wealth, CEO of Gopher Asset Yin, Zhe, chairman of Merry Sunny Wealth Li, Xin were invited to celebrate 36 our venture partners to join our family.
"What we owned previously is dream only, as well as groundless confidence. Nonetheless, all everything started at the point." As Mr. Sun, Zhengyi, a famous venture capitalist, said, "since CEIBS Entrepreneurial Leadership Camp was established for 4 years, CCEI team was always walking with those of people with great dream and confidence, and was inspired by social benefit from entrepreneurship. Having witnessed the entrepreneurial dream for 4 years, the birth of CEIBS Venture Capitalist Camp clustered together new communities composed by investors who stood behind our entrepreneurs, with keen eyes and full of supports. "
CEIBS Venture Capitalist Camp initiated its first run enrollment this March, which relied on the strong entrepreneurial network of CCEI for 4 years. Our course system was designed on the basis of the innovation of "Internet Thinking". Once proposed, it was warmly responded by investors so rapidly. Under heated competition, 36 investment elites with remarkable performance and prospective eyesight became our 1st phase students. They would start their learning journey where they would discover investment rules at the Age of mobile internet, and burst across investment intelligence of the edge of tomorrow.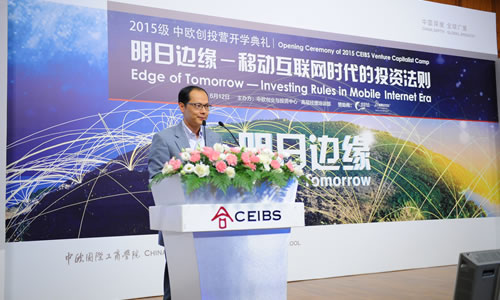 Dream Sponsorship
At the donation ceremony, the founder of Noah Wealth, CEO of Gopher Asset Mr. Yin, Zhe representing Gopher, donated 1 million RMB to Venture Capitalist Camp for supporting the Venture Capitalist Camp's 1st phase's teaching activities.  Then, he shared his deep understanding about PE/VC industry structure. In the wave of mobile internet, investment industry is also experiencing change from subversive innovation.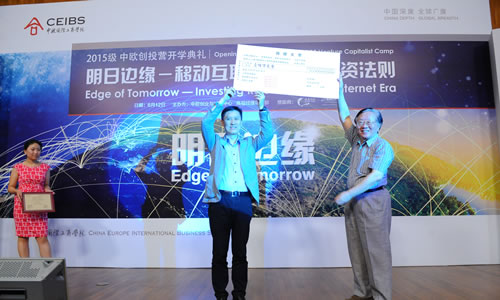 "The Edge of Tomorrow "Speech Ceremony
In this attractive speech ceremony, 6 students of the Venture Capitalist Camp who represent all students from the class of 2015 made speech on the stage. Their excellent critical thinking, broad vision, and extraordinary ideas won thunderous cheers.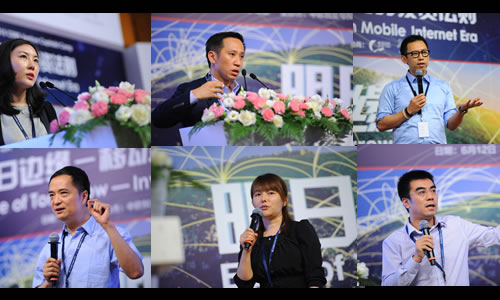 Mr. Thor, Hongchuan, Highland Capital partner, shared his personal experience to illustrate the importance of "Investment Strategy of Sniper"----- Bullets are limited, and investing snipers needs more patience. Shooting will not be in unless someone shoots. IDG Capital partner Yan, Jeacy, from the view of perceptual woman, told us how she achieved her desire, live for making the world become better, through investment. Innovation Angel partner Mr. Li, Zhu exposed to us that the success of investors should include luck, capability, and exploration. In the new Age, Innovation Angel will gradually walk towards the tendency of co-investment. Bopai Capital founder and partner Zheng, Lan successfully finished transformation from journalist to investor. She told us in details using her previous projects, "With keen eyesight, persistent pursuit, and hard work, investors can do very well in entertainment industry."  Gobi Capital partner Xu, Ken developed his understanding and strategies of investment from the view of quantitative investment. Data could talk, and under the background of big data and high technology, investment possibly need innovation to well prepare for welcoming the Age of big data. JD vice president Chang, Bin revealed his own thinking and confusion about investment of these years. He thought we should have rights to practice our own investment ideas and manage the trust well.
About Venture Capitalist Camp
CEIBS Venture Capitalist Camp courses are co-hosted by CCEI and Executive Education including "the World View of the Internet", "Lean Startup", "Internet Thinking", "Organizational Innovation", and "Step into Silicon Valley".These five modules aim to help VC partners understand the logic of the internet deeply, and to build platform to learn and share experience for current excellent entrepreneurs and investors.
Noah Group, Noah Wealth as its brand, is the first and the only one company listed in New York Stock Exchanges. Its subsidiary company is a synthetically finance service management group holding licenses for business development related to finance, which is authorized by China Securities and Regulatory Commission and Hong Kong Securities and Futures Commission, and qualification. Currently, Noah Wealth already formed multi-business including wealth management, assets management, investment bank, internet finance to provide Chinese people with wealth management, oversea assets allocation, high-level insurance, high-level education and so on. Also help clients' assets achieve safe growth.