Creators at CEIBS: Defining the Mavericks and Performing Miracles
Extraordinary Opening Ceremony of 2014 CEIBS China Entrepreneurial Leadership Camp & Meeting on Internet Thinking
On March 26, the opening ceremony of 3rd CEIBS China Entrepreneurial Leadership Camp (CEIBS' annual non-profit entrepreneurial programme) & Meeting on Internet Thinking was held at the Petrochemical Auditorium on CEIBS Shanghai Campus. The attendees included CEIBS Executive President Prof. ZHU Xiaoming, Honorary President Prof. LIU Ji, Vice President & Co-Dean Prof. ZHANG Weijiong, and Prof. Kevin LI, Executive Director of the Centre for Entrepreneurship and Investment (CCEI), and professors of the Camp and distinguished guests. Ms. LI Qingyang acted as Moderator. Centering on the theme of "The Awakening of Internet Economy", eight Camp participants were pit against each other at the talk show contest, demonstrating a remarkable talent for innovation and entrepreneurship as "Creators at CEIBS". The panel, which consisted of heavyweight guests like Mr. YUAN Yue, "brainstormed" with the contestants, creating a cheerful atmosphere.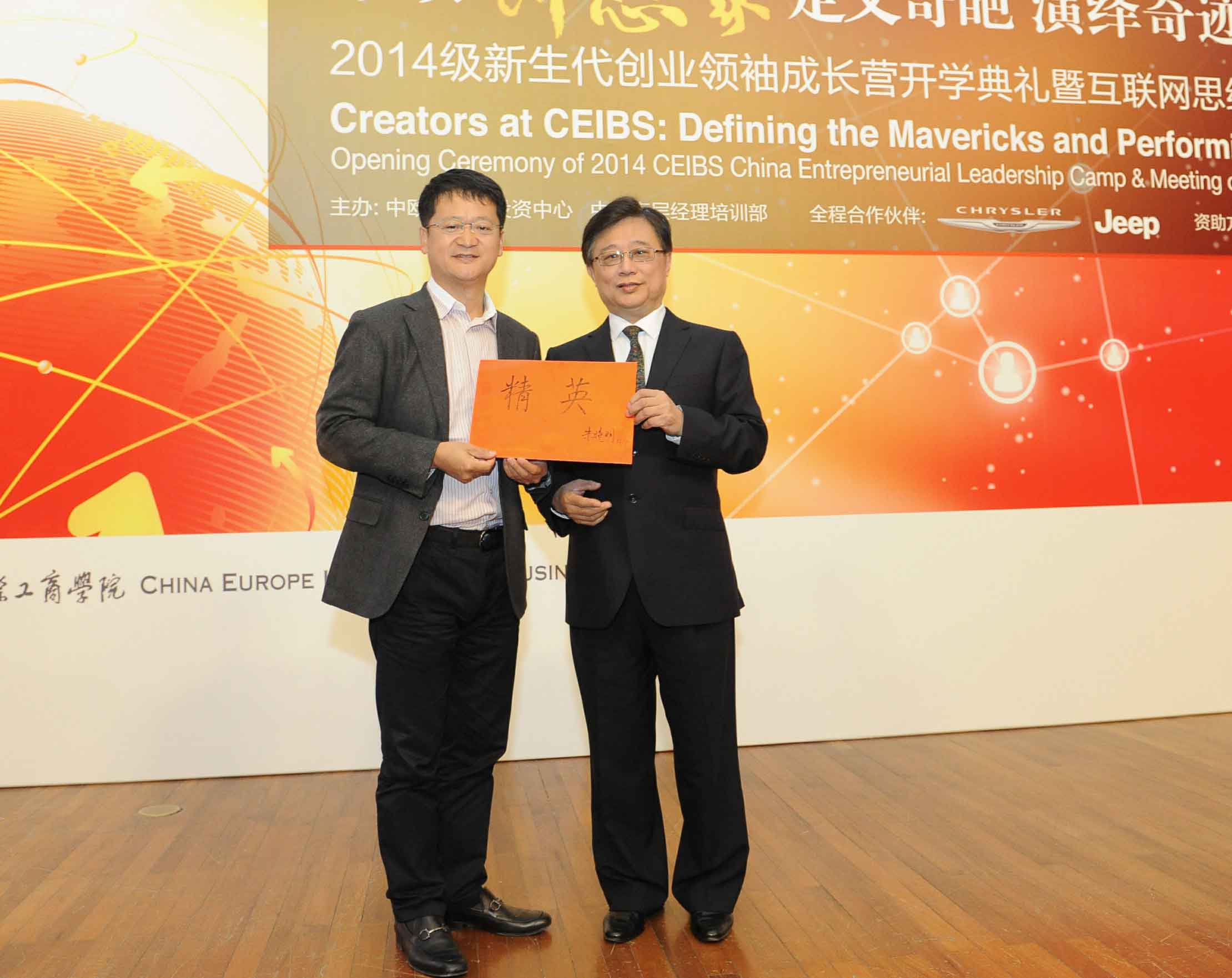 From the outset, the Camp has clung to the underlying concept of disruptive innovation and Internet thinking. Fifty-five participants of the 3rd Camp, who have been picked out at the rate of one in every seven applicants, are role models in terms of innovation theory and practice.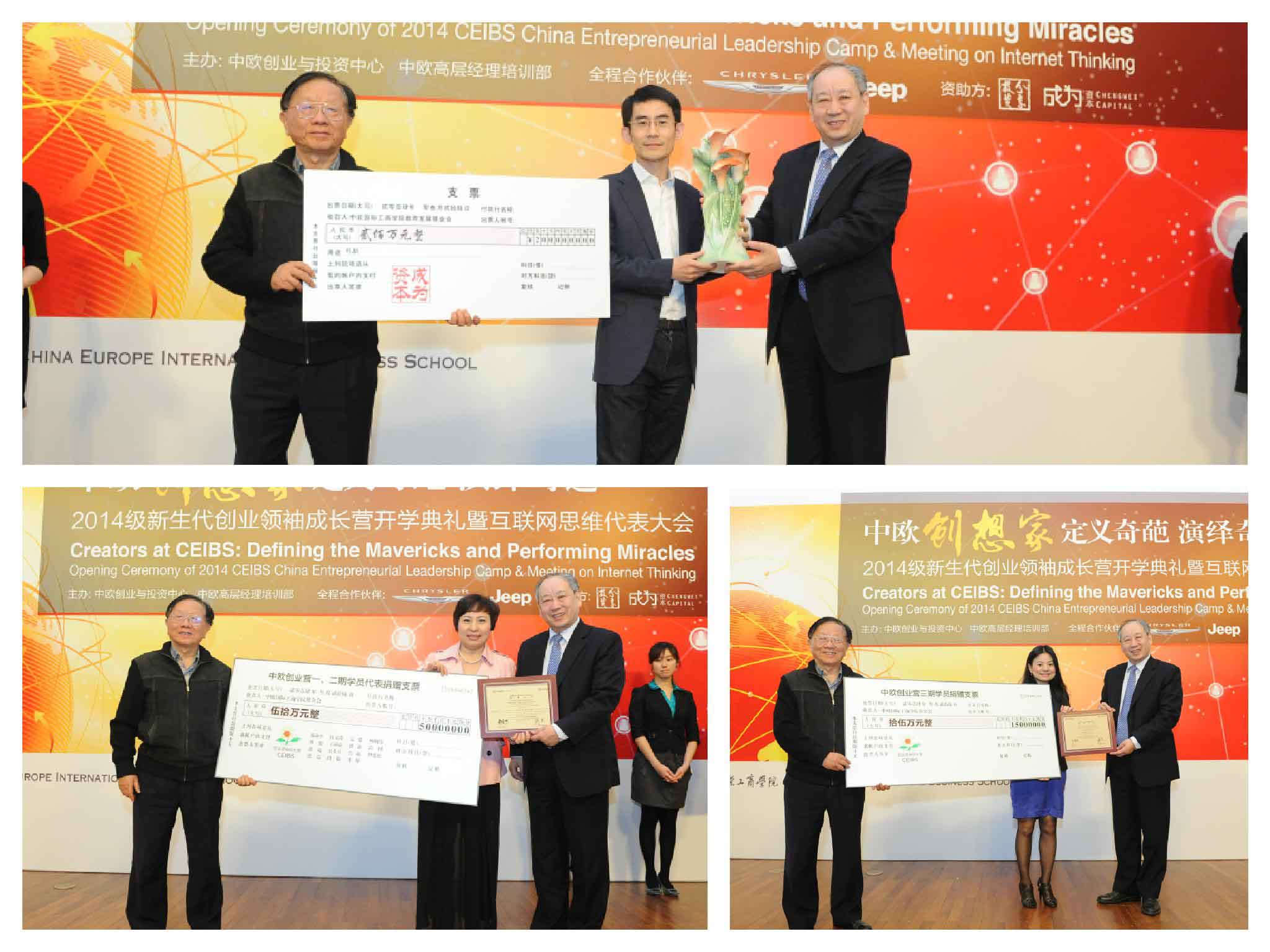 At the donation ceremony, Mr. Ye SHA, Partner of Chengwei Venture, donated 2 million yuan to fund the teaching activities for 2014 & 2015 Camps; the participants of the 3rd Camp donated the ticket sales of 150,000 yuan to the CEIBS Education Foundation; the alumni of the 1st and 2nd Camps also raised 500,000 yuan as a scholarship for current camp participants who are most capable of disruptive innovation.

At the prominent talk show contest, eight participants from the 3rd Camp narrated their entrepreneurial stories in succession. Mr. CHEN Weixing, Founder of Kuaidi Dache Taxi-Hailing APP, shared his dream about the "cloud transportation" on the theme of "From Tradition to Disruption"; Mr. HE Chang, Chairman & CEO of Huangtaiji Traditional Delicacy, began his talk show with an introduction to the origin of currency, interpreting the Internet as a kind of credit system; the event culminated with NTA Founder Mr. SHEN Yin's speech on the "Best Practices Based on Logical Thinking"; he made a point of "developing products in earnest, establishing communities based on game experience, and building brands with a strong charisma".
Ms. MA Jiajia, Founder of Powerful Co., Ltd., gave a speech on the "Community Economy with Clear Value Propositions"; Mr. ZHANG Yang, Founder of Etao Stars Network Technology (Beijing) Co., Ltd., described how Internet thinking helped him create the O2O catering business model; engaged in the long-established pottery & porcelain industry, Ms. ZHANG Dingzhen, General Manager of Shenzhen Jingde Richz Artistic Pottery & Porcelain Co., Ltd., shared her experience in crowd-funding the tuition through Internet thinking; Mr. XIONG Jun, CEO of Xiamen Tongbu Networks Co., Ltd., and Mr. XIE Feng, CEO of Shanghai Qiyou Network Technology Development Co., Ltd., made a riveting 15-minute-long speech respectively based on their experience in the Internet industry, drawing critical comments from professors and guests. In the end, Mr. HE Chang and Mr. SHEN Yin were voted by guests as champions, with an award of "Jeep Trip to Sacred Geladan for Two VIPs" sponsored by Chrysler Group (China) Sales Limited.
The thought-provoking talk show contest was followed by the "brainstorming" session. With Mr. YUAN Yue, Chairman of Horizon Research Consultancy Group, serving as Moderator, CEIBS Professor of Strategy CHEN Weiru, Mr. JI Qi, Founder & Chairman of Huazhu Hotels Group LTD, and Mr. TU Hongchuan, Managing Director of Highland Capital Partners, exchanged ideas about how Internet thinking would shape business innovation. 
CEIBS China Entrepreneurial Leadership Camp, an annual non-profit entrepreneurial programme jointly launched by CCEI, CEIBS Executive Education Department and CEIBS Entrepreneur Association, aims to cultivate entrepreneurial leaders in China by combining entrepreneurial theory with practice. The extraordinary opening ceremony & meeting on Internet thinking only signaled the start of a one-year challenging learning tour. The participants of the 3rd camp will be reshaped as excellent creators at CEIBS.              
Profile of CCEI
Founded in September 2011, CCEI is positioned as the best center for entrepreneurial education, training and research in China. By providing training for CEIBS MBA and EMBA students and promising entrepreneurs, CCEI is committed to creating a platform for resources sharing between startups and investors while undertaking a study on entrepreneurship.