The 3rd Module of 2015 CEIBS Entrepreneurship Camp IV: Marketing Innovation
From July 16th to July 19th, the 3rd Module  of CEIBS Entrepreneurship Camp IV was successfully held in Beijing. This module was themed as "Marketing Innovation". We invited Prof. Chen, Weiru, Strategics professor of CEIBS, Mr. Wang, Ke, founder and CEO of Koudai.com, Mr. Yao, Jingbo, founder of 58.com, Mr. Cheng, Wei, founder of Didi Taxi, Mr. Chen, Weixing, president of FunCity Inc., founder of Kuaidadi.com, Mr. Luo, Zhenyu, senior journalist, leading speaker of Luojisiwei, Mr. He, Chang, founder of Huangtaiji, Mr. Wang, Chuan, co-founder of MI, and Mr. Liu, Qin, partner of Morningside Capital as our guest speakers. From the views of both theory and practice, they, together with our students, deeply discussed methods for marketing innovation under the era of the internet, and made bold hypothesis and  analysis on future business models.
Construction of Theoretical Knowledge: Build strong foundation
Referring to the  platform business model, we all feel so familiar with it.  However,  as mentioned to its power, we have to propose a set of data from Havard University scholars'statistics: majority of revenues of  60 of 100 biggest global companies come from network service based on platform as medium, which include some legendary companies we know so much such as Google, Uber, Ebay, Facebook, Baidu, Taobao and etc.  I can not help wondering: what is the magic power of the platform business model, which can make companies develop so rapidly within ten years? In our class, Prof. Chen, Weiru vividly elaborated on this issue  through combining successful cases from both domestic and abroad.
Prof. Chen, Weiru pointed out that the platform was a business model only, and the business model was a kind of logic, which can be used for organizational managment and human resource management.  Besides, the business model had network effect of the same edge. Prof. Chen, Weiru listed a set of examples such as WebChat Moments, Auto Navigation, Video Phone On Network, and Facebook to illustrate considerable business value of the effect.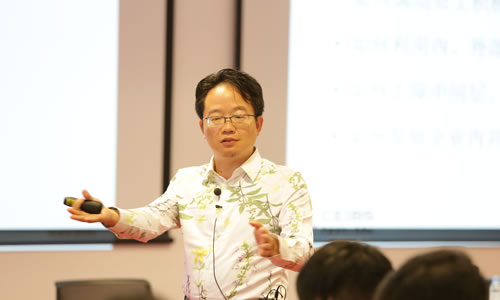 Meanwhile, Prof. Chen, Weiru also mentioned that the platform was the concept of a market with dual edge. It can make us meet harsh needs from our downstream customers while avoiding competing with upstream giants of industry chain. Thus created commercial ecological circle featuring co-creating, sharing and win-win.
As to how to build such a commercial ecological circle, Prof. Chen, Weiru made thorough explanation about vertical value chain and two-sided market platform. Also, Prof. Chen, Weiru  made deductions on the future tendency about platform startup, and gave some instructive suggestions about how will the enterprise transfer from a brand to a platform, and how to manage using the idea of the platform?
Real Experience Sharing: Stand on the shoulder of the giant
The lesson in the past is our teacher in the future. Standing on the shoulder of the giant, we can see ourselves and our future more clearly. Hence, we invited several successful entrepreneurs to share their startup experience with us, and to make speech about marketing innovation.
Mr. Wang, Ke, founder of koudai.com, explained that the core of the product must be its value overweighing its performance. The product with great value must be useful even it looks urgly.  Mr. Yao, Jingbo, from 58.com, deeply analyzed the startup path of 58.com from the aspects of online, offline, construction of social community, channels, merging, future strategies. And pointed out that what we need was not capital, instead, people with spirit of innovation was our scarcity. Mr. Cheng, Wei, founder of Didi Taxi, shared the story about the birth of Didi Taxi , and concluded three stages of starting a company: testing the business model, competing in vertical area and thinking about the next strategy. Mr. Chen, Weixing, president of FunCity Inc. and founder of Kuaidadi.com, told us the story of his rough startup, and shared his understanding about strategy and investment with us: strategy can not do anything unless it works with capital. Mr. Luo, Zhenyu, a senior journalist and leading speaker of Luojisiwei, made a speech that was themed as"Looking at the World Upside Down". He led people to look at  the problem through the nature of the thing, and proposed a new "point-line theory", which demonstrated that enterprises would be outstanding among peers only if made powerful connecting points as well as well selected connecting lines.  Mr. He, Chang, founder of Huangtaiji, told us his innovative stories about the growth of Huangtaiji from 1.0 to 4.0. He also figured out that "products without social characteristics resemble Buddha figure without life". Mr. Wang, Chuan, co-founder of MI, introduced in details about the ecological chain of electronic products that is improved by MI's products. He illustrated MI's brand model, that is Perfecting Sincerity, and proposed his dream of making the best domestic products and selling products globally.
Share investment experience, Enlighten our entrepreneurs
Startup can not live without investment. However, understanding our investors'opinions about enterprises'future inevitably enlightens our entrepreneurs constructively. Hence, at the 3rd module of Entrepreneurship Camp, we invited China famous investor, Mr. Liu, Qin from Morningside Capital shared his ideas about investment and enterprises'future. Mr.Liu, Qin once successfully invested
 JZCM, Xunlei, ifeng, duowan, MI, Ucweb, Discuz, 1smart, and etc. He led to invest MI in the first three run. He is the biggest investors for MI, who is called by Mr. Lei, Jun as "the best investor in the earlier time in China". In the class, Mr. Liu, Qin pointed out that driven by the reform and opening-up, China internationalization stepping into new stage and industry having opportunity to overtake others around the curve, domestic new enterprises would have blooming future. On the judgement of quality of project, he proposed that the best project  always belonged to the minority who persisted the project. And small companies were the member of the minority who had unique advantage on information. In the cognitive science, there is a phenomenon that human being need to approach the truth constantly. Enterprises are not exception. As to how to constantly approach the truth, Mr. Liu, Qin already exposed the answer in the class, that is, keeping doing minus, focusing, ultimately returning your original desire for the startup.
Performance Show and Exchange, Topic Discussion and PK
We created 3 persons in a group as a model, and each of them in the group was required to finish at least 3 company's visits each other. Then each of students was asked to propose feasible innovation solutions focusing on some difficult issues about peer companies such as strategic transformation, product transformation, business model transformation, marketing change and etc. Our students talked something from what they saw, and used what they learnt from the camp for instruction and practice.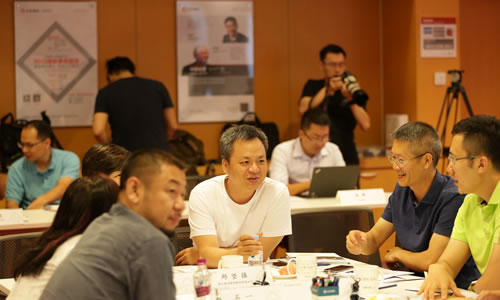 In our exciting guest shares and heated students'interaction, the 3rd module of CEIBS Entrepreneurship Camp IV drew to an end.
This "marketing innovation" session further widened students' horizon and brought our students brandnew influence on both theoretical and practical level. They all expressed that they were looking forward to the next session, a journey to the magic innovation.