CCEI Home
2015 China Entrepreneurial Leadership Camp

2012 CEIBS Entrepreneurial Challenge

About Us
"Position CEIBS as the best provider of entrepreneurship education, training and research in China."
– Rama Velamuri, Academic Director of CEIBS Centre for Entrepreneurship and Investment (CCEI)
The CEIBS Centre for Entrepreneurship and Investment (CCEI) was established to support CEIBS MBA and EMBA programs with i) high quality entrepreneurship content in the form of cases and other teaching material; ii) opportunities to interact with experienced alumni entrepreneurs and investors; and iii) assistance in mobilizing resources for new ventures.
The Centre will also focus on i) offering training programs for entrepreneurs (alumni and non-alumni) with high growth potential; ii) conducting research that informs entrepreneurs, investors, policymakers, corporations and professional service firms; and iii) developing investment and financing networks and platforms for start-ups and investors.
Mission and vision
Mission
• Support CEIBS MBA, EMBA and EDP programmes in educating principled entrepreneurial leaders
• Help CEIBS students and alumni acquire resources for ventures
• Train founders of ventures with high growth potential, and
• Support CEIBS faculty in their entrepreneurship research in order to become the most authoritative centre for entrepreneurship knowledge in China
Vision
• Make CEIBS the #1 business school in entrepreneurship development in China
• Become the most influential entrepreneurship and investment centre, in terms of impact on society
President's message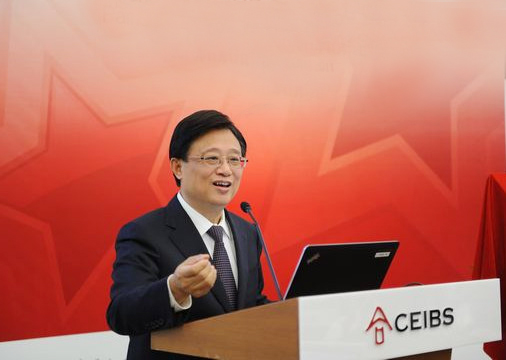 "The Centre's main goal is to meet the needs of CEIBS students and alumni in helping them launch ventures, mobilize resources, and grow their enterprises."
– Professor of Management&President (June 2006-March 2015) CEIBS, Chairman of Shanghai Research Society on the Strategic Studies of Reform, Innovation, and Development, Director of Shanghai Research Institute of Digitalization and Internet Finance 
Core team of the Centre for Entrepreneurship and Investment, CEIBS
Professor of Entrepreneurship;Chair of the Department of Strategy and Entrepreneurship;
Academic Director of the Centre for Entrepreneurship and Investment
Velamuri S. Ramakrishna
Adjunct Professor of Entrepreneurship;Executive Director of the Centre for Entrepreneurship and Investment
Li Shanyou (Kevin)
Assistant Professor of Entrepreneurship 
Gong Yan
Part-time Professor and Center Professor of CCEI
Rupert Merson
Vice Director of CELC Program,Senior Administrative Officer of the CCEI
Li Qingyang
Education/Training
We all know clearly that it is an entrepreneurship era. No matter what the surroundings are, the entrepreneur blow bugle of era march with their entrepreneurship spirit and feat.
We all know clearly that the learning ability and growth aspiration of the founder is the most effective engine of an enterprise development.
However, once the founder stops learning, developing and feeling excited, he will get used to his own thinking and behavior stereotype, which becomes the handcuff of enterprise development.
Honestly, the entrepreneurship spirit cannot be cultivated but the management level of the entrepreneur can be improved. Their horizon needs to be broadened and their state of mind needs to be shared as well.
Program Features
Six cross-regional modules instruction
Teaching style combining learning and action
CEIBS and industry leaders will join their efforts to give instructions, both by theory and in practice. Spotlight case method which simulates real business decisions is adopted in the program. After finishing five basic modules, the students will attend entrepreneurship and innovation competition. The winner will be awarded a Jeep sponsored by Chrysler China. Six modules will take place in Beijing, Shanghai, and Shenzhen which are the very center of entrepreneurship and innovation in China.
Community Form
We have turned the traditionalteaching style of one-way instruction into a mutual improvement process among multi-parities throughwell-designed mechanism, letting every member of our community actively share with and promote each other. Under such circumstance, every studentnot only has a strong sense of participation, but also a willingness to help others. The fast update of knowledge always enables CELC to be in touch with the latest and the most useful information to keep the entire community move in pace with the times.
China-US cross-national study
The fifth module will allow students to go to Silicon Valley in US to learn entrepreneurship. This module is cooperated with Stanford Business School. The students will have a chance to listen to entrepreneurship courses delivered by Stanford first-class professors. And they can learn and observe product innovation, technology innovation, business model innovation and talent management innovation from high-tech innovative enterprises in Silicon Valley (Cisco, HP, Google, Apple, Facebook, etc.)
Private Board
Private boards are study groups of seven or eight students composed for mutual-help study. Students are scheduled to pay a two-day visit to their own enterprises to diagnose problems and share experiences with each other.

Spotlight case
CEIBS organizes professors and research team for field trips of excellent students' enterprises. They will draft short cases based on students' interviews. Such cases are called Spotlight Cases, provided either for group discussion among students, or for internal training of students' enterprise. Once authorized by students, these cases will have the chance to be included into CEIBS case database.
Spotlight cases enable students to directly discuss entrepreneurial problems and to observe and analyze the thinking and decision-making of entrepreneurs.
Group Wisdom
Many-to-one private boards enable the students to have direct and unique suggestions from fellows and enjoy the sharing of industry experiences.
CurriculumStructure
There are six required modules and six elective modules in China Entrepreneurial Leadership Camp. Required modules are comprised by four basic modules, one overseas study tour module, and one graduation module. There is one required module every two months and it takes four days to complete each basic module (five days for the hsixt module) and three days for the graduate module. The elective modules will be arranged between two required modules. The curriculum lasts one year on the whole.
Basic module schedule
Day 1  Lectures given by CEIBS professors

Day 2  Cases sharing by well-known entrepreneurs

Day 3  Experience sharing by mobile internet experts

Day 4  Cases sharing by students
Graduate module
Day 1  Professor joint instruction course

Day 2  Professor joint instruction course

Day 3  Professor joint instruction course

Day 4  Presentation
Day 5  Graduation work presentation/ entrepreneurship and innovation competition
Required module
Module 1  Mar 25, 2015 – Mar 29, 2015, Shanghai, China
(Basic) Disruptive innovation (Opening Ceremony)
Module 2  May 21, 2015 – May 24, 2015, Shanghai, China
(Basic) Product innovation
Module 3  Jul 16, 2015 – Jul 19, 2015, Beijing, China
(Basic) Marketing innovation
Module 4  Sep 17, 2015 – Sep 20, 2015, Beijing, China

(Basic) Business model innovation

Module 5 Nov 19, 2015-Nov 23, 2015, Silicon Valley, USA
(Basic) Learn entrepreneurship and innovation from Silicon Valley

Module 6  Jan 11, 2016 – Jan 15, 2016, Shanghai, China

(Graduation) Graduation show and entrepreneurship and innovation competition

Elective module
Module 1  Private board  Apr 2015

Module 2  Product model innovation  Jun 2015

Module 3  Marketing innovation  Aug 2015 

Module 4  Management innovation  Oct 2015

Module 5  Finance and accounting innovation Dec 2015

Module 6  Private board  Feb-Mar 2016
Admissions
Enrollment scale
The 2014 entrepreneurial leadership camp program plans to enroll 56 students.
ApplicationRequirement
The 2014 entrepreneurial leadership campintends to find the most potential entrepreneurship talents in China, to provide the first-class entrepreneurship training and connect entrepreneurs and entrepreneurship resources. Entrepreneurship elites with the following qualifications are warmly welcome to apply:
1. The applicant is entrepreneur, big shareholder or CEO
2. Obtain at least one round financing (venture investment or angel investment)
3. Prioritize to enroll the applicant who is in high-tech industry or has innovative business model in traditional industry
4. The applicant has IPO plan in next 3-5 years or has high potential start-up.
Expenses
The tuition fee is RMB180,000. This program is non-profit project. The students on the 2015 program only need to pay partial tuition fee (RMB118,000). Other expenses are sponsored by CEIBS alumni.
The tuition fee covers all courses, teaching materials, use of school resources (library, information center). Expenses of living, housing, transportation and class activities are not included.
Scholarship will be offered to entrepreneurs from mobile Internet industry and start-up high-tech companies with explosive growth potential.

Scholarship
The program will evaluate students based on accumulated credits. Students fulfilling the following conditions will be able to get an award of 500,000 RMB:
1. Fully participate in all of six basic modules;
2. Complete oral defense in entrepreneurship and innovation competition;

3. Make contribution to the class by actively organizing entrepreneurship sharing workshops, or participating in entrepreneurship case study, etc;
4. Perform excellently during course study and entrepreneurship development. 

Sponsorship
Hereby extend our gratitude to the sponsorship from CEIBS alumni and previous Entrepreneurial Leadership Camp alumni.
Application process
Enrollment of this program is based on recommendation system and direct application is not acceptable. The students must have at least two recommenders to recommend. The recommenders need to be famous entrepreneurs, senior investors, CEIBS senior alumni, or previous Entrepreneurial Leadership Camp students. Meanwhile, we will strictly screen the recommended applicants.
Program application
Executive Education, CEIBS 
Mr. Gao Xiaoyun 
Open CELC-class Program Director

Tel: +8621 28905185  Mobile: 13601642143  Email: ggordon@ceibs.edu
Program consultancy
CCEI, CEIBS
 Ms. Li Qingyang
 Vice Director of CELC Program,
Senior Administrative Officer of the CCEI

Tel: +8621 28905392  Fax: +8621 28905620  Email: CCEI@ceibs.edu
Research
CCEI conducts high quality entrepreneurship research that informs entrepreneurs, investors, policymakers, corporations and professional service firms. CCEI aims to build up the largest entrepreneurship case database in China.
Research focus areas
Research on entrepreneurship HR management/leadership
Research on entrepreneurial finance and accounting
Research on entrepreneurial innovations
Investment
CCEI will develop investment and financing networks and platforms for start-ups and investors.
• Angel Investor Network
• Early-stage Investment Fund
Contact
China Europe International Business School
699 Hong Feng Road, Shanghai 201206 (Map)
Tel: +86 21 2890 5167
Fax: +86 21 2890 5650
Email: ccei@ceibs.edu