Can Innovation Drive China's Economy?
Friday, June 5, 2015
Can Innovation Drive China's Economy?
June 5, 2015. Shanghai – Is Internet Plus just the latest gimmick? Can innovation really drive China's economy when the country has already perfected the art of copying? And what role can business schools play in all of this? Today's half-day seminar at China Europe International Business School's Shanghai Campus explored these issues and more, with presentations by renowned economist Xu Xiaonian, Tencent's Hou Xiaonan, Jiangling Auto's Wang Xigao and entrepreneurial guru Pedro Nueno.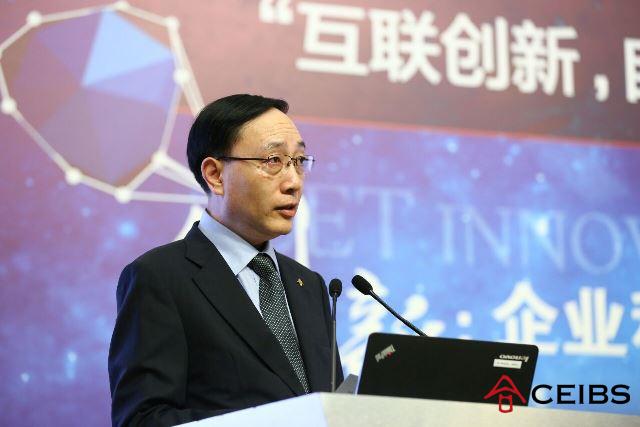 In his opening remarks, CEIBS Chinese President Li Mingjun spoke of the school's origins as an innovative entrepreneurial venture and its commitment to embracing its responsibility of playing a major role in China's on-going efforts at transformation.
CEIBS Santander Chair in Economics and Finance Prof. Xu Xiaonian followed, in his usual provocative style, with an hour-long discussion that asked the tough questions often only discussed behind closed doors. Hammering home the now accepted view that China's traditional growth model is unsustainable, he argued that innovation – at the national and corporate levels, and also innovations to existing systems – is the best way forward. The term "New Normal" has become a part of the vocabulary for almost every discussion on the Chinese economy, but Xu warned that there is a danger, when confronted with less than impressive economic data, to fall back into old habits. "Old thinking is coming back under the new normal status," he told the audience of executive level CEIBS alumni from its CEO and EMBA programmes plus current MBA students. He believes change will only take place when it's too late. "The bubble will burst someday, then maybe we will have a real discussion about innovation. But maybe then it will be too late for many companies," he said.
Many Chinese companies, Xu added, are hobbled by their inability to change their mind-set: they believe what has worked in the past will work today, but times have changed – costs are higher, demand for individual products is lower because the overall supply is greater. Others simply drift from one business model to the next, depending on current trends; while another major drawback is Chinese entrepreneurs' lack of personal depth. "They lack individuality, they lack independent thinking, so their products are not unique," he said. "The Chinese make the same products because they think alike and their business models are all the same. Maybe the inner core of a businessman is blank, he has no personal values. He just tries to follow the generally accepted norms. He thinks success is measured by how much wealth he has, by his company's market capitalisation, the number of cars and houses he owns."
 
Prof. Xu also sent ripples through the auditorium when he questioned the importance of one of the latest buzz phrases: Internet Plus. In his view, the internet is merely a tool for transformation, not a magic wand. He stressed that there is nothing new about internet thinking, saying it's based on existing economic principles. He noted, however, that internet technology should not be ignored or feared as it can be a great tool for increasing efficiency. He closed by urging those listening: "Think more, think independently, calm yourself and think about the transformation of your company. The most precious resource in China is its entrepreneurs; if they can transform, China's economic future will be very bright."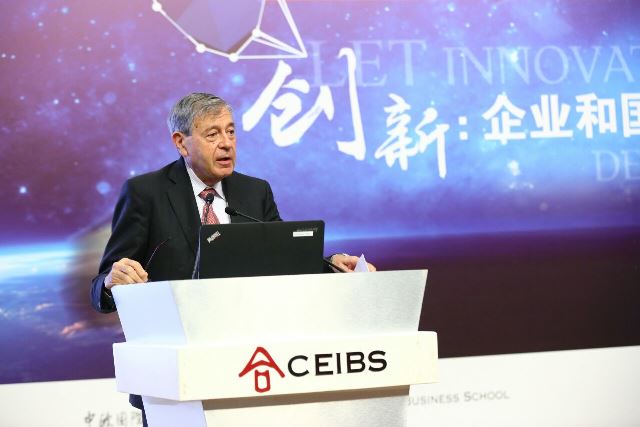 In his presentation, CEIBS European President Pedro Nueno then provided concrete tips on how entrepreneurial ventures can access support through various sections of the society and the new opportunities being created through innovation. "Business schools have an obligation to stimulate entrepreneurship," he said, adding that CEIBS has two funds that provide funding for alumni start-ups, faculty who are experts on entrepreneurship, programmes such as the Entrepreneurship Camp, the recently launched MBA E-Lab, and more. He also spoke of the role he has played, over the years at IESE, in fostering entrepreneurial ventures that have created hundreds of jobs. He closed by urging audience members to become angel investors, as this could be a source of income after they retire.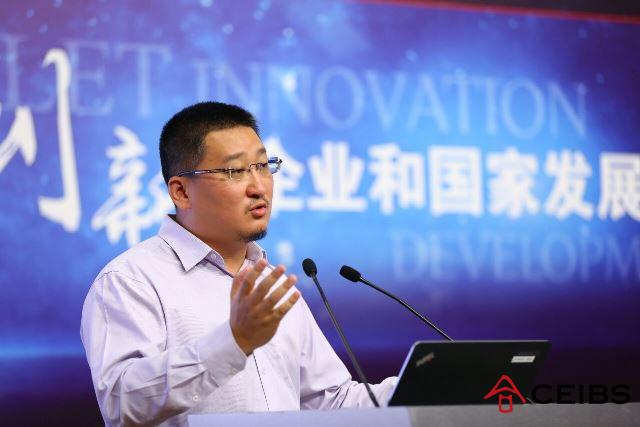 In his presentation, Tencent's GM of Open Platform Mr. Hou Xiaonan spoke frankly on the issue of copying versus innovating. Since going public in 2004, Tencent has grown into a US$200 billion company. According to Hou, a large part of the company's success comes from its ability to improve on existing products. "Tencent copies and then surpasses the companies it copies from," he said. "We won the market based on the strength of our product. We can't avoid copying but we shouldn't just copy. We need to create something new to surpass the product we copy from."
He anticipates that there will be even more competitors in the Internet sector, telling the audience that BAT is just the beginning and there are a lot more to come. But he also noted the consolidation taking place. "In the Internet business there's no second or third place, just one dominant player. That's why we saw mergers between [classified ad-type websites] 58.com and ganji.com as well as between [taxi-hailing apps] Kuai Di and Di Di Da Che," Hou explained.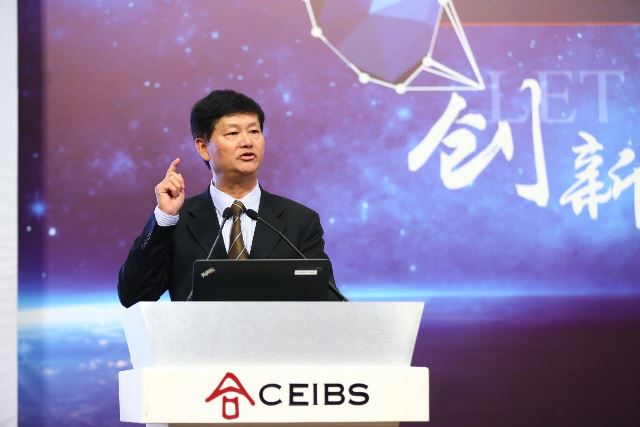 The day's final presenter was Mr. Wang Xigao Chairman of Jiangling Automotive Group who spoke about how innovations in the sector will change our lives. The key, he said, is leveraging internet trends to build core competitiveness.
Whatever the future holds, Hou's comment nicely summed up the event: "Innovation isn't a slogan you shout every day, it's an attitude of going beyond customers' expectations," he said.