by Lei Na
The founder of Matsu Group, Mr Cai Yanguo is among the pioneering Chinese entrepreneurs who have combined a global mind-set with national pride. His office furniture company, which he began in 1996, boasts "made in China" products for the Chinese market that integrate the high-quality design and manufacturing standards of its German partners. Aiming to target high-end local clients, in 2001 Cai began working with the renowned German furniture company Kusch+Co, and since then has established strategic partnerships with seven other high-end German brands.
Matsu's products, whose design aesthetic incorporates the elements of simplicity and comfort that also feature in many classical Chinese furniture pieces, have won over both Chinese and foreign companies, including Alibaba.com, BMW-Brilliance, and Roche. They can also be found on CEIBS' Shanghai Campus; the white dining tables and sled-shaped chairs in the school's cafeteria are made by Matsu.
Cai says one needs a craftsman's heart to succeed in the furniture business, as it requires an appreciation for both quality and design, and a determination not to compromise on either. Matsu has managed to stick to its principles through changes in market environment, and fierce price wars with its competitors, while also continually striving to improve on its designs and develop innovative office furniture products that can meet the needs of both businesses and people.
In this exclusive interview, TheLINK spoke to Matsu Founder and President Mr Cai Yanguo about what inspired his business model and his company's innovative approach to design.
Pursuing Superior Quality and Design
TheLINK: What inspired Matsu's decision to focus on high-end clientele?
Cai Yanguo: Matsu was founded in Guangdong in 1996, when there was fierce competition in the market. I began to make frequent inspection tours of German enterprises, as I wanted our products to make a difference. I was awed by the Germans' fine craftsmanship and their extreme pursuit of quality. I still remember attending an exhibition in Germany with a heavy suitcase whose wheels had broken. The German security guards there said scornfully, "Whoa, this is made in China!" Honestly, it made me feel uncomfortable, and I was determined from then on that we must produce both high quality and superior design. We never wavier from that. Our products are always truly green, durable and never out-of-date.
TheLINK: Matsu has established strategic partnerships with eight high-end German brands so far. How did you decide which companies to partner with?
As German companies generally have high standards for quality, we don't have to worry about that so much; we mainly choose based on categories. Many German furniture providers are family businesses that are not too large, are focused on one area, and are the best in their category. There is no overlap in the business lines of our eight German partners; for example one makes chairs, while another makes multimedia meeting tables. We choose the best companies in different areas and combine their products to provide office furniture solution packages to clients in China. I also have a good understanding and appreciation of design; if a company's design can impress me, I will consider collaborating with them.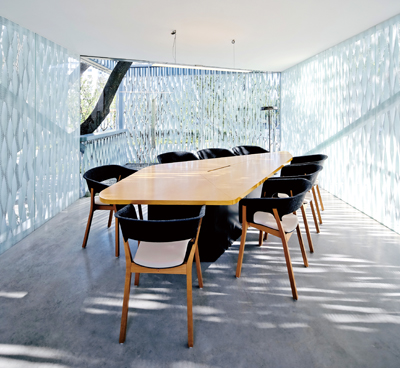 TheLINK: There are fewer customers in the high-end segment of the market where you are now positioned. Will you eventually try to expand into the mid-range and low-end markets?
We'll stick to our focus. I have no plan to change, even if it means it will be more difficult for us. Chinese companies today periodically jump into the muddy waters of price wars; we are a company committed to quality and design so this affects us deeply. But we can also make some relatively inexpensive products by exploring ways to lower our manufacturing costs through the choice of materials and by changing structures. There is an increasing amount of new materials that can be utilised, so I believe we can find ways to lower costs. However, we will still follow our principles when doing so; we'll never lower our quality standards.
Innovation in Office Concepts
TheLINK: Matsu's "M-Office" Future Office Centre opened in Shanghai in November 2012 featuring its revolutionary M.A.T.S.U. office philosophy: Mobile, Adaptable, Thoughtful, Social and Unique. Can you give us more details about this?
The concept is about the "mobile office", which has been en vogue for more than a decade in Europe; Matsu is the first Chinese company to introduce it into China. We've analysed data which show that the sales staff of a company will spend, on average, no more than two hours a day in the office. This means there is very low usage of the office space expenditure the company is making for these employees. The mobile office concept allows these employees to work outside the office in public places like coffee shops, while providing them with specially designed closets in the office where they can store their private property. In addition, some of the public areas in the office can be partitioned into small meeting rooms that can be conveniently utilised both for department meetings and brainstorming sessions, as well as work space for the sales staff when needed. This can reduce a company's office space needs by 50%, drastically lowering the cost for office rental, so it's an effective way to improve performance. This M-Office configuration is very suitable for companies dealing mainly in trade and sales.
We've put a lot of consideration into the details. M-Office works best for sales offices, where everyone has their own cubicles, though they are not very big. We have study areas where books and public reference materials can be located. In a traditional office, employees can borrow reference items and keep them in their desk drawer. However in the M-Office, you must put things back where they belong; this also makes the office neater.
For employees who need to spend long hours at their desks, like designers, we have created areas for work that requires concentration, where even if someone needs to make a phone call others will not be disturbed.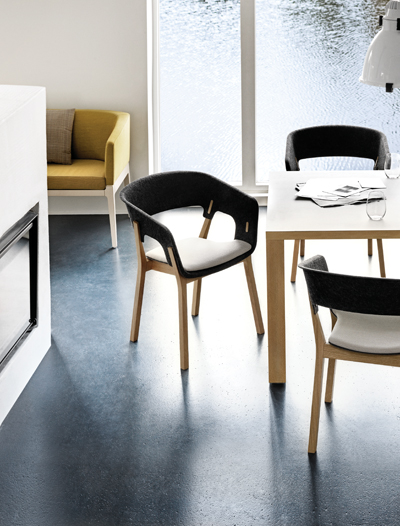 TheLINK: It's been reported that Matsu will build a creativity centre beside the M-Office Future Office Centre, in order to explore how the needs of businesses and people can be more harmoniously combined. Does this mean that Matsu is planning to create some new office concepts?
We have a German partner, Nimbus, who makes the most advanced LED lighting in Europe. Every month the head of the company cooks dinner in the office with his employees. This combination of work and lifestyle is something worth learning from. We are now hoping to research more about the relationship between work and lifestyle. For example we have plans to work together with a German company to make kitchen equipment to add a touch of home, such as ovens and smart coffee machines, to our office configurations.
We also plan to introduce more original concepts in the future. In fact, how to combine work and personal environments according to traditional Chinese culture is an ever-green theme, and we will continue exploring this as well.
TheLINK: Many Chinese cities are facing serious pollution problems, and many workers have long commutes to their jobs. Surely a comfortable office will make them happier on the job.
Yes, and we are doing R&D into things like the temperature setting for office air conditioners, and air purification. We want employees to feel very comfortable at work, the same as when they get back home. If there is an opportunity, I'd like to have input on this from CEIBS' alumni and professors. In fact, office space is a very important factor in the efforts of an enterprise to persuade employees to stay.
Cross cooperation and compatibility
TheLINK: Matsu hosted the "Invisible" Nanometre Photography Art Show for Wang Xiaohui in its Shanghai flagship store, to herald its strategic cooperation with Wang's Art Centre. What's next in this collaboration?
Ms Wang and I are good friends, and I like her work very much. She is a Chinese-German artist, and our company has close ties with Germany. I often think that the modernity expressed in her artworks fits with our products. It happened that she had done some pieces that involved filming a nanometre through a high-power microscope, revealing its stunning beauty. So I invited her to give this show in Matsu's flagship store. We're thinking of more ways to cooperate, for example we may release a series of limited edition furniture together.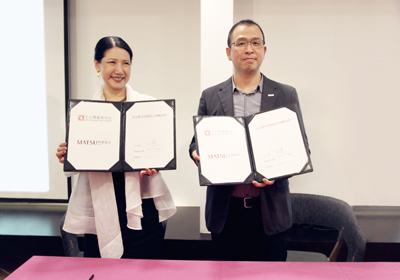 From left: Artist Wang Xiaohui and Cai Yanguo
TheLINK: When providing office furniture solutions to different companies, how does Matsu blend its products with the unique architectural styles found in various offices?
Traditionally the interior design and furniture is added to a house after it is built. In fact you cannot have a perfect combination of furniture and architecture this way. In many places abroad, the design begins from the interior and extends to the exterior. They first consider what furniture should be used, then they design the interior space, and then finally they imagine how the structure will look as a whole. I think this is a more advanced concept. I have been in this business for many years, and I think no matter whether an idea is Eastern or Western, it should consider different aspects and include some blending, which is also part of Matsu's company culture and development strategy.
TheLINK: During the Ming and Qing Dynasties, Chinese-made chairs were considered the epitome of aesthetics and comfort; now we are learning more from the West. Do you think there will be some new Chinese furniture designs that will become lasting classics?
I believe so. In fact Chinese designers have been making great effort, and are creating many wonderful works. Chinese designers with a sense of national pride have been wanting to do something that continues Chinese traditions in this business, and represents a very fine, aesthetic style. Wang Shu, a Xinjiang architect, was awarded the 2012 Pritzker Architecture Prize. His work combines traditional Chinese elements with modern architectural styles and he has created many interesting works. I think he is an outstanding representative of China's architects. In the future there will be more designers like him, including furniture designers of course.
( Photographs by Matsu )