Li Wei with family at the University of Virginia
By Wendy Wang
Li Wei was still a high school freshman when he first visited CEIBS Shanghai Campus. He would sometimes be with his mother, Li Yuanwen, when she travelled to Shanghai from Guangzhou to attend her EMBA classes. Though he took an immediate liking to the quietly beautiful and modern campus on Hongfeng Road, when his mother completed her EMBA studies in April 2002, he never imagined he would one day become a CEIBS alumnus himself. A decade on, Li Wei is following in his mother's footsteps. He's enrolled at CEIBS in the MBA Class of 2015 and will graduate in 2017.
Coming of Age in the US
Li Wei and his mother have a lot more than CEIBS in common. Some of his focus and tenacity was obviously inherited from her. Li Yuanwen joined the army at age 14, taught herself Chinese medicine, and attended the No. 1 Military Medical University as one of the first group of university students to enrol after the restoration of the national college entrance examination in China.  She went on to become an accomplished doctor and was awarded a scholarship by Harvard Medical School to participate in clinical research on diabetes, but unfortunately her military service made her ineligible for a visa. Eventually she decided to transition into a new career in sales, working her way up to become the Sales Director for Baxter, a multinational medical product and services company.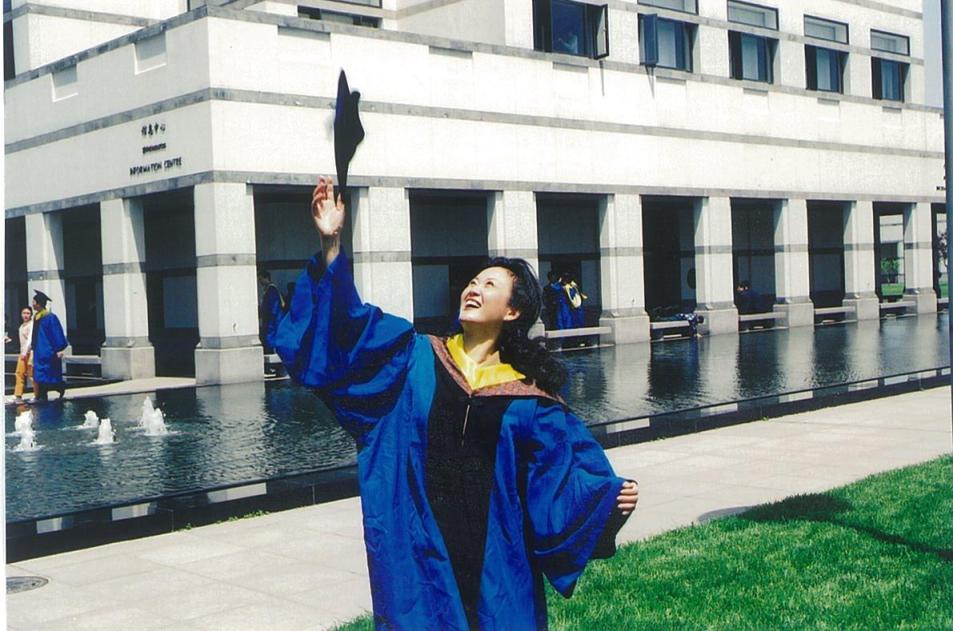 Li Yuanwen at her CEIBS EMBA graduation ceremony in 2002
Li Wei's life is just as inspirational. He left China in the summer of 2002 to finish high school in the US. He began a six-month English course, but after two months of study over the summer he became fluent enough that he could enrol in a private boarding school and follow the same curriculum as the American students. He also began preparing for the SAT, a standardized test required for admission by most US colleges and universities. 
He was so focused on his studies that he not only kept his dorm room door closed, he would sound-proof it with blankets. When describing his study habits during this time, he likes to quote a saying by former US President John Calvin Coolidge, Jr., "Nothing in the world can take the place of persistence".
After finishing high school, Li Wei entered the top-ranked University of Virginia. He says his American classmates had a spirit of exploration and innovation that inspired him to discover his own interests and talents. After graduation, he got a job with Tyco Electronics and joined their two-year management trainee programme in the US. Trainees normally rotated between four relevant positions, however Li Wei rotated between eight, gaining experience in areas such as technical operations, product development, purchasing and OEM supplier management. Through this, he found he had an affinity for management. In fact, he often went beyond the scope of his job requirements to suggest improvements in management and procedures, and would submit his ideas to colleagues and managers for feedback.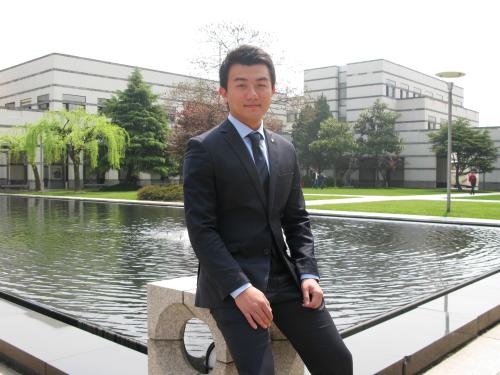 Li Wei at CEIBS Shanghai Campus in Spring 2014
Re-establishing Roots in China
Impressed by his efforts, Tyco sent him to Shanghai in February 2012 to oversee the company's strategic planning for Asia. In his role as Footprint Strategy Manager for Tyco Electronics in Shanghai, he was responsible for choosing locations for new assembly line projects and negotiating deals.
Reflecting on the differences in lifestyles and opportunities in the US and China, Li Wei says, "The US has a pleasant environment and a comfortable lifestyle. It has a fairly mature economy, where most people pursue pre-set career paths. China, on the other hand, is a land of unprecedented opportunities. In 2010, China's GDP was the second highest in the world – that is a significant turning point. Today's China is completely different from what it was when I left ten years ago. The Chinese are well-known for their diligence and intelligence; innovative Chinese enterprises like Tencent and Xiaomi have made impressive progress."
The desire to become a better manager led Li Wei to study at CEIBS, not only because it is his mother's alma mater, but also because of its excellent track record in educating globally-minded business leaders. "CEIBS is becoming more influential; it is the exclusive partner or one of a handful of partners in Asia, for many prestigious multinational corporations and companies like DuPont, Baxter, AB InBev and Squibb that source talent from the Leadership Development Programme," he says. He adds that within the first nine months of his MBA studies he had already learned a lot and made some exciting discoveries: he learned the value of setting goals and better ways of motivating subordinates; he also came to appreciate the importance of psychology in management, which has helped him improve his soft skills and make him a better leader.
Li Wei has also found plenty of opportunities at CEIBS to practice his leadership and management skills outside the classroom. He was elected vice president of the student committee, and together with fellow committee members has tried to introduce some innovations in the organisation. He has also been able to leverage his network to build connections between CEIBS MBA students and noted professors and executives from the US.
"In the three years since I returned to China, I have been given opportunities that I wouldn't get in the US until I had ten more years of experience," he says. This makes him confident that he made the right decision in coming to Shanghai and studying at CEIBS. Though he doesn't yet know where his career will take him, he is certain that what he is learning at CEIBS has given him a solid foundation from which to face the future.