Siemens North East Asia Healthcare Sector President Frank Wu (EMBA 2005) Shares his Approach to Developing Corporate Culture
There are no soaring, self-congratulatory platitudes on the Siemens website. Instead, the company, whose 166-year history includes more than a century in China, uses a series of short films and photographs to illustrate how its advances in sectors such as healthcare, industry and energy, have touched the lives of ordinary people. The images are simple yet moving. There are the engineers who keep a round-the-clock watch over medical equipment used in more than 3,000 Chinese hospitals; the ordinary workers on Siemens' production lines; and children with congenital heart defects who can now lead normal lives thanks to procedures utilizing the world's fastest, radiation-safe scanners which were created by the company.
People-centred innovation is the key to Siemens' development says its Northeast Asia Healthcare President Mr Frank Wu (EMBA 2005). Since taking up the post in 2010, Mr Wu has led his division to some remarkable achievements. Siemens was named among the Top Ten Competitive Enterprises in the Chinese Medical Device Industry 2009-2012 by the Shanghai Biomedical Engineering Academy Medical Information Research Institute. Siemens Healthcare equipment also continues to be top-ranked in the radiology field. TheLINK recently sat down with Mr Wu to learn more about how he and his team have amassed such impressive accomplishments.
THE HAPPY MEDIUM
"The core of leadership lies in the ability to promote engagement, or in other words, to truly engage employees in their work." Mr Wu explains. "To achieve this, we must help our employees develop a sense of belonging to a corporate culture. Siemens is a German-based enterprise; innovation, pursuit of quality, and adherence to protocol is hard-wired into the company's DNA. So how can we marry that with the traditional Eastern culture that emphasizes people and family? After much exploration, we found the solution – Confucianism."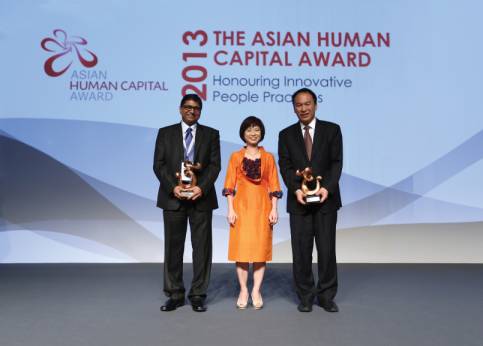 Even in the "East meets West" setting of cosmopolitan Shanghai, Mr Wu's idea of blending Eastern and Western principles to build corporate culture is unique. By adopting the Confucian principle of "taking action to change the world" he has helped Siemens become a more Chinese enterprise, a step ahead of many local Chinese companies.
"Some may believe that the Confucian principle 'Happy Medium' means mediocrity, balance or 'taking the middle road', but I would disagree," Mr Wu says. "Confucius was an extremely active person. He encouraged people to realize their dreams. Confucius is the sage of his time. His ideas have a timeless appeal. In my opinion 'Happy Medium' means doing the right thing at the right time."
Mr Wu has incorporated other Confucian concepts into his work as well. For example he says 'Humanity' means a focus on helping others realize their aspirations and values, while 'Etiquette' means following a behavioural code that requires respect, modesty and self-discipline. He believes these concepts can be easily integrated into team-building in order to engage employees on a more spiritual level. The thrill of seeing evidence of improved business performance is not nearly as satisfying as witnessing the development of employees and teams, argues Mr Wu. He says the sincere efforts made by every employee to work towards achieving a shared target is what he cherishes the most, and this is what perpetuates the value of an enterprise. For employees, knowing that their efforts help to make healthcare more affordable to lower-tier regions in China is also a reward.
THE LONG MARCH
Mr Wu seems to enjoy the state of being "on the road", whether literally or figuratively. He has spearheaded efforts by Siemens Healthcare to organize two "Retrace the Route of the Long March" events. The first is an annual internal event in which employees don the uniforms worn by the People's Liberation Army and visit a place along the route of the Long March. So far, the programme has taken Siemens staff to the Jinggang Mountains in Jiangxi Province, Xundian in Yunnan Province and Xichang in Sichuan Province. Besides giving employees the chance to travel and learn first-hand about the people and culture of a region, the trips also include reviews of the company's regional strategy for equipment and resource deployment, and help with team building.
Siemens Healthcare is also collaborating with the China International Medical Foundation to launch a second Long March event in which a truck outfitted with the company's comprehensive diagnostics and treatment products is retracing the route of the Long March, hosting physician trainings and county-level hospital forums in remote areas along the way. This event began in 2012 in Ruijin in Jiangxi Province, and will cover eleven Chinese provinces before it finishes in 2015. It has been a great success so far, helping Siemens Healthcare provide radiology and ultrasound training to more than 1,100 physicians from over 500 county-level hospitals, so they can improve their diagnostic capabilities. "The Long March itself is a manifestation of faith, fortitude, innovation and team heroism," says Mr Wu. "These are all precious qualities for modern companies."
He not only looks to historic events for inspiration. He says lessons abound in our every day surroundings, and notes that even architectural landmarks such as the Sanskrit Palace in Lingshan, Wuxi and Friends' Hall in Suzhou both have something to teach us. The Sanskrit Palace demonstrates that excellence can be accomplished by ordinary people, while Friends' Hall shows that excellence is not created out of nothing, but can come from appreciating the value of old things.
EAST MEETS WEST
Western companies in China have had three common advantages, says Mr Wu. The first was the high quality of their products, which gave them an edge when they initially entered the Chinese market. The second is capital. Eager to boost economic development, many local governments in China wooed foreign companies with generous incentives to build factories. Finally, foreign companies have also had an advantage in innovation. Increasing numbers of Western multinationals have established their R&D centres in China, bringing new technologies and products into a fiercely competitive market. But now, Mr Wu says, local Chinese companies are beginning to excel in these areas as well, particularly with their R&D capabilities. He says that if Western companies want to continue to grow their businesses in China, they must begin to develop their own unique corporate culture that incorporates Chinese elements. Only in this way will they be able to attract, inspire, and retain the best local employees.
"This is my personal view," says Mr Wu. "We are going to be a Chinese company, this means not only will our investment and tax payment be done in China, but also our cultural foundation will be grounded in traditional Chinese culture. To remain competitive, foreign companies will have to find ways to integrate the different cultures."
CEIBS & DREAMS
Talking about his studies at CEIBS brings a smile to Mr Wu's face. "For the two-and-a-half years I studied at CEIBS, I was almost never absent. I came to CEIBS with some management experience already, and I very much cherished my time there," he says. "CEIBS gave me self-confidence, and helped me develop structured and systematic management knowledge. It was like building a library for me. Now I know where every book is when I need it. There is always something more to know, but I am not afraid, I always know where I can get the knowledge. Some of CEIBS' courses represented the most advanced thinking in a field. If education can be said to be a kind of technology, CEIBS is bringing the most advanced technology to China."
Since receiving his EMBA degree from CEIBS and taking the reins at Siemens Healthcare Northeast Asia, Mr Wu has been named among "China's Business Elites under 40" by Global Entrepreneur magazine. However, he remains humble about his accomplishments. "I am just pursuing my dreams," he says. "Nowadays everyone is talking about 'The Chinese Dream', to the point that it has almost become a cliché. But I think we do need dreams to sustain ourselves. We should not forget where we came from or the doubts and difficulties we faced when starting out. My dream is to build China's most influential medical company in order to bring healthcare and well-being to increasing numbers of ordinary people."