Beijing Inside-out Art Fund Donates Painting to CEIBS
Friday, September 19, 2014
Beijing Inside-out Art Fund Donates Painting to CEIBS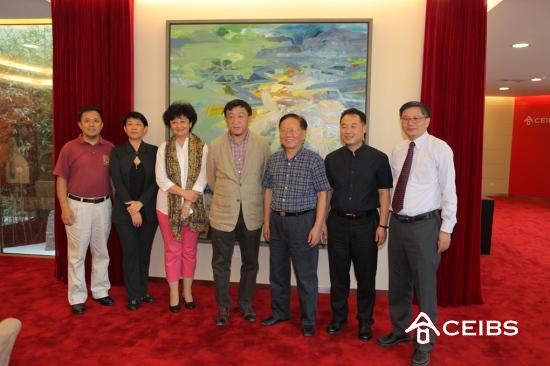 September 19, 2014. Beijing – Beijing Inside-out Art Fund today donated an oil painting by renowned Chinese contemporary artist Mr. Yuan Zuo to CEIBS. Speaking at the donation ceremony, Fund Director and President of Beijing Jade Investment Group Zheng Huihong (EMBA 2012) said that his studies at CEIBS had greatly improved his management abilities, and also helped him to improve the professionalism of his team members. Giving the painting to CEIBS is a way to thank the school and help to celebrate its 20th anniversary. The artist, Mr. Yuan Zuo, explained that in his view, art which transcends time, place and nationalities provides a space for people to imagine and innovate.
In his welcome address at the ceremony, CEIBS Associate Dean and Essilor Chair of Accounting Professor Xu Dingbo said that art plays an important role in human development, and the donation of the painting emphasizes the school's advocacy of humanities and art. CEIBS Assistant President Mr. Ma Yusheng accepted the donation on behalf of the school. CEIBS Honorary President and Chairman of the CEIBS Education Development Foundation Mr. Liu Ji also attended and thanked Mr. Zheng and the Beijing Inside-out Art Fund for its generosity towards CEIBS.
Co-founded by Beijing Jade Investment Group and Grandtopeak Group, the Beijing Inside-out Art Fund aims to fund excellent cultural and artistic projects and promote cultural exchanges between China and the West.