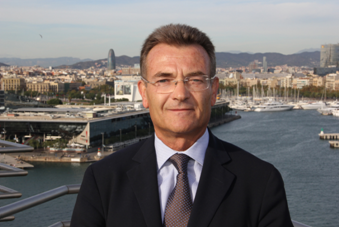 Santiago Garcia-Milà Elected Chairman of ESPO. Wednesday, 07 November 2012. 
The General Assembly of ESPO elected Santiago Garcia-Milà as its new Chairman.The Deputy Director General of Barcelona Port Authority succeeds Victor Schoenmakers, Director Europe and International Affairs of the Port of Rotterdam, who chaired the organisation during the past four years. Mr Garcia-Milà is a long-standing member of ESPO, where he chaired for several years the organisation's Intermodal and Logistics Committee. Next to his functions in the Port of Barcelona and ESPO, he is also Vice-President of the International Association of Ports and Harbours (IAPH) and Secretary of Intermed, the North-West Mediterranean Ports Association.
Workshop:
"Desafíos de la Exportación/Importación desde China"
21 de Junio de 2012
16:00 -19:30 (Registro, bienvenida y entrega de documentación a las 15:30)
Iese Campus Sur, Barcelona (Avd. Pearson 21, 08034, Barcelona)
Parking: Campus Norte  (c/Arnús i Garí, 3-7)
 (Sala pendiente de confirmar)
Idioma: español
Confirmación asistencia (antes del 10 de Junio): ccristina@ceibs.edu
Aforo limitado.
---
Press Releases
Workshop: "Traceability of the Supply Chain between China and Europe"
November 28th
CEIBS Shanghai Campus (address)
Are you in the logistics or Supply Chain business and you want to collaborate?
Fill the questionnaire and send to ccristina@ceibs.edu
Download Short Questionnaire: Research_Study_traceability
You also can download the Pdf document that introduces the research we are undertaking:
Download Research Study Summary
---
8th Annual Sino-International Freight Forwarders Conference
  26- 29 September Shanghai, CHINA
  Sponsored by Port de Barcelona 
---
Workshops:
Workshop: "Proposición del valor de los distintos agentes en  cadena de suministro (Supply Chain): el caso de los flujos logísticos entre China y España"  
Fecha: 29 de Junio de 2011
Evento:  Auditorio Campus Sur (Edificio B)
  Avd. Pearson 21, 08034, Barcelona (ver mapa)
  c/Arnús i Garí, 3-7 08034, Barcelona 
Hora: 16:00 -19:30 (Registro, bienvenida y entrega de documentación a las 15:30)
Idioma: español
Ponentes (ver CVs)

Prof. Jaume Ribera,Profesor de Dirección de Producción, Tecnología y Operaciones, IESE Business School y CEIBS (Shanghai, China)
Santiago García-Milà, Subdirector General de Estrategia y Comercial del Port de Barcelona
Antonio de la Ossa, Director del Departamento de Aduanas de España
Ramón Tremosa, Eurodiputado de CiU. Miembro de las Comisiones de Economía y Transporte y miembro de les Delegaciones de China e Israel
Juan Manzanedo, Socio fundador y Consejero Delegado de Logisfashion,S.A.
Manel Jiménez, Supply Chain manager de Desigual
Diego Perdones, Director de Ventas de Maersk España y Portugal
Hans Freixas, Consejero Delegado de Aduanas Pujol Rubió
Arturo Fernández, Director Delegación de Barcelona, Tarragona y Valencia del Grupo Suardiaz
Gracias por confirmar tu asistencia por e-mail ccristina@ceibs.edu  (Cristina Castillo) 
---
  Events 2011
The 5th China International Logistics Technology and Services Expo
  Time: 2011.06.16.-2011.06.18.
  Venue: 苏州国际博览中心(SuZhou International Expo Center) 
CILE2011 The 4th China Beijing International Logistics Expo 2011)
  Time: 2011.08.04.-2011.08.06.
  Venue: 北京中国国际展览中心(CIEC) =
The Port of Barcelona Chair of Logistics at CEIBS was created in December of 2000 through an agreement signed by Joaquim Tosas, President of the Autoritat Portuaria del Port de Barcelona and Pedro Nueno, Chairman of the Academic Council, Wilfried Vanhonacker, Dean of CEIBS, and Eric Cornuel, Director General of efmd. The Chair was created with the goal of promoting relationships between Chinese and European researchers and professionals, and foster research on Logistics, aimed at top management decision making. Due to its origins and location, the Chair has its main focus on companies in Europe or China with trade in the other region.
The Chair performs activities in the following areas:
Research - on Logistics and Supply Chain Management issues, specially aimed at the Chinese situation.
Promotion - of research results through publications and special conferences.
Reference - become a source of reference for books, published research, and other information related to logistics, transportation and supply chain management.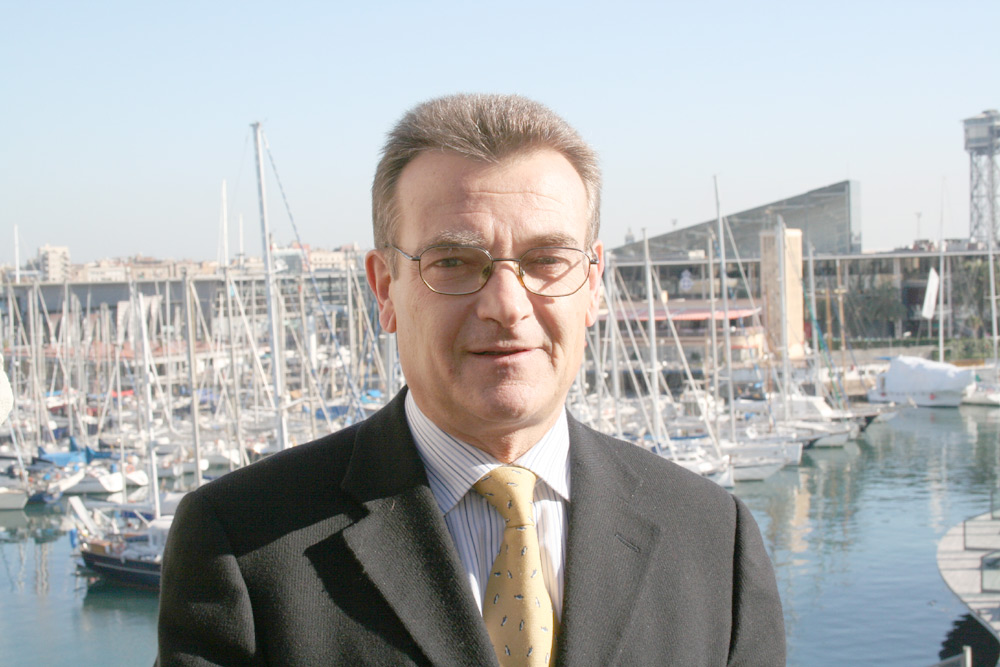 "Trade brings (us) goods and CEIBS brings (us)  knowledge by sharing expertise, talent and insights for bringing two sides of the world together"
Santiago García-Milà, Deputy Managing Director,Barcelona Port Authority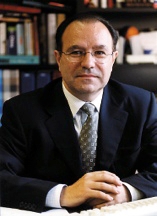 Dr. Jaume Ribera.
Research TeamHe holds the Port of Barcelona Chair of Logistics at CEIBS. He is also Professor of Production and Operations Management at CEIBS in Shanghai and IESE in Barcelona, Spain. Dr. Ribera is a registered Professional Industrial Engineer in Spain.  Dr. Ribera received his Ph.D. in Industrial and Systems Engineering from the University of Florida, USA, and his Doctor of Engineering degree in Spain. He was Associate Dean for Faculty at IESE (1993-2001). He is a Founding Member and Member of the Board of the European Operations Management Association. He is a member of the Editorial Board of the Harvard Business Review (China). He has been on the Editorial Board of the International Journal of Operations and Production Management. He has extensive consulting experience with private and public companies in Europe, America and Asia; his consulting clients have included the European Union and the World Bank. His work concentrates on the design and improvement of operations systems in manufacturing and service operations, with special emphasis on healthcare systems. Dr. Ribera has published extensively on these fields.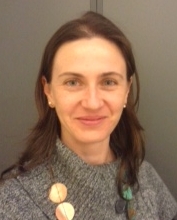 Cristina Castillo 
Research TeamShe is the Port of Barcelona Chair of Logistics Research Associate. Cristina is a registered professional Civil Engineer at Spain. Cristina studied her MBA at CEIBS in 2006. Cristina has been working as project manager for Dragados. She has also been analyst at IFRI (Institute Français des Relations Internationales) in Paris, researcher in the UPC (Politecnic University of Catalonia), researcher's coordinator in the "Agencia d'Ecologia de Barcelona" and strategic analyst at Veolia Environment in Beijing. She has also been working for business development for several foreign companies in China.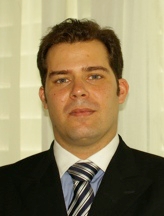 Alexandre Ariza
Research Team He is the Port of Barcelona Chair of Logistics Research Associate. Alexandre is Thechnical Engineer of Industrial Design from Elisava School in Spain and also Industrial Engineer from the UPC (Politecnic University of Catalonia) in Spain. Alexandre has been working as designer in the Telecomunication Industry at Fractus and in the Automotive Industry at Sherco (Trial motorcycles) and also at Bitron (automotive components). And finally in the Logistics Industry at Nespresso and at the Authority of the Port of Barcelona.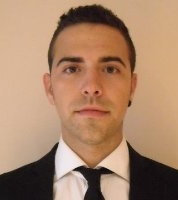 Ruben Garcia Claver
Research TeamHe is a research assistant at Port of Barcelona Chair of Logistics. Ruben is a Technical Engineer of Computing Science and an Engineer of Industrial Management from the UPV (Polytechnic University of Valencia) in Spain. Ruben has been working as an IT Executive for Venue Network on media projects developing and as Database Manager for Polytechnic University of Valencia. He has also worked as Web Developer in EMR (East Malling Research) in England. Before joining our team, Ruben latest position has been as Purchasing Executive in the Logistics Department of Valvulas Arco.
 

Miquel Perez Desel
Research TeamHe is a Research Assistant at Port of Barcelona Chair of Logistics. Miquel is a Technical Industrial Mechanical Engineer and Industrial Management Engineer from UPC (Polytechnic University of Catalonia). He has been collaboratin with an international business process reengineering programs, IT projects and Business Development initiatives at Roca Sanitario, S.A. He has also background in financial markets, working as a trader in the Spanish stock market.
 

Doris Ma
Research TeamShe is a Research Assistant at Port of Barcelona Chair of Logistics. Doris got her Master degree from Hong Kong Polytechnic University and worked in UN as an intern. Doris has been working as a professional consultant for different manufacturing enterprises in company strategy research and analysis.
2016 project has been released as a book named "The Chinese Automotive Industry in 2016", which is a updated version of "The Chinese Automotive Industry in 2014". Click on the book image to have more detailed information.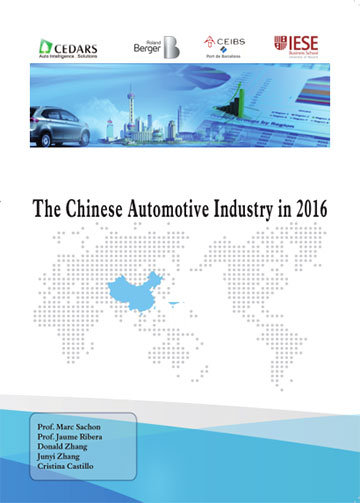 2014 project has been released as a book named "The Chinese Automotive Industry in 2014", which is a updated version of "The Chinese Automotive Industry in 2012". Click on the book image to have more detailed information.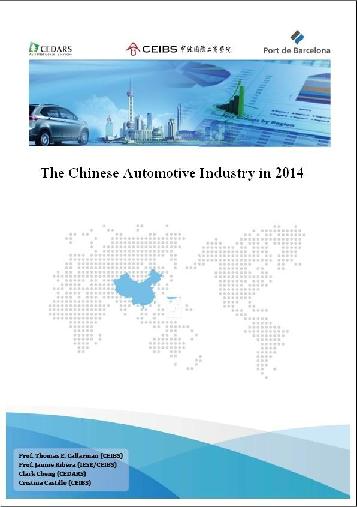 If you are interested in buying the book please contact Cristina Castillo.
ccristina@ceibs.edu
The second project in 2013 has been released as a report named " Internationalization of Chinese Companies Focusing on Their Logistics Activities in Europe ". For more details please click report picture.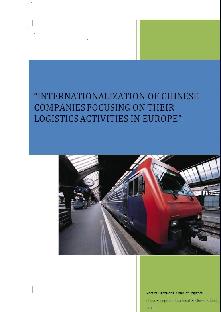 2013 first project has been released as a report named "Emerging Challenges and Opportunities in the New Procedures and IT ". For more details please click report picture.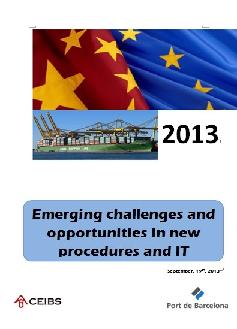 2012 project has been published as a book named "The Chinese Automotive Industry in 2012". More details about the book are in our section Documents & Publications. Click on the book image to have more detailed information.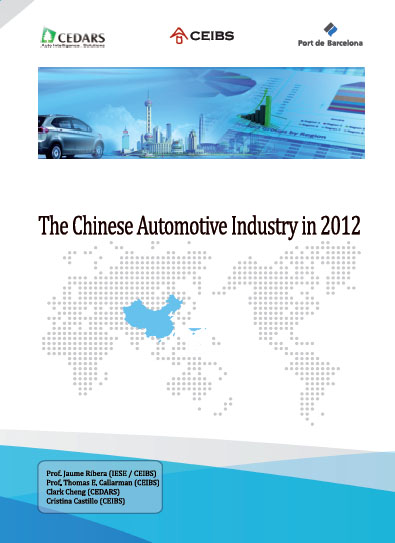 Presentations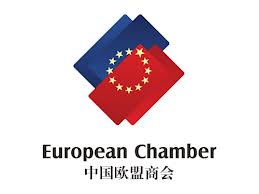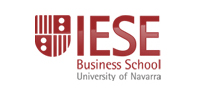 130 out of China's 2000 ports are opened to foreign ships. From the major ports (some are river ports accessible by ocean-ships).
Taking into account the chair of logistics is placed in Shanghai and the sponsor of the study is Port of Barcelona, we will focus on the supply chain from Shanghai to Barcelona as a case study.
All the Ports in China have similar regulations, however, the praxis is different in each of them. This is very relevant for customs and inspections at the borders.
We have compiled as much information as we have been able to collect about the export proccess from China. We have focused on exports out of Shanghai.
Download Report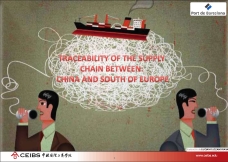 Export process diagram (for FCL)                             Export process diagram (for LCL)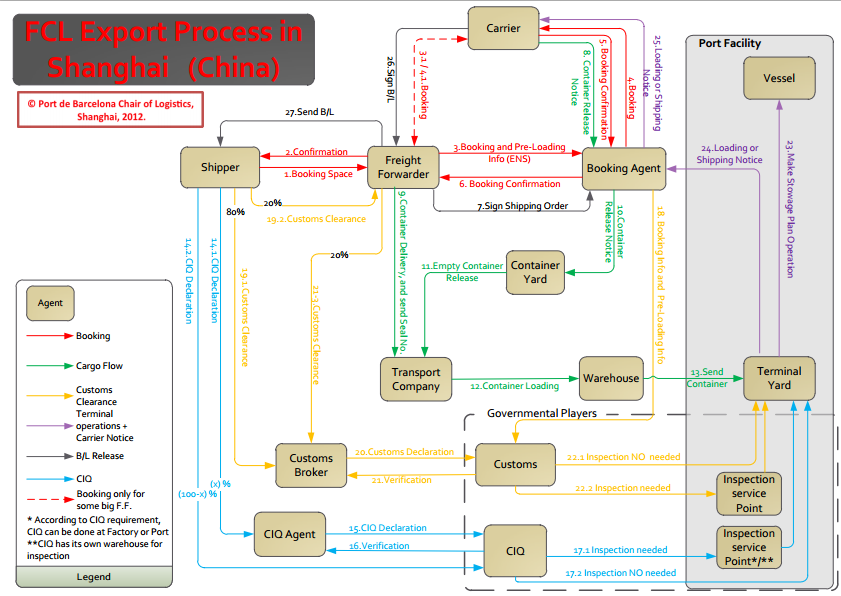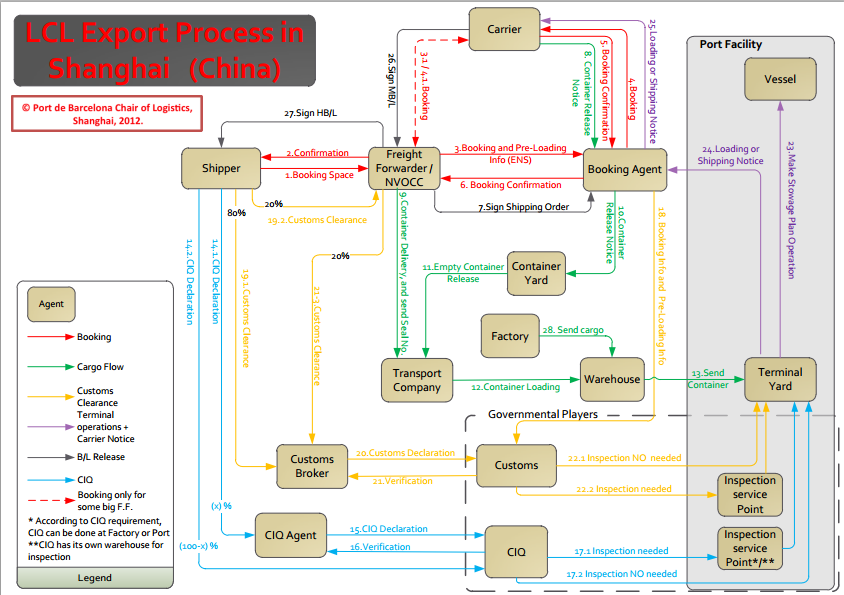 Shanghai customs process diagram                         Documental timeline diagram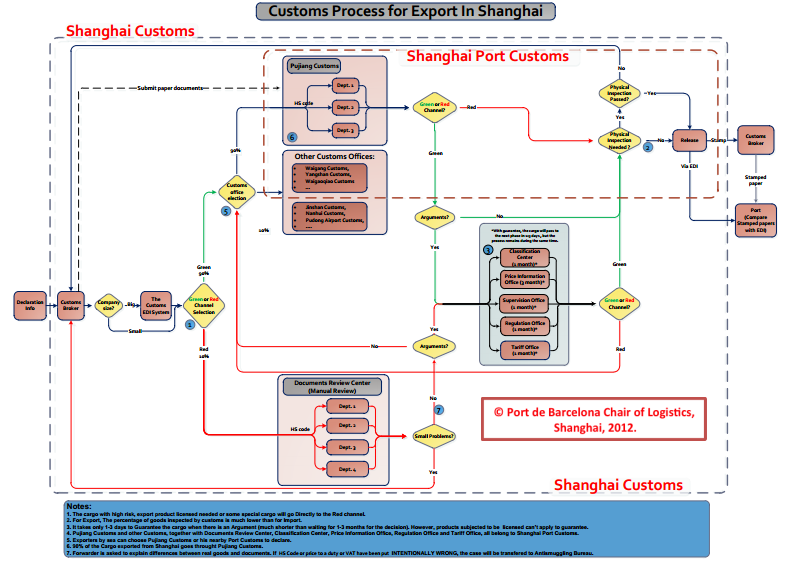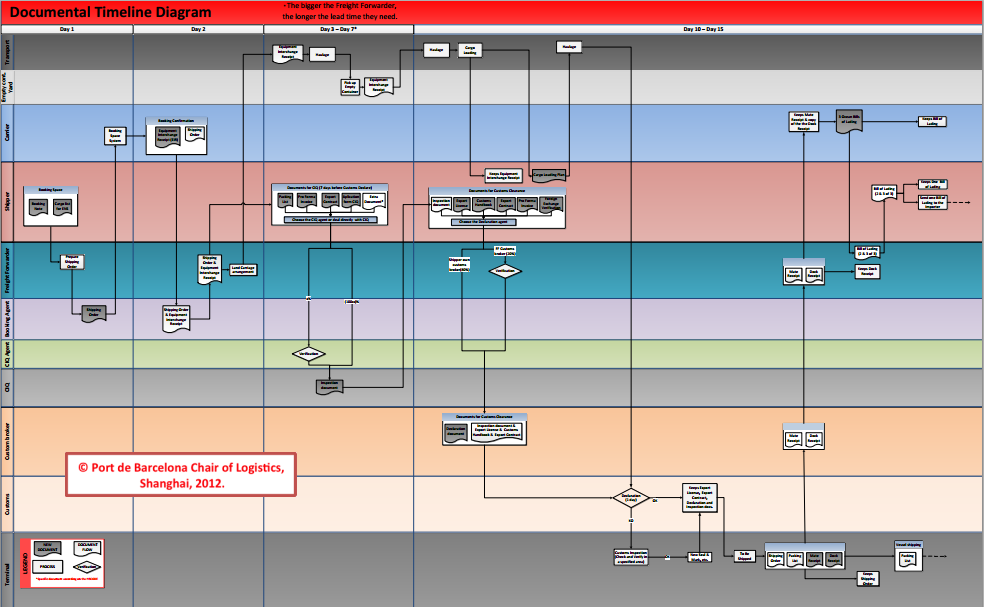 In the past, many researchers have pointed out that there are few companies that compete in their markets with their own means. Nowadays, for most companies, competition takes place at the supply chain level.
The objective of this presentation is to present the results of the research undertook by the Port of Barcelona Chair of Logistics at CEIBS and promote the dialogue between the different agents: producers, logistics, freight forwarders, shipping companies, customs, ports, etc.
In this research, we have analyzed which is the role of each player in the supply chain, where do they add more value, and what they could do that they are not doing.
Furthermore, we found out where the relations among the players are smoother and where they are more complicated and tighter. This has allowed us to identify possibilities of gaining efficiency in the chain.
Download Report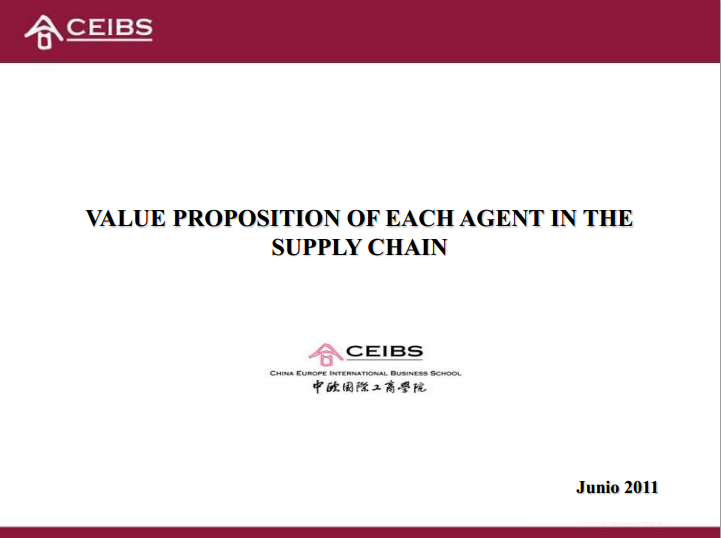 Workshop: "Proposición del valor de los distintos agentes en la cadena de suministro (Supply Chain): el caso de los flujos logísticos entre China y España" 
IESE Barcelona 29 de Junio de 2011
Download Conclusions of the Workshop
---
Presentations
"Value Proposition of Each Agent in the Supply Chain"
Professor Jaume Ribera. Port of Barcelona Chair of Logistics CEIBS. Operations manager professor IESE.
"Los puertos como facilitadores en  la cadena logística: ejemplos del Port de Barcelona"
Santiago García-Milà, Subdirector General de Estrategia y Comercial del Port de Barcelona 
"El corredor ferroviario mediterráneo: un tren de alto interés europeo"
Ramón Tremosa, Eurodiputado de CiU. Miembro de las Comisiones de Economía y Transporte y miembro de les Delegaciones de China e Israel
---
Relate press release
The automotive industry in China was mainly developed in the past 20 to 30 years.In 2001 the sales of automobiles in China have experienced an incredible growth mainly driven by the growth of sales of passenger cars. In 1998 China was producing less than 2 million vehicles while 10 years later the production has reached 9 million units.
We will analyze the automotive industry in China with a Macro Analisys and a Micro Analysys. Our main objective is to  gather information about and analyze the situation of the passenger cars  market. However, we will also  overview  the situation of the automobile in general. The first phase has consisted on gathering information from secondary research about macroeconomic data.
Our main sources of information have been:
China Development Review (CDR)

China Association of Automobile Manufacturers (CAAM)

Fourin: Research and Analysis of the Asian Automotive Industry

CEIC database

InterChina Analysis

China Commerce Yearbooks

China Main Customs Administration
Download report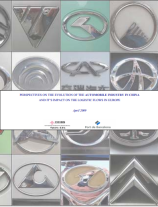 In the last years retailers and manufacturers from several industries have implemented a supply chain solution based on building in China direct-to-store containers. Consolidating cargo and performing specialized value added logistic services at origin in order to build direct-to-store containers, reduce or even eliminate operations at destination creating a cost advantage. Shipments can move from origin straight to end-customers or to local or regional distribution centers, bypassing continental distribution centers located in Northern Europe.
The purpose of this research is to introduce direct-to-store distribution, while examining the context of greater significance in which it is being implemented. This context starts with the current trend among companies to offshore logistics to sourcing countries in Asia, and in particular to China, and reaches companies new distribution strategies at cargo destination, in which the bypass of the traditional continental distribution center is a major component. The research also seeks to identify the major effects that the described scenario and the further growth of direct-to-store programs will have on European distribution networks and on European ports.
Download report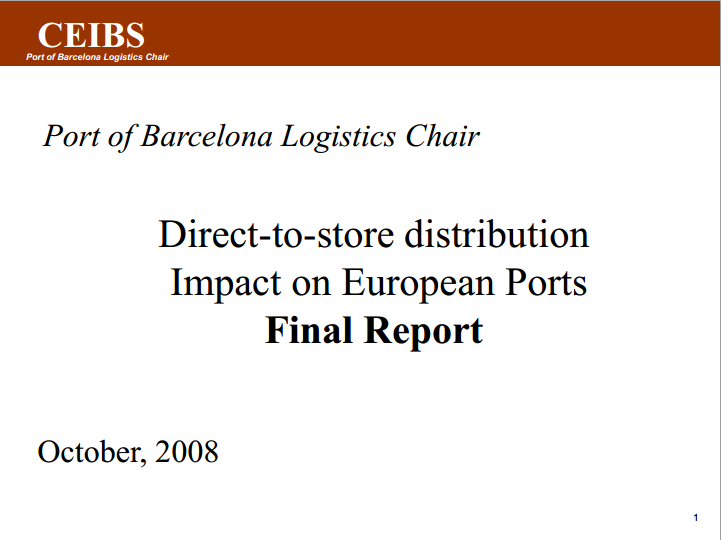 If you want further information you can contact Cristina Castillo ccristina@ceibs.edu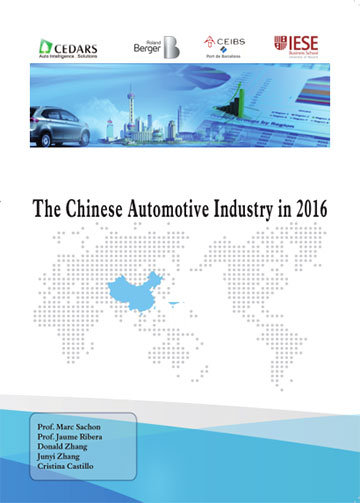 If you are interested in buying the book please contact Cristina Castillo.
ccristina@ceibs.edu
 
In the last 30 years, particularly since China's admission to the WTO in 2001, China's economy has grown rapidly and has attracted worldwide attention. China is now the second largest economy in terms of GDP and is also a leading producer and consumer of many different product categories. Automobiles are a good case in point. Updated with the latest data from years 2013 and 2014, the book of Prof. Jaume Ribera and Prof. Thomas E. Callarman can be an excellent way to acquire the relevant knowledge to be able to evaluate these strategies from a rigorous and realistic perspective. Also, since this industry is so important for the Chinese economy, the book can be an adequate learning opportunity to be updated for all those whose business or work will cross in one way or another with the industry.
 
Bibliographic citation: Prof. Thomas E. Callarman, Dr. Honglai Li, Prof. Marc Sachon, Prof. Jaume Ribera, Xiaoying Shen, Cristina Castillo, "The Chinese Automotive Industry in 2014", Spain: China Europe International Business School (CEIBS), 2014
"For those of you who are not satisfied with just a glimpse of the auto industry in China, this book is worth reading. Not only will it provide foreign readers with insights into China's auto industry, but it will also highlight many great learning opportunities for Chinese automakers."

  Prof.Zhu Xiaoming
  President (June 2006-March 2015),
  Professor of Management,
  CEIBS Member of the International Academy of Management
"As experienced professors of Operations Management with global experience, Prof. Jaume Ribera and Prof. Thomas E. Callarman have written a book that shows a full understanding of managerial needs and the right approach towards meeting them."

  Prof. Pedro Nueno
  President and Professor of Entrepreneurship,
  CEIBS Professor in the Department of Entrepreneurship, IESE
Contents-Supply Chain management Conference 2004, SH, Apr.14-15
Speaker  ------ Topic
Marjorie Yang, Chairman and CEO of Esquel Group 
------ Supply Chain Management in a Traditional Sector
Dingbo Lou, Senior Economist and Assistant of President, Baoshan Iron and Steel 
------ To Build Marketing-Supplying Chain with Maximum Value

Dan Pleshko, VP, Global Commodity management, Flextronics 
------ Global Sourcing Solutions in China: A Flextronics Perspective

Michael Klein, VP, Private Sector Development and dChief Economist for International Finance Corporation, the World Bank 
------ Public Policies for Logistics-Where Next
James Yeh, Director, China Research Lab, IBM
Jin Dong, IBM China Research Lab
Martin Hauske, e-Business Manager, Greater China, IBM
------ SCM in the Global Manufacturing Center-Challenge to Bridge Industry and Academe
Muriel Claassen, Global Service Program Manager-EMS accounts, Philips Semiconductors
------ EMS-Critical Link in the Value Chain
Nancy Zhou, VP of Operation UTStarcom Telecom
------ Supply Chain Transformation at UTStarcom
Janet Y. Sangster, Director, International Supply & Customs, DaimlerChrysler Corporation
------ Supply Cost and Process Management
Kelvin Leung, Managing Director, DHL Air and Ocean
------ Trend and Opportunities of the Logistics Market in China
Richard Zhu, Director, UPS Supply Chain Solutions
------ Effective outsourcing and optimization of logistics network in China
David Brady, President Caterpillar Logistics Asia Pacific
Steven Aschkenase, practice Leader-Service Management, Deloitte Consulting
------ Developing a Robust Service parts Supply Chain in a Rapidly Evolving Strategic and Logistics landscape
Rehman Mohammed, Senior Manager, Global Distribution Process, Cisco Systems
David Demers, President, Avicon
Steven Moy, Director of Professional Services and Technology Practice, Avicon
------ Project DISTI-Cisco Distribution Strategy
Ting Ho, Director, logistics Ventures Limited; and formerly Chief Economist, FedEx
------ Creating the Right Supply Chain Environment for China in Air Cargo
Ron Kopicki, lead Private Sector Development Specialist, the World Bank
------ Supply Chain Developments in Western China
Liang Haishan, VP of Haier Group and Director of Haier Home & Kitchen Division
------ Haier Supply-chain Management
Wesley Chen, VP and General manager, Solectron
------ Path to low cost manufacturing
Sarvesh jagannivas, Director of Electronics and High Tech, Agile Software
------ Systematic Compliance with Environmental Directives for Electronics- Lessons and Implications for Supply Chains in China
Peter Van Laarhoven, Director, Corporate Strategy and Business Development, TPG
------ Mail, Express and Logistics in China-Challenges and Opportunities
Database
Guide
National Bureau of Statistics of China

Home page (Public)     
Database of the Bureau 
Language:Chinese.
Many statistics data from China, including trade, GDP data…

General Administration of customs of the people's republic of China

Statistics information
Language: Chinese. 
Mainly trade data

CEIC Database

Access from CEIBS
Language: English.  Many statistics data including trade, GDP data of most countries

GMID Euro Monitor

Access from CEIBS
Language: English. Trade between countries, continents, etc.

CDR Database

Access from CEIBS
Language: Chinese. Trade between China and other countries.

 
Requirements to import into China
In this section we can find some information related with requirements for the products exported to China. In the following links we will provide information about the Chinese available certificates. CCC is the compulsory certificate and CQC is voluntary. Click on the links below for more detailed information.
China Compulsory Certificate (CCC)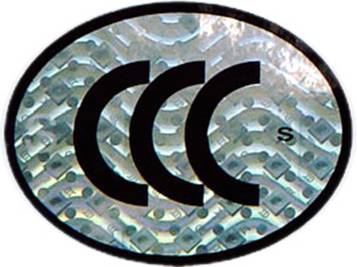 CQC Voluntary Certification


European websites for import-export processes
In this section we can find the introduction of some European websites with usefull information for import-export processes with China. If you want to have further information please click on the following links.
Useful information for exporting from EU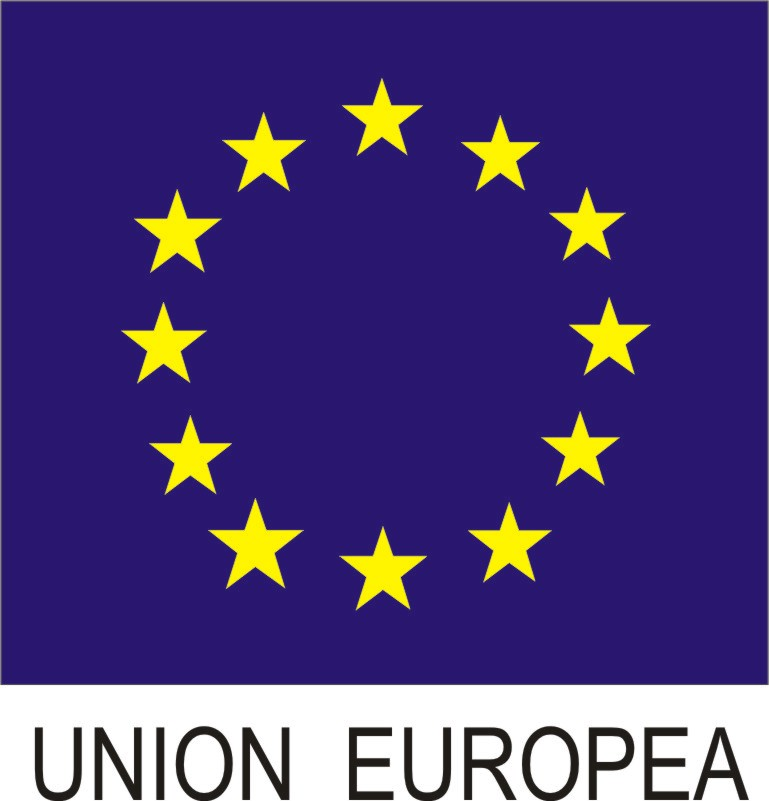 Other useful information
In this section we provide other information useful for international trade with China. Information about CCIC company and its locations can be found here. Other important things such as the criteria on logistics companies rank is also detailed. More information about taxes and regulations when trading with China will be added in the future.


Click on the image below to get more detailed information about the locations.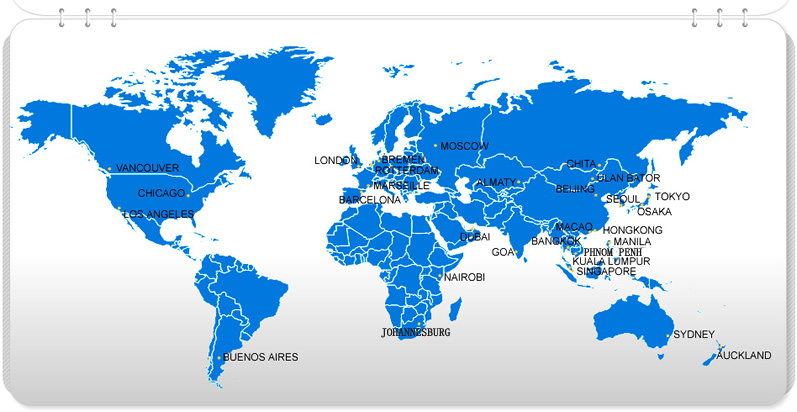 CCIC en Barcelona (Versión en Castellano)
       CCIC in Barcelona (English version)
Logistics Companies Rank Criteria
(Document in Chinese)

If you would like to share some information do not hesitate and contact us.
ccristina@ceibs.edu
EVENT: CEIBS, IESE & CEDARS Launch 2nd Edition of Chinese Automotive Industry Research
April 10, 2014. CEIBS Shanghai Campus – CEIBS, IESE and CEDARS have joined forces once more to launch the research publication "The Chinese Automotive Industry in 2014". This is the 2nd edition that has been produced as a result of the collaboration between the three parties. The study's main areas of focus will be: the Development of China's Automotive Industry, Development of Chinese Branded Automobiles, Globalisation of China's Automotive Industry, Export of Chinese Automobiles, a brief introduction to the Auto Parts Industry in China, the Future of Electric Vehicles in China and the Global Role of Chinese e-Vehicle Manufacturers.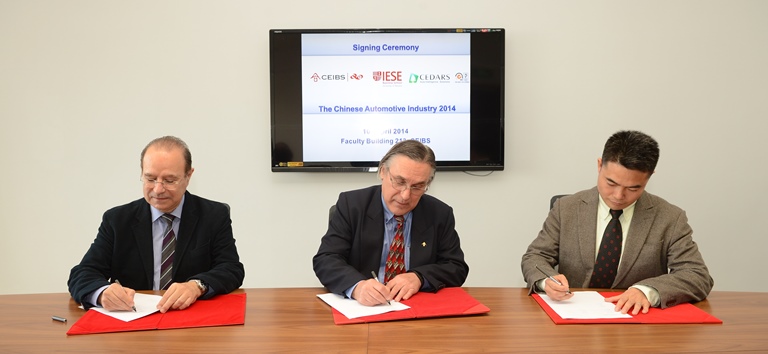 From left: CEIBS Professors Jaume Ribera and Tom Callarman along with Clark Cheng, Managing Director of Cedar International (Hong Kong) Limited during a signing ceremony to mark the launch. 
Sponsors
The Port of Barcelona is a South European Gateway which provides an extensive network of logistics and transport services connecting international trade routes with the main European and Mediterranean markets including North Africa with competitive transit times and frequencies with weekly services.
The Port of Barcelona has a privileged location in the Mediterranean for cargo flows between Asia and Europe as well as for the traffics going from Asia to America. This is a key point for the entrance and distribution of these cargos to Europe.
The Port of Barcelona provides logistics services which are integrated into the complete supply chain from point of origin to the final destination of goods. These services are based on information transparency, time reliability and service efficiency.
In order to provide the best solution for its clients, the Port of Barcelona has developed a logistics model based on a network of facilities and services which are accessible to clients and offer comprehensive end to end services. (See introduction map)
a) Port of Barcelona Logistics Network: Geographic Scope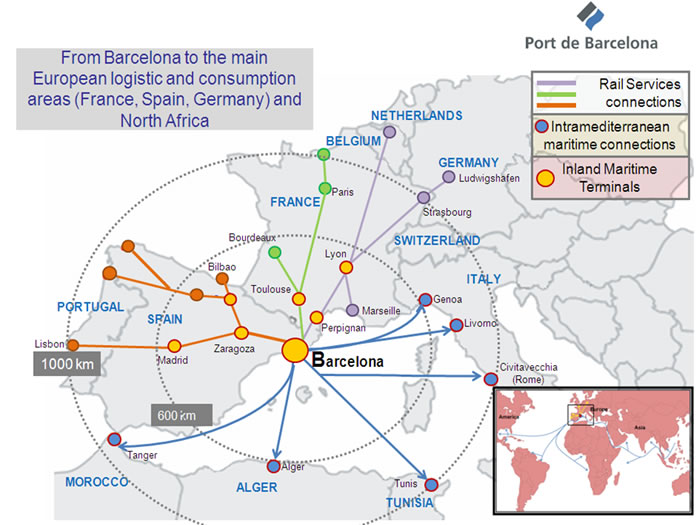 b) Port of Barcelona Logistic Network: Services Portfolio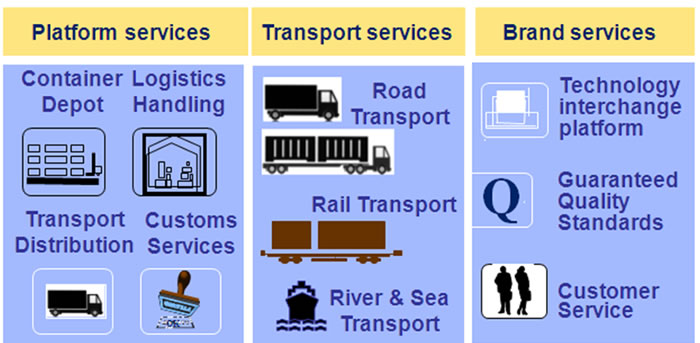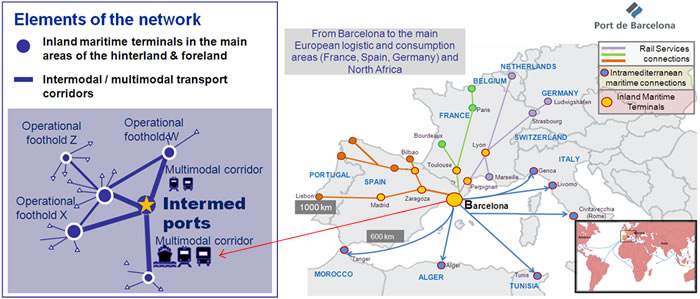 1. Inland Maritime Terminals Services
Inland terminals are logistics and transport platforms located outside the Port, but seamlessly integrated into Port Networkwhich render services to all providers and clients involved in the Supply Chains (shipping agents, forwarding agents, intermodal transports operators, importers, exporters…). These inland terminals have an adjacent space to store and distribute all goods.
They are located in the Spanish and French markets with a view to meet the ever-changing requirements of customer needs and help to improve the provisioning and distribution of imported and exported goods.
Port of Barcelona Inland maritime terminals

SPAIN

Zaragoza (tmZ)
Madrid (tmC)
Noain

FRANCE

Toulouse - Bordeaux (tmT)
Perpignan
Lyon
2. ZAL (Logistic Activity Zone) Services
The logistics activities zones (ZAL) of the Port of Barcelona are adjacent to the port and to inland terminals. It provides facilities to freight forwarders, logistics operators and importers & exporters in order to organize their own logistics- value added services for goods, warehousing, distribution and transport operations-. The ZAL are integrated into the international markets through the connections offered by the Port of Barcelona.

ZAL Barcelona was the first port logistic area to be created in Spain and set an example for many other ports to follow and even provided the name for this type of facility. It is recognized as the multimode center and has an unbeatable geographical and strategic location (port, airport, freeways and main railroad network).

3. Rail Services
The Port of Barcelona is located in the main land traffic corridors of Western Europe. Currently the main rail corridors connect the Port with Portugal, Spain, and the South of France extending into Central Europe (Southern Germany and Belgium). The latest rail services launched are BarceLyon from Barcelona to Lyon (France) and BarceToulouse from Barcelona to Toulouse and Bordeaux (France). Also there is a new rail service from Barcelona to Noain (North Spain). (See map 1)
4. Intramediterranean Maritime Services (Short Sea Shipping)
The Port of Barcelona has firmly decided to promote short sea shipping as a sustainable model of transport. It is more competitive than road transport and represents a substantial environmental savings in terms of CO2 y NOx emissions.   
The Port of Barcelona offers a complete range of maritime connections to Mediterranean markets. Barcelona is the Port of reference in intramediterranean maritime services and one of the most important in Southern Europe serving Italy and the North of Africa. These connections include all type of specialized regular services: Feeder, RO-RO & multipurpose, full containers and Motorways of the Sea (Express regular services). (See map 2 & map 3)
5. Maritime Regular Services
The Port of Barcelona is an interoceanic port linked directly to 235 ports all over the world, offering Regular liner serviceswith competitive transit times and frequencies, generally weekly services. Around 90 regular services and about 70 ship-owners call at the Port of Barcelona. 
In particular, The Port of Barcelona is strategically well located to serve traffic from South America and Far East routes to South/Central Europe and North Africa. 
The Port of Barcelona enjoys good sea connectivity and making progress towards new establishments of regular services with the Far East, avoiding extra sailing days of bringing the vessels to north European continent and therefore consolidating the southern European hub for Asian markets.
The Port of Barcelona has two container terminals operated by international groups – Hutchinson and TCB groups-, with capacity to handle 5MTEU, offering the highest productivity among the European ports and prepared to accommodate the last generation of containerships. (See map 4 & map 5)
6. Cruises
Barcelona is the European cruise Port leader and the Mediterranean turnaround port par excellence, welcoming 2.500.000 cruise passengers. Currently the port enjoys the 4th position of the world ranking (After Caribbean ports).
The Port of Barcelona have seven specialized cruise terminals and highly trained professionals ready to operate with the highest level of efficiency the last generation of cruise ships. Our terminals fully comply with the requirements set forth by the IMO (International Maritime Organization).
Barcelona is co-founder and member of the Med Cruise Association.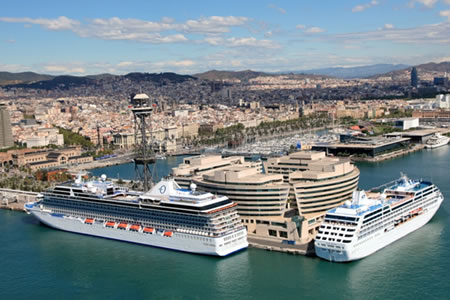 7. Brand Services
1. Customer service extended to inland terminals: Customer Service (SAC) is one of the Port of Barcelona's most direct links with the market. SAC is primarily intended to provide reliable Information, Transparency and Service Quality concerning operations and cargo in the Port offering the customers a commitment to provide information within 4 hours.
The SAC provides assistance to customers through the following tools and services:
Enquiries and claims
Customs processes
Tracking and tracing
Documentary procedures
Shipping services
2. Quality and Guarantee Plan – Port of Barcelona Efficiency Network –.Port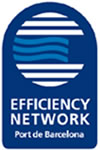 Efficiency Network is the brand name for the Port Quality and Guarantee Plan. Customer oriented is based on a series of commitments to assure: 
Security of goods
Information & Transparency
Reliability of operations
Our clients, Importer & Exporter from/to port to hinterland delivering/reception point, have the assurance that their lead time and programming will be fulfilled. Newest commitments: 
 
Less than 25 working hours to complete customs clearance, even in the case of physical inspections.
Delivery and collection of goods at committed time, within a two-hour margin.
Cargo loading on the forecasted call.
3. Electronic information and management services based on our IT platform –PORTIC– Clients can track their cargo in real time and automate their internal process; data is shared between players in the logistics chain. PORTIC is also connected with major eCommerce Shipping Platform (INTTRA, GTNEXUS) providing full traceability end to end. 
4. Green logistics chains – Allows shippers to trace the carbon footprint of cargo and provides transport solutions for decarburizing the whole transport chain, from point of origin to final destination. In particular, the Mediterranean provides a competitive advantage in terms of fuel and emissions savings and shorter lead times to better serve goods travelling between Europe and the Far East. (See map 6) 
The European Commission's designation of the Mediterranean corridor as a priority project in the Basic Trans-European Transport Network will make the Port of Barcelona a major distribution hub in southern Europe and the Mediterranean.
The new rail infrastructure will contribute to more efficient logistic chains and global cargo flows allowing shipping companies to reduce their transit time by three or four days in relation to northern European ports, with the corresponding reduction in CO2 and NOx emissions and considerable savings in fuel and operating costs.
LINKS OF INTEREST
CONTACT US
Office in Barcelona (Spain)

Mrs. Roser Ribó
WTC Barcelona, East building 
Moll de Barcelona, s/n.
08039 Barcelona / Spain
Tel: +34 93 306 88 06
Fax: +34 93 306 88 15
sac@portdebarcelona.cat

 

Office in Madrid (Spain) 

Mr. Miguel Ángel Palomero
C/ Jorge Juan, 19, 6° 
28001 Madrid, Spain
Tel.: + 34 91 781 54 45 
Fax: + 34 91 781 54 48 
mapalomero@portdebarcelona.cat

 

Office in Zaragoza (Spain) 

Mrs. Silvia Martínez Mora
Ctra. Cogullada, 65
tmZ S.L. - Mercazaragoza
50014 Zaragoza, Spain
Tel.: + 34 976 47 96 58
silvia.martinez@portdebarcelona.cat 

 

Office in Toulouse (France)

Mrs. Nathalie Thomas
20 Avenue Saint Guillan 
Eurocentre - ZAL Toulouse
31620 Castelnau d'Estretefonds
Tel.: + 33 624 010 902
nathalie.thomas@portdebarcelona.cat 

 

Office in Lyon (France) 

Mrs. Claire Perez
6900 Lyon
Rhône Alpes
Tel.: + 33 668 257 038
claire.perez@portdebarcelona.cat

Office in China

Mr. Joan Dedeu
CHINA CONSULTANTS
Room 1011/F., Chung Nam Bldg
1, Lockhart Road, Wan Chai
Hong Kong
Tel.:+ 852 2866 88 41
Fax: + 852 2866 75 54
jdedeu@netvigator.com

 

Office in Japan

Mr. Takeshi Suzuki
DE TOK LTD. 
1-34-1505, Toranomon 4 – Chome
Minato Ku, Tokyo 105-0001
Japan
Tel.:+ 813 3436 11 17
Fax.: + 813 3436 11 19 
Suzuki@detokltd.jp

 

Office in Argentina

Mr. Hugo Norberto Lejtman
Charcas 2715 PB "B"
1425 Buenos Aires, Argentina
Fax: + 54 11 4824 36 01
h.l@abaconet.com.ar