AstraZeneca Brand Managers Share Career Insights with CEIBS MBA Students
Tuesday, November 11, 2014
AstraZeneca Brand Managers Share Career Insights with CEIBS MBA Students
November 11, 2014. Shanghai – The CEIBS Healthcare Club hosted a Leadership Development Information Session today with two Brand Managers from AstraZeneca, the multinational biopharmaceutical company. Both CEIBS MBA 2012 alumni, the pair, Michelle Wang and Julie Su, shared their career experiences with the students and offered advice on how they can best leverage their time at CEIBS to lay the groundwork for a career in the healthcare industry.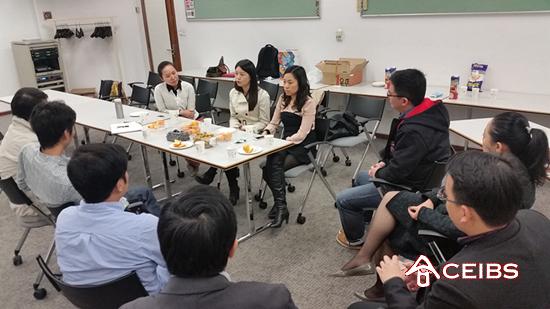 Prior to entering the CEIBS MBA Programme Julie Su worked in the electronics industry. Her MBA study helped her to engineer a career switch and she joined AstraZeneca after graduation from CEIBS. China's healthcare sector continues to develop at a rapid pace: spending is projected to grow from $357 billion in 2011 to $1 trillion in 2020. AstraZeneca is one of the leading multinational pharmaceutical companies operating in China. Julie said this is why a career in the healthcare industry was appealing to her, and why she wanted to join AstraZeneca. She also offered students advice on how to polish their resumes and leverage their resources, including their time at CEIBS, if they are looking to enter the healthcare industry after graduation.
Michelle Wang joined the Leadership Development Programme at AstraZeneca after graduating from CEIBS. She explained the organizational structure and responsibilities of the company's marketing department, and gave some specific examples of the objectives and tasks she is responsible for as a Brand Manager. Following their presentations, students had a chance to have an in-depth discussion with the alumni on how best to prepare for a career shift into the healthcare industry without having prior experience in the sector. The event gave students a deeper understanding of the pharmaceutical industry and its potential job opportunities.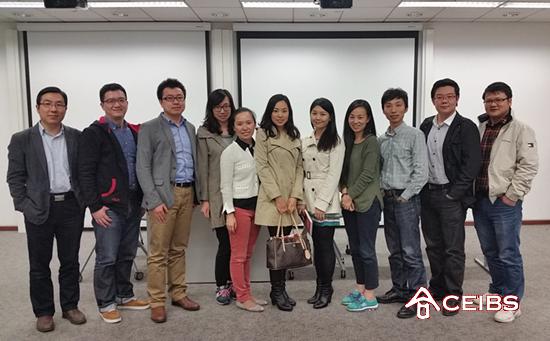 Michelle Wang, sixth from left; Julie Su, fifth from right