CEIBS alumni around the world attended – or watched online – on December 7 as the school hosted the Annual Alumni New Year's Concert and the 2nd Alumni Award Ceremony at Shanghai Culture Square. More than 2,000 CEIBS alumni, faculty and business leaders enjoyed the performance of the Shanghai Philharmonic Orchestra under the direction of acclaimed conductor Chen Xieyang. Bridge HR was the exclusive title sponsor of the concert.
Distinguished guests in the concert hall included government officials, school leaders and members of the wider CEIBS community (see the following).
The event began with a slideshow and a screening of the short film, "2012 Review" which featured alumni activities and other CEIBS events. CEIBS President Prof Pedro Nueno then gave the welcome address, during which he reflected on the major milestones CEIBS has accomplished in 2012, including the signing of the 20-year extension of the joint venture under which the school was first established 18 years ago.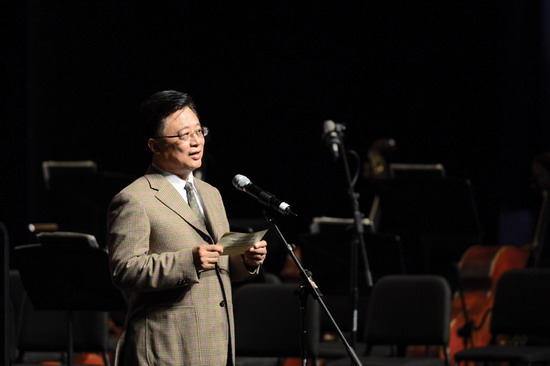 CEIBS Executive President Prof Zhu Xiaoming then spoke, extending his heartfelt gratitude to "every member of the CEIBS community who had firmly adhered to the school motto of 'Conscientiousness, Innovation and Excellence' and contributed to the tremendous progress CEIBS had achieved in the past year".
Then it was time to unveil the winners (see the following) of the CEIBS Alumni of the Year 2012 awards, the culmination of a three-month long selection process that included nominations, preliminary selection, re-selection and online voting. The award theme was "Transition Through Innovation, Building A Responsible Future". The names of the short-listed finalists (see the following) and the winners were announced with awards then presented by Professors Zhu Xiaoming, Pedro Nueno, John Quelch and Zhang Weijiong.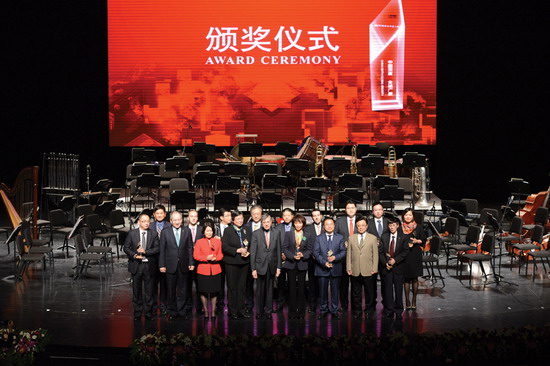 VIP guests
Jiang Yiren, Standing Committee Member of the National Committee of the Chinese People's Political Consultative Conference (CPPCC) and former Chairman of the Shanghai Committee of the CPPCC
Gao Xiaomei, Vice Chairman of the Shanghai Committee of the CPPCC 
Ma Dexiu, Party Secretary of Jiaotong University 
Zuo Huanchen, former Vice Chairman of the Shanghai Committee of the CPPCC
Wang Ronghua, former Vice Chairman of the Shanghai Committee of the CPPCC
CEIBS Executive President Prof Zhu Xiaoming 
CEIBS President Prof Pedro Nueno 
CEIBS Vice President and Dean Prof John A Quelch
CEIBS Vice President and Co-Dean Prof Zhang Weijiong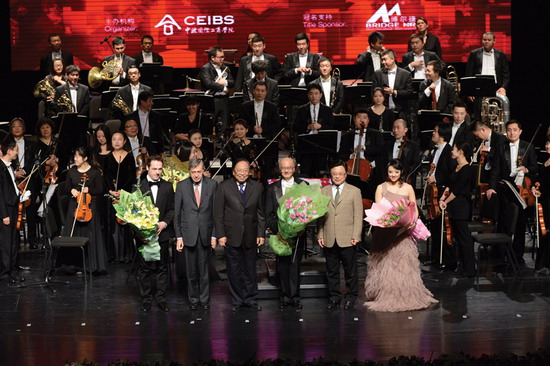 2012 Annual Alumni Award
List of Award-winning Alumni (in graduation-year order)
Wang Yuan (EMBA 1996) Adviser and former Chief Economist, China Development Bank 
Deng Hui (EMBA 2000) President, Rong An Machinery 
Yu Ping (EMBA 2000 & CEO 2010) Chairman, Tianzow Boar Breeding Group 
Qiu Xin (EMBA 2002) Head of Radio and Television Shanghai, President, Shanghai Media Group, Chairman of CBN 
Lin Yinsun (EMBA 2003) Chairman and President, Zhengbang Group
Ding Lei (EMBA 2003) General Manager, Shanghai Zhangjiang
Zhou Xiaoping (EMBA 2004) Chairman, Changzhou Xingyu Automotive Lighting Systems 
Zhang Wei (EMBA 2004) Director General, Registration Division, State Food and Drug Administration
Sam Yoonsuk Lee (MBA 2005) Founder, InnoCSR
Frederik Cornu (EMBA 2006) Director, Bureau Veritas
He Fulong (EMBA 2007) Chairman, Xiamen ITG Group 
Luis Gómez Cobo (EMBA 2007) Co-Founder, SinoLatin Capital
Guan Aiguo (EMBA 2008) Secretary General, Municipal Party Committee of Kunshan
Liu Qiangdong (EMBA 2009) Chairman and CEO, 360Buy Jingdong Mall
Chen Jinsong (CEO 2010) Chairman, Shenzhen World Union Properties Consultancy
Alumni Short List (in graduation-year order)
Xiao Donghua (MBA 1999) Founding Shareholder and Managing Director, Shenzhen Kingsignal Technology 
Bai Wentao (EMBA 2002) Executive Partner, Shenzhen Shared Capital 
Wang Liang (EMBA 2002) General Manager, Integrated Electronic Systems Lab 
Shi Shunhua (EMBA 2003) President, China Merchants Bank Suzhou Branch 
Wu Xu (CEO 2004) Chairman, Sincere Property Holding 
Stefan Baumann (MBA 2004) General Manger, Deutsche Bank Guangzhou Branch 
Lai Zhigang (DIMP 2005) President, Sichuan Orthopedic Kanggu Hospital
Li Fuchao (EMBA 2005) Chairman, Guilin FuDa Group 
Xia Guoxin (EMBA 2005) Chairman, Shenzhen Ellasay Fashion
Yu Faxiang (EMBA 2005) Chairman, Sunriver Group Investment
Shen Xiangdong (EMBA 2007) Chairman, Wujiang Transformer
Wang Jian (EMBA 2007) CEO, Jiangsu Five-Star Appliances 
Xie Dehai (EMBA 2008) Chairman & General Manager, Dalian Zhenxin Canned Food 
Xu Jianyun (EMBA 2008) Chairman, Beijing Urban Construction Group 
Chen Juhong (EMBA 2009) Chief Editor, Tencent Inc