CEIBS welcomed graduates for the annual reunion between November 8 and 10 with a blend of cultural and academic activities, liberally sprinkled with moments of just plain fun.  Here are a few of highlights of the events organized by the school's Alumni Office.
Welcome Back – CEIBS Executive President Prof Zhu Xiaoming gave the welcome speech during an invitation-only welcome dinner that got events underway on November 8. CEIBS Music Night, held the same evening, featured an evening of thrilling performances, the waltz, and a fashion show. At the end of the celebrations, participants gathered for a group photo as confetti streamed to the floor. Music Night was hosted by MBA 2013.
Musical Delight – Prof Zhu Xiaoming and Mr Zhang Jing (EMBA 2011), President of Skyvision International Exhibits and Skyvision Business Education, unveil the piano Mr Zhang donated to the school during the welcome dinner. Later in the evening, Elaine Gu (MBA 2013) gave a spectacular performance on the instrument during CEIBS Music Night. David Dai (MBA 2010) also gave a masterful performance on the violin.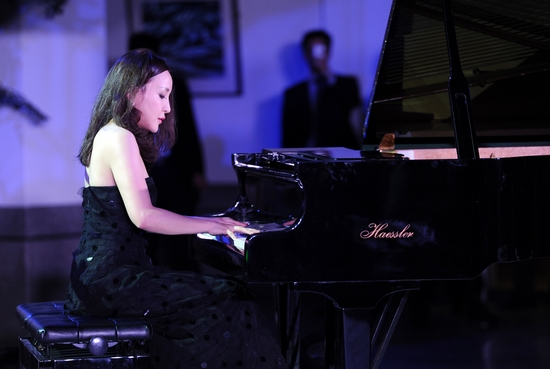 Cultural Exchange – Director of Tzu Chi University's Graduate Institute of Religious and Culture Studies Prof Lin An-Wu speaks about the Three Teachings (of Confucianism, Buddhism and Daoism) and modern 21st Century civilization during CEIBS Culture Forum. The event, held on November 8, was co-hosted by CEIBS Alumni Humanities Association.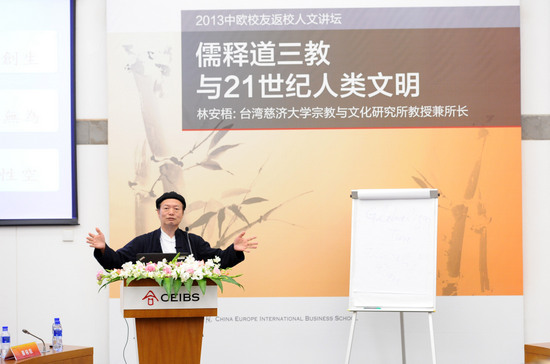 Cultural Industry & Capital Markets – Award-winning Chinese film actor and director Zhang Guoli, who is also Chairman of Beijing Guoli Changsheng Entertainment joined Chinese actor, musician and producer Wu Xiubo; CEO of Shanghai Youhug Media Lv Chao (EMBA 2008); Founder of Noah Private Wealth Wang Jingbo (AMP 2006), IDG Technology Venture Investment's Zhang Suyang (EMBA 1998) a panel discussion. CEO of hdtMobile Jian Fang (EMBA 2008) was the moderator of the event. It was co-organized by Shanghai Youhug Media.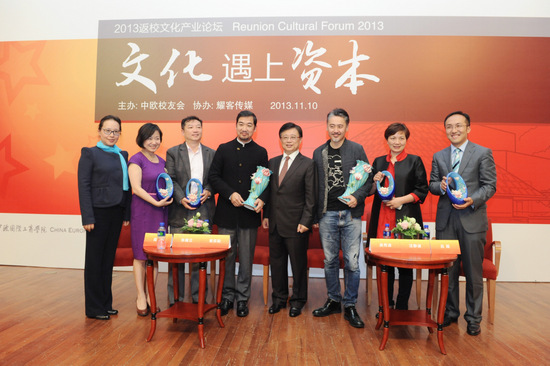 Faculty Lectures – On November 9, CEIBS Dean Prof Hellmut Schütte shared insights on Competition between Chinese and Multinational Firms while Professor of Finance, Department Chair (Finance and Accounting), Zhang Yimin spoke about China's Economic Development and Structural Transformation.
Entrepreneur Stories – On November 10, business owners shared the pains and gains that come with launching a start-up (see photo below). The session was moderated by CEIBS Vice President and Co-Dean Prof Zhang Weijiong (right) while Director of CEIBS Alumni Relations Office Mr Wang Qingjiang (2nd left) gave the welcome address. The speakers were: 
- Marshall Ma (MBA 2001, left) Co-founder, General Manager of EasyFinance Management Consulting; 
- Zhang Yuan (3rd left), Student of the Second CEIBS China Entrepreneurial Leadership Camp, Founder and CEO of Beijing DreamWindows Digital Technology; 
- Wei Lingling (EMBA 2011, 3rd right) Founder and GM of Beijing IEDA Protected Horticulture; 
- Li Zhaolin Co-Founder of Inner Mongolia Dairy United Technology.
Not included in the photo are: Sha Ye, Partner at Chengwei Venture Capital Fund and Hu Jianbo, Chairman and President of Xi'an Eurasia University.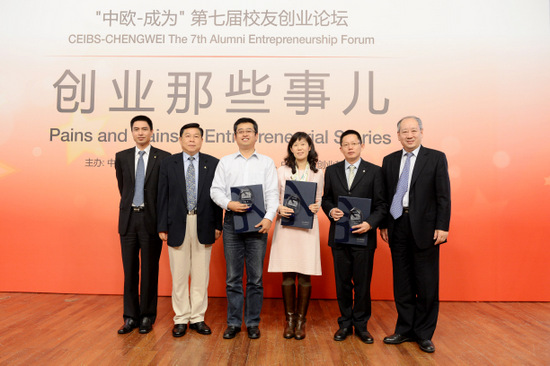 Expert Advice – Former Chairman of Vantone Group Feng Lun (CEO 2003, below) speaks about the Growth Logic of Private Enterprises during the alumni forum on November 9.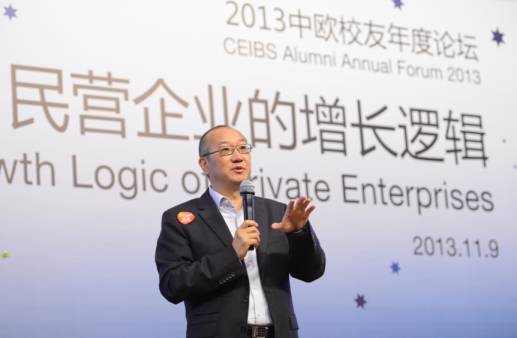 Industry Dialogue – The Alumni Finance and Investment Club, Alumni Real Estate Association and Alumni PE Association worked together to host the CEIBS Alumni Finance and Investment Forum on November 10 (below). The title was Exploring the "New Future" of China's Economy. Hosted by Executive Deputy Director of CEIBS Lujiazui Institute of International Finance Dr Gary Liu participants included CEIBS Professor of Economics Xu Bin; Chairman of Shenzhen Eastern Bay Investment Management, Dan Bin (EMBA 2007) and Independent Economist Lui Junluo.