The 8th Annual China Bankers Forum 2014
The 8th Annual China Bankers Forum 2014
China's Banking Sector 2014: Rising to the Occasion
Contact
Post:
Ms. Sophie Zhu / 699 Hongfeng Road, Shanghai 201206, PRC
A review of China's financial industry in 2013 conjures up a picture of new market entrants pitting themselves against long-established players: with a market size of over one trillion yuan, China's internet giants like Baidu, Alibaba and Tencent (BAT) abruptly made inroads into the traditional financial industry; in defiance of the rigorous taboos in the financial industry, internet companies kept carrying out micro-innovations, which breathed new life into traditional financial products like monetary funds. As internet finance was pressing ahead with interest rate liberalization, gone were the days when traditional banks could pocket a high interest rate margin. Meanwhile, the calls for inclusive finance set a higher demand on financial ethics. Amid a fierce battle in small-and-medium-sized markets, the third wave of reform is sweeping over the banking sector in the times of big assets. The separated operations and supervision system in China's banking sector leaves much to be desired when dealing with the increasingly diversified asset management market. In face of new trends and changes in the financial industry, traditional banking giants that hold the reins will need to reach out and keep pace with the times so as to win the future.
Forum Organizers

The China Europe International Business School (CEIBS) is a not-for-profit joint venture, established in 1994 with the financial and political support of the Chinese government and the European Commission. As a "special education zone", CEIBS has risen to become one of the best business schools in the world. Former Premier Wen Jiabao once spoke highly of CEIBS as "an incubator for excellent business leaders". In October 2007, CEIBS established the Lujiazui International Finance Research Center (CLFC) together with Shanghai Lujiazui (Group) Co., Ltd. The Center servers as an open and international platform for academic exchange and is committed to becoming an influential think tank for the development of Shanghai as an international financial center.

Economy & Nation Weekly, hosted by the Xinhua News Agency, is a market-oriented and high-end financial news magazine. With a strong sense of mission in reporting directly, responsibly and constructively and the concept of providing thoughts and opinions for the rise of China and the transformation of society, Xinhua News Agency Economy & Nation Weekly is quickly making its way among domestic top level financial magazines with a circulation of 310,000 and a distribution network covering more than 80 major cities nationwide, relying on the worldwide reporting network of the Xinhua News Agency and a professional editorial team.
Programme
September 13, Saturday

8:30~09:00

Registration
Lui Che-woo Auditorium, CEIBS Beijing Campus

09:00~09:20

Welcome Address

Prof. ZHANG Weijiong                                                   
Vice President & Co-Dean; Professor of Strategy, CEIBS

 Mr. WU Liang
Deputy Editor-in-Chief of Economy & Nation Weekly; Total Executor of Outlook  
 Tank

 Moderator: Dr. ZHOU Xuelin
Assistant President, CEIBS

Opening Session: Interest Rate Liberalization and Challenges for Banks

Interest charge on a daily basis, T+0 redemption, and convenient mobile operation….Internet finance is moving on with small but quicker steps. As interest rate liberalization is on the horizon, traditional banks will no longer reap a high interest rate margin. Amidst intensifying competition, commercial banks will need to adjust the structure, change business models and tune into the user needs to increase their profitability and risk management capability in order to take on the challenges in the new age.

09:20~09:40

Keynote Speech (I): New Normal and Exiting UMP
Prof. ZHU Min      
Deputy Managing Director, International Monetary Fund

09:40~10:00

Keynote Speech (II): Further Creating An Institutional Environment for  
 Interest Rate Liberalization
Prof. WU Xiaoling    
Member of the Standing Committee of the NPC; Vice Chair, Financial and Economic Affairs Committee, NPC; Director, CEIBS Lujiazui Institute of International Finance (CLIIF)

10:00~10:20

Keynote Speech (III): Interest Rate Liberalization & Financial Opening Path Selection
Prof. XU Bin                                        
Professor of Economics and Finance; Associate Dean (Research), CEIBS

10:20~10:50

Coffee Break

Session I: In the Times of Big Assets Management: The 3rd Reform in the Banking Sector

In the times of big assets management, on the one hand, the dividends brought by social wealth accumulation have been shared more among financial sub-sectors; on the other hand, due to fierce market competition, cash in the hands of ordinary people is more worth. Although it seems a happy ending for financial institutions and the public, the separated operations and supervision system in the banking sector leaves much to be desired in dealing with the increasingly diversified asset management market. How will the banking sector fulfill business innovation and risk control in the times of big assets management?

10:50~12:30

Panellists:

Mr. XU Nuojin, Senior Advisor of Financial Survey and Statistic Department, the People's Bank of China 
Mr. YANG Wensheng, Vice President, China Construction Bank
Mr. LIU Jun, Vice General-Manager, China Everbright Group; Executive Vice Chairman of the Board, China Everbright International Limited; Former Vice President, China Everbright Bank

 Moderator:
Prof. Henrik CRONQVIST, Professor of Finance; Zhongkun Group Chair of Finance,  CEIBS       

12:30~13:30

Luncheon

Session II: Dialogue between Internet Finance and Financial Internet:
Competition and an All-Win Result

Internet giants that are looming large in the financial industry have caught traditional banks unawares, teaching them a clear lesson in the efficient Internet finance within a short time. Over the past year, Internet finance and financial Internet have been locked in head-to-head competition; facing the current market, government watchdogs are creating a new oversight model. In this section, banks, Internet finance companies and regulators will probe into an oversight framework and the co-competition between Internet finance and financial Internet: since sheer competition doesn't serve their interests, an all-win cooperation will be the order of the day.

13:30~15:10

Panellists:

Mr. MU Huaipeng, Director of Legal Affairs Department, the People's Bank of China 
Mr. Albert CHAN, Financial Services Client Services Group Lead, Accenture Greater China 
Mr. Steve OWEN, Executive Vice President of Global Sales and Marketing, NXP Semiconductor  
Mr. TANG Ning, Founder & CEO, CreditEase Company

Moderator:
Mr. BIAN Zhuodan, Editor-in-chief, Economy & Nation Weekly  

15:10~15:40

Coffee Break

Session III: Drawing on the Commercial Value of Inclusive Finance:
Balance between Policy and Market

Inclusive finance was set out in the Resolution of the 3rd Plenary Session of the 18th CPC Central Committee. Since inclusive finance is no charity, a mere policy will neither bring the initiative and creativity of financial institutions into full play, nor cover the target customers in a sustainable manner on a large scale. To ensure the sustainable development of inclusive finance, the government will need to clarify its functions, improve the financial policies (including the interest rate liberalization), infrastructure and oversight framework, and encourage market competition, and create a sound credit environment. On this basis, dynamic and innovation-driven financial institutions will be able to identify a business model suitable for inclusive finance so as to offer convenient, rapid and sustainable financial services.

15:40~17:20

Panellists:

Dr. WANG Jun, Lead Financial Sector Specialist, East Asia and Pacific Region of the World Bank
Mr. XU Xueming, Vice President, Postal Savings Bank of China 
Mr. HUANG Jinlao, Vice President, Huaxia Bank
Mr. SUN Xiao, Chairman, Maanshan Rural Commercial Bank  

Moderator:
Prof. XU Dingbo, Professor of Accounting; Essilor Chair of Accounting; Associate Dean, CEIBS 

17:20~17:25

Closing Address

Prof. Pedro NUENO                                               
President; Chengwei Capital Professor of Entrepreneurship, CEIBS
Registration
5 Easy Ways to Register
Tel      +86-21-28905305 28905588
Fax      +86-21-28905273
E-mail   bankersforum@ceibs.edu
Post     Ms. Sophie Zhu/ 699 Hongfeng Road, Shanghai 201206, PRC
Conference Fee
Standard fee    RMB 6800;  USD 1100
Early-bird fee  RMB 6000;  USD 950 (Paid by August 13, 2014) 
It is subject to the Conference Fee listed on the official website. CEIBS alumni can also enjoy a 20% off discount (alumni ID number required).
Cancellation and Substitution Policy
If you cancel at any time up to August 29, 2014, a prompt refund will be made to you upon receipt of your written notice (faxes are acceptable). A USD 110 (or RMB 700) non-refundable registration fee will be deducted from your payment. After that date no refunds will be made.
If, for any reason, this conference is cancelled, we shall offer you a 100% refund of the conference fee. CEIBS shall not, however, be held responsible for covering airfares, hotel or other costs incurred by registrants.
Note:
The fee includes attendance at all conference sessions and discussions, luncheon, coffee breaks and full documentation. The fee does not include your travel or hotel expenses. Please note that we must receive your payment before the date of the conference.
Conference Venue
Lv Zhihe Auditorium, CEIBS Beijing Campus
Building 20, Zhongguancun Software Park, 8 Dongbeiwang West Rd., Haidian District, Beijing
Map to the CEIBS Beijing Campus
Accommodation
Shangri-la Hotel Beijing
40-minute taxi ride to CEIBS Beijing Campus
29 Zizhuyuan Road, Beijing, China
Tel: +86-010-68412211
Fax: +86-010-68418802
www.shangri-la.com
Superior Room:   RMB 1150 (one Breakfast) 
---
Crowne Plaza Beijing Zhongguancun
30-minute taxi ride to CEIBS Beijing Campus
No.106, Zhichun Road, Haidian District, Beijing
Tel: +86-010-5993 8888
Fax: +86-010-5993 8131
www.crowneplaza.cn
Superior Room:   RMB 750 (one Breakfast) 
---
Reservation:
Please indicate that you are participating in the 8th Annual China Bankers Forum 2014. The discounted rate is effective on or before August 29. Reservations after this date will be taken on a space and rate availability basis. Please contact our staff for room reservations. +86-21-28905305; 28905588
Sponsorship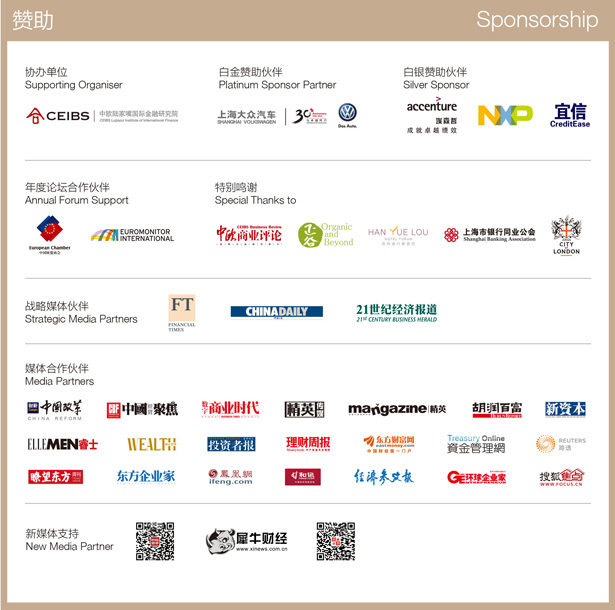 Contact Us
For more details about the 8th Annual China Bankers Forum, please contact:
Sophie Zhu (For Registration)
Marketing & Communications Department
Tel: +86-21-28905305  |  Fax: +86-21-28905273  |  Email: zsophie@ceibs.edu
Irene Huang (For Chinese Media)
Marketing & Communications Department
Tel: +86-21-28905506  |  Fax: +86-21-28905273  |  Email: hirene@ceibs.edu
June Zhu (For International Media)
Marketing & Communications Department
Tel: +86-21-28905073  |  Fax: +86-21-28905273  |  Email: zjune@ceibs.edu
Address:
China Europe International Business School (CEIBS)
699 Hongfeng Road, Pudong, Shanghai 201206 P.R.C.
Tel: +86-21-28905890  | Fax: +86-21-28905678  |  Map