By Charmaine N. Clarke
Key players from global family businesses joined academics at CEIBS 2nd China Family Heritage Forum on June 1 to explore the theme of "Social Emotional Wealth and Family Governance". Throughout the day, four keynote speakers and almost 20 panellists explored two broad topics: "Family Affections" and "Governance", providing input from Europe, North America and Asia. To facilitate frank discussion among participants much of the day's forum was a closed door event. The venue was CEIBS Shanghai Campus.
Among the specific issues discussed were solutions to Chinese family businesses' impending triple challenge:  family business operations, family business succession, and family wealth management. These are hurdles to be faced as China's family businesses – which first emerged three decades ago – enter a new era which will include passing the baton to the next generation. Their primary goals now: business transformation and upgrading; business sustainability; as well as the accumulation, preservation, and inheritance of family wealth.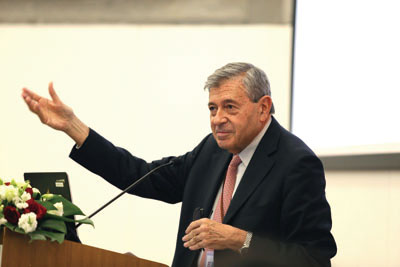 As noted in the welcome address given by CEIBS Executive President Prof Zhu Xiaoming, events such as the day's forum will help prepare both the old and new guard for the leadership change. In her opening speech entitled "The Water Supporting a Boat Can also Sink It", Professor Jean Lee – a driving force behind the forum – explained the concept of socioemotional wealth (SEW). A Professor of Management & Michelin Chair Professor in Leadership and HR, she drew on her expertise as Director of the CEIBS Kaifeng Centre for Family Heritage. During her speech, Prof Lee explained that SEW refers to the returns that family owners, decision makers and managers derive from non-financial aspects of the business. "SEW comes in a variety of related forms, including the ability to exercise authority, satisfying a need for belonging, for affection and intimacy. It could also be the perpetuation of family values through the business, the preservation of the family dynasty, the conservation of the family firm's social capital, the fulfilment of family obligations based on blood ties, and the opportunity to be altruistic to family members," she said. She then examined the pros and cons of SEW in relation to how it can affect the running of a family business. Other topics explored during Prof Lee's presentation: preparing for a smooth succession, different paths to succession, and how to prepare the next generation for leadership.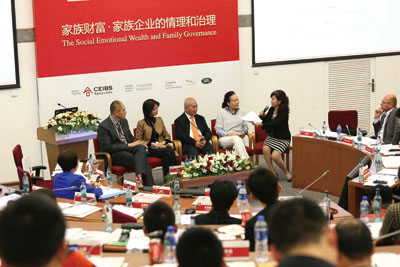 Panel discussion on "Family Affections: Family Spiritual Wealth – The Self-transcendence of Family Businesses". From left:  Desmond Shum, Founder of Kaifeng Foundation, Chairman of Great Ocean Group and Co-Chairman of CEIBS Kaifeng Centre for Family Heritage; Liu Mingming, President & CEO of Voith Paper Asia; Luo Tian'an, Chairman of Christine Food Group and Paddy Lui, Executive Director, K. Wah International Holdings and Galaxy Entertainment Group. Prof Jean Lee (right) moderated.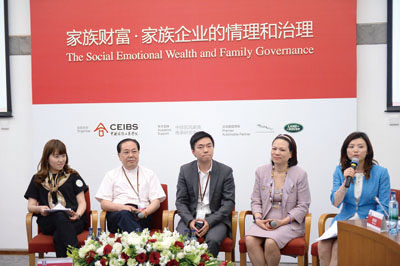 A Dialogue between Two Generations". From right: Prof Katherine Xin (moderator); Zhou Xiaoguang, Chairman of Neoglory Group; Yu Jiangbo, General Manager of Neoglory Jewelry (Zhou's son); Jin Fuyin, Chairman of People Enterprise Group; and Jin Humin, Assistant to the Chairman, People Enterprise Group (Jin's daughter).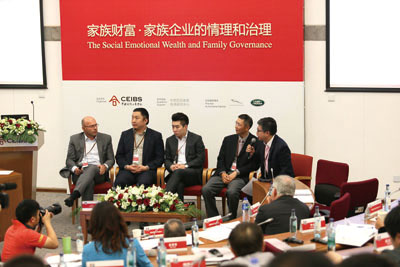 Final panel discussion. From left: Benoit Leclercq, Managing Director, Crehol China; Representative of the Mulliez Family; Scott Chiu, Chairman of Hocheng Corporation; Liu Chang, Chairman, Muses Collection; Ge Yongbin, Senior Partner, Zhonglun Law Firm and Prof Oliver Rui (moderator).